Two weeks ago, the Daily Dot reported on the fury Trump supporters had for the excessive texts they were receiving from the president.
Conservative author Kurt Schlicter complained that President Donald Trump's campaign was sending him donation solicitation texts that treat him "like an idiot" and demanded it stop.
Instead, the rest of the Republican party has adopted the same playbook.
Yesterday Schlicter, who's written a pro-Trump book, tweeted a screenshot of a text he'd recently received from the National Republican Congressional Committee (NRCC). The text is written in the tone of an irate bill collector.
"We texted you TWICE. Why did you let your 500% Trump House Patriot match expire AGAIN? We'll give you 1 more chance," it states.
"Hey @NRCC – WTF is wrong with you? Stop this. Do it now," Schlicter tweeted alongside the screenshot.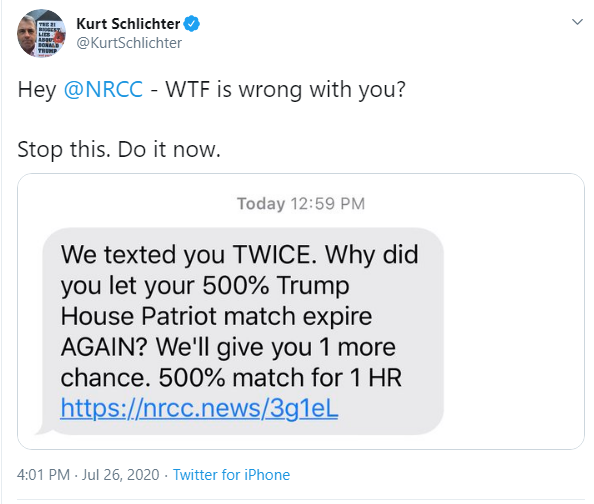 Other Republicans piled on in the comments. One claimed that in addition to incessant texts, their emails have "doubled because of the incessant begging for money."
"Makes me sorry I ever donated to anyone's campaign," they added.
"These read like a phishing scam targeted at seniors," @scookeatrepeat said. "I'd slap the shit out of anyone who spoke to my senior relatives like this."
For some reason, NRCC decided its best play was a spicy retort.
"This text raised $198,021 toward electing conservatives to Congress. But we'll certainly pass your complaints on to our manager, Karen," NRCC quote-tweeted Schlicter this morning.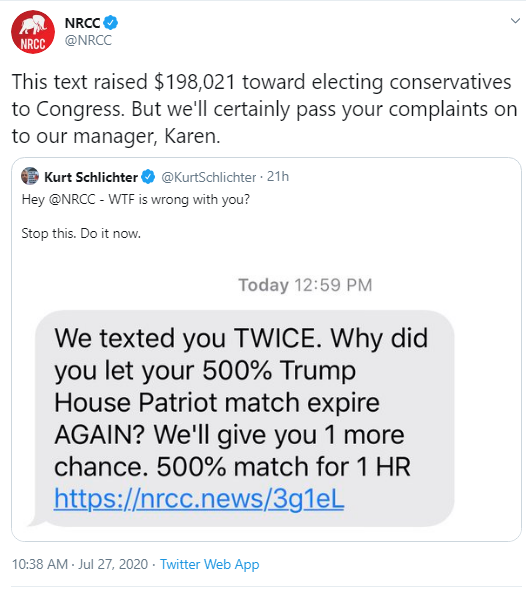 The move did not go over particularly well. People were mostly appalled that the fundraising arm of the Republican congressional delegation would respond to what they viewed as a legitimate complaint in this manner.
Critics included many high-profile Republicans, such as Fox News personalities and members of Congress.
"Also the Karen thing was funny for a couple weeks, now it's way overplayed," tweeted Rep. Adam Kinzinger (R-Ill.)
"You guys are doing a great job attacking your own base," said journalist Jordan Schachtel.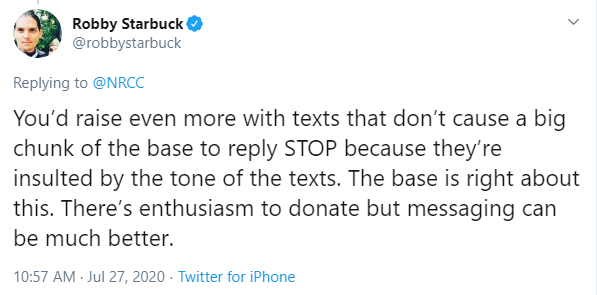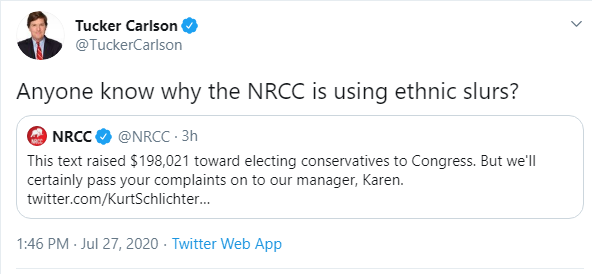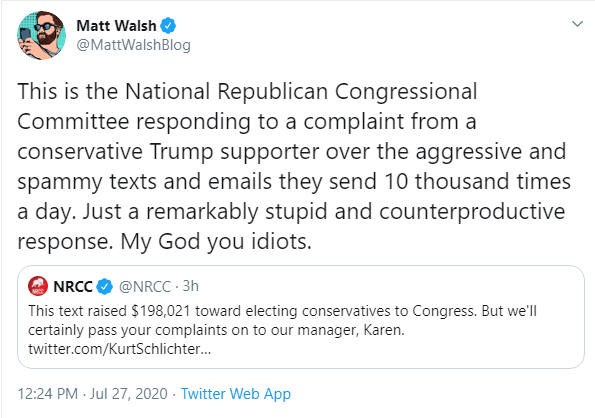 As the pile-on continued, Schlicter quote-tweeted NRCC with apparent bemusement, "Just here for the ratio."
READ MORE: