Redditgifts helped spur the world's largest Secret Santa exchange in history. Now it wants to revolutionize how we buy gifts online.
In 2009, Dan McComas, a computer programmer from San Francisco and longtime user of online community Reddit, decided to embark on a simple task: making people happy.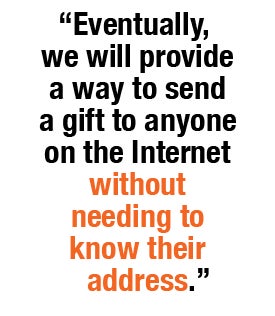 McComas chose what, at the time, was surely an unusual platform for delivering smiles: He launched a subreddit called r/secretsanta, it did exactly what its name implies: connected strangers from around the world to anonymously give gifts to one another.
Nothing like it had ever been done before, and the Reddit community reacted with overwhelming enthusiasm. In fact, in order to handle the flood of gifters and recipients that first year, McComas and his wife created Redditgifts.com.
The site streamlined the Secret Santa process and also made it so gift exchanges could take place at any time of the year.
Delighted by the group's popularity and enamored with how it mobilized the site's community into a force for spreading joy, Reddit officially made Redditgifts its first acquisition in August 2011.
Pretty soon, Redditgifts was making history. The 2011 exchange registered a whopping 30,000 exchanges, easily breaking the Guinness World Record. Then in 2012, Redditgifts doubled its own best, with 60,000 Secret Santas in 126 countries sending each other just about anything you can imagine: DVDs, personalized artwork, and even a Macbook Air.
McComas was encouraged by the success, but there was still more to do. He was certain the experience would be even more satisfying if gift-givers and vendors had a centralized location handling the legwork of gift giving.
The idea gestated until November 2012, when Redditgifts Marketplace was born.
"The core of the idea was to provide our users with a safe online shopping experience, access to amazing, hand-curated merchants with proven track records, and, most importantly, we wanted a way to increase accountability to our users around who shipped and who didn't," McComas explained.
In other words, McComas wanted to build the safest place to buy someone else a gift on the Internet. (Of course, you can send gifts to yourself too, if you're into that kind of thing.) Redditgifts had already learned from a series of stumbling blocks along the way, meaning that the marketplace's growing pains would be a little less severe.
Previously, for instance, the only way to track if participants were really taking part—i.e., sending and receiving gifts—was through self-reporting. You tell Redditgifts when you've shipped your gift or, conversely, when you've received. That's not the most reliable tracking system.
The marketplace, in addition to providing a hub for great gift ideas, automatically tracks when gifters and giftees made good on their end of the bargain. Moreover, it keeps you anonymous. For someone to send you a gift, they only need your Redditgifts username. The site keeps your address hidden, meaning that anyone in the world can send you gifts at any time of the year without knowing who you are or where you live.

Dan McComas at work.
The concept of slapping smiles onto the faces of strangers through gifts has proven quite successful for the marketplace, which currently boasts more than 170 vendors. They sell everything from 1980s T-shirts to, of course, Reddit-themed gifts. McComas, who hopes the marketplace hits 6,000 products by Christmas, said he's not actually sure which item is the most successful.
"This t-shirt by HUMAN has been selling, to our own amusement, quite well since it was introduced a few weeks back," he said, suggesting the art and shirts categories were probably the most popular.
Vendors we spoke to said they've seen jumps in sales since joining the marketplace. Gabe Connor, curator of humorous shirt vendor Goodie Two-Sleeves, said that part of the marketplace's appeal was how it connected his product with customers (Reddit users) who may not otherwise find it.
"The Redditgifts Marketplace may not be very seasoned, but it's already become something that, for us, is irreplaceable," Connor told the Daily Dot. "I think the Marketplace is especially great for smaller brands and businesses who offer a truly unique product that lends itself to Reddit's unique sense of humor."
Connor said that because the marketplace is still relatively small, companies get some top-notch customer service from McComas and his team. Charles Donefer, who runs the novelty gift shop Squishables, agreed.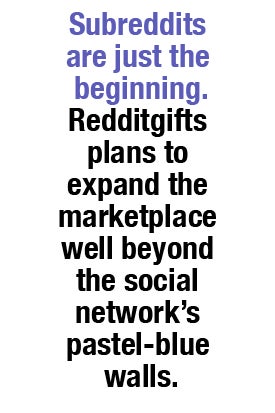 "We appreciate that the Redditgifts operation is small enough to work with us personally on issues that customer service for a larger marketplace would probably ignore," Donefer added. "If they can scale up and keep that level of service to its vendors, it would be quite an accomplishment."
Donefer suggested that products that cater to Reddit's meme-centric tastes will stand a good chance of success. Look no further than his own company's popular products: the Mini Narwhal (the narwhal being one of Reddit's unofficial mascots) and a giant pillow made to look like buttered toast.
"Redditgifts has been a solid success for us. A vendor with a semi-whimsical product line and a willingness to commit to a bit of curation will be rewarded on Redditgifts."
The marketplace's next big event is the annual Arbitrary Day. Celebrated each June 25, the Reddit-invented holiday serves as an unofficial halfway point to the December holiday season and is r/secretsanta's second-largest gift exchange of the year. It's after Arbitrary Day, however, that McComas thinks the marketplace will really start to shine—and grow. In the next six months, he said, anonymous gift-giving will expand across Reddit.
For years, redditors have created their own subreddit-themed merchandise. But McComas said individual subreddits can use the marketplace as a one-stop shop for taking on merchandising projects. Take the example of r/bicycling, McComas suggested, which partners with bike maker Primal every year to "collectively design, manufacture, and distribute a set of cycling gear within their subreddit."
In the past, subreddits like r/bicycling were left on their own to figure out the logistics for all this. Now the marketplace will be there to back them up, simplifying the merchandising process with a name redditors trust: Reddit, Inc.
"With the marketplace, we now have a centralized solution subreddits can take advantage of as they manage these merchandising projects," McComas said.
Subreddits are just the beginning, however. Redditgifts plans to expand the marketplace well beyond the social network's pastel-blue walls.
"We want to be the place on the Internet to find a gift for someone," McComas said. "Eventually, we will provide a way to send a gift to anyone on the Internet without needing to know their address."
Illustration by Fernando Alfonso III