Reddit stocks: The rise of at-home day-trading
As the world continues to grapple with financial instability due to the widespread economic downturn this year on the heels of the coronavirus pandemic, many are looking to the internet to find ways they can make money at home.
At-home day-trading—the buying, selling, and trading of assets on the stock market online—is bigger than ever. And as demand for cash continues to grow in 2020, the roster of at-home day-traders around the world is booming. So much that the market is being eclipsed by these independent participants who are beginning to outweigh other traditional influences such as brokerage businesses or formal shareholders, according to Financial Advisor magazine. "Lured by zero fees and probably boredom while stuck at home during the pandemic, retail investors have flocked to stocks. They now account for 20% of equity trading," it wrote recently.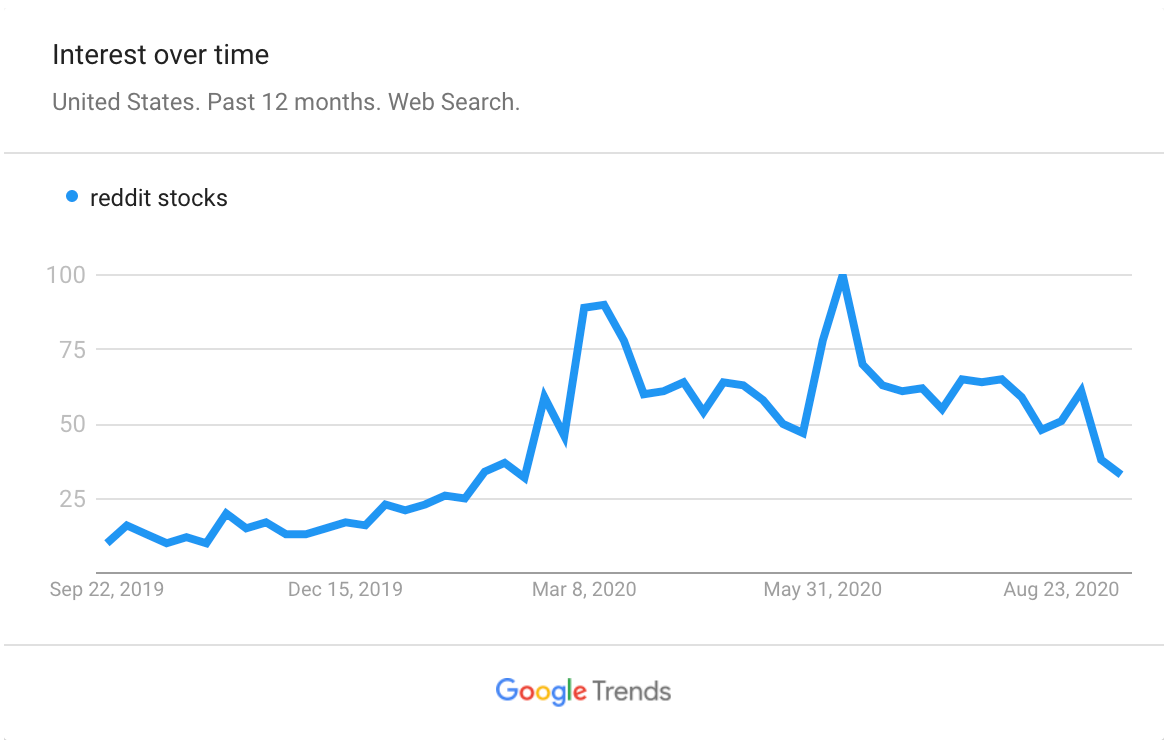 Since early March, searches for "reddit stocks" have nearly tripled earning over 65,000 searches month-over-month, according to Google Trends analytics. Other similar searches include "stocks to buy now reddit," "reddit wsb," "reddit wallstreetbets," "penny stocks reddit," and "reddit stock market." Online side hustling now involves scanning Reddit's stock advice—for better or worse. Here's what you should keep in mind.
Reddit's daytrading community
Although there is high risk involved, it isn't impossible to begin seeing rewards. By looking into market trends and discussing them with additional insights provided by subreddit members, real people are reaping benefits for their commitment to the day-trading hustle. For many, it's about working smarter with the investments you're willing to make and not harder. That's where subs like r/wallstreetbets and r/pennystocks come in to help.
One online stock trader for example, 25-year-old Eddie Choi, gained widespread notoriety last year after he earned $100,000 with two trades. In a November 2019 interview with Business Insider, Choi says he previously enjoyed high-risk, high-reward investments like trading cryptocurrency or gambling at casinos, but it was thanks to r/wallstreetbets that he began learning how to trade options.
"I heard about options from WallStreetBets and from friends, and I learned more about how they work by researching it myself," he said. "Any news can cause a stock to go up or go down a lot in value from one day to the next, whereas there's more time for a bounce back when you invest longer term."
In another more lofty example, one r/wallstreetbets user claimed that they were able to convert retirement savings of $35,000 into over $1 million through a series of over 300 trades, cashing out on big bets with stocks from Nike, Amazon, Apple, and other large corporations.
Reddit stocks: How to get involved
For the beginner. If you're already into stock trading and looking to kick off your journey by exploring bigger options as an at-home day-trader, then r/investing is a great start. With daily news alerts and interesting discussions on market trends, consider this subreddit a large glossary of Reddit stocks. Here you'll find all you need to know to begin diving deeper and assessing trades in real-time.
For the baller on a budget. Subreddit r/pennystocks is the key to starting small and aiming high. Penny stocks, or micro-cap stocks, are shares usually available for less than or a little over a dollar from much smaller-scale companies and corps. This thread is the place to be if you're willing to play the long game of buying low and selling out for a price that's slightly higher (sometimes cents higher) weeks or months later.
For the wannabe Jordan Belfort. This subreddit is notorious for big ideas, big numbers, and big results. If competitive discussion, savagely high-level market memes, and top-of-the-line insights on trends and trades sound like your hustle, then this is the place for you.
For the easygoing investors and financially responsible types. The subreddit r/Robinhood pertains mostly to the mobile app, allowing users to explore portfolio-building for the first time in small financial increments and simple lessons. One user offered that after diving into the market knowing nothing about stocks, by two and a half years of using the Robinhood app he was able to hit $100,000, earning 87% more than his original investment. If you're into success stories and learning in baby steps from the trial and error of others, join r/robinhood.
For the data-driven. Combine Python, C++, and R coding languages with the knowledge of financial gurus, and r/algotrading is what you get. If you're all about the numbers and focused on approaching trades with strategy and meticulous algorithmic calculation, this subreddit is a day-trading playground. The community is open to newcomers and will surely offer a new swathe of insights on the good, bad, and ugly of algorithm-driven trading.
Reddit stocks: Before you go
As a transparent disclaimer, taking complete, unchecked financial advice from forum members online is not always the best look. Success in day-trading at home simply will not be contingent upon the amount of time spent scouring advice and insights on Reddit feeds.
These threads are perhaps not to be taken as a direct bible for making major financial decisions or pulling the trigger on a questionable risk, but rather soft guidance and brainstorming networks. For all of the great tips and posted throughout each of the threads, take with them a grain of salt.
Realize that deep research and extensive practice is the only way to inform yourself on the stock market and begin making confident decisions about trades and the way you'd like to build your portfolio with your own personal finances.
---
Today's top stories