From the great exodus out of Facebook to fully realized Arrested Development jokes, the idea of anti-social networks has been slowly gaining public traction. People feel overconnected to mere acquaintances and besotted with updates from true friends.
Rando, a simple photo-sharing app, focuses instead on random strangers. The premise is simple: Take a picture, upload it, and Rando will send it to some other user whose name you'll never know. No connections, no followers—just the exchange of photos for the sheer fun of it. The system also thrives on generosity: You don't get a Rando until you send one out yourself.
Rando's terms of service alerted me to the potential, if not inevitable, downside of anonymous photo-swapping. The app is only for those aged 18 and older—users aged 14 to 17 must be authorized by a parent or guardian—and it wipes its hands clean in regards to the quality of the content: "We are not responsible for the taste, decency or accuracy of any Images."
Reading between the lines, Rando has the potential to be a photo version of Chatroullette, where users send gross groin shots to unsuspecting victims.   
Of course, Rando reserves the right to yank  a photo (or an account) if it's flagged by other users, but that takes time and effort. And it's a sleazy world out there.
Thankfully, I'm pleased to report my first few hours with the app did not did not result in a nonstop torrent of nude or otherwise offensive photos.
The single data point conveyed in the photo sharing—you don't get an image from the same person you sent one to, but rather a third party—is location. "We will tell the recipient of your Image your geographical position by GPS," the terms state, "but only down to the level of country and city or town."
This turns out to be an enormously fun aspect of the software. I quickly opened the intuitive camera element, which constricts your view to a circle, and snapped a shot through my open window. A little prosaic, perhaps, but I uploaded it, eager to get another Rando from elsewhere on the globe for my efforts.
Soon enough, I got a surprising result: a photo of what looked like some handmade dolls in festive, possibly Mexican apparel. The lack of any caption or explanatory text made the image a charming puzzle—though I was a bit disappointed that it came from New York, N.Y., where I live myself. On the one hand, it's cool to know that I could pass this user on the sidewalk without either of us knowing it, but I wanted an exotic dispatch.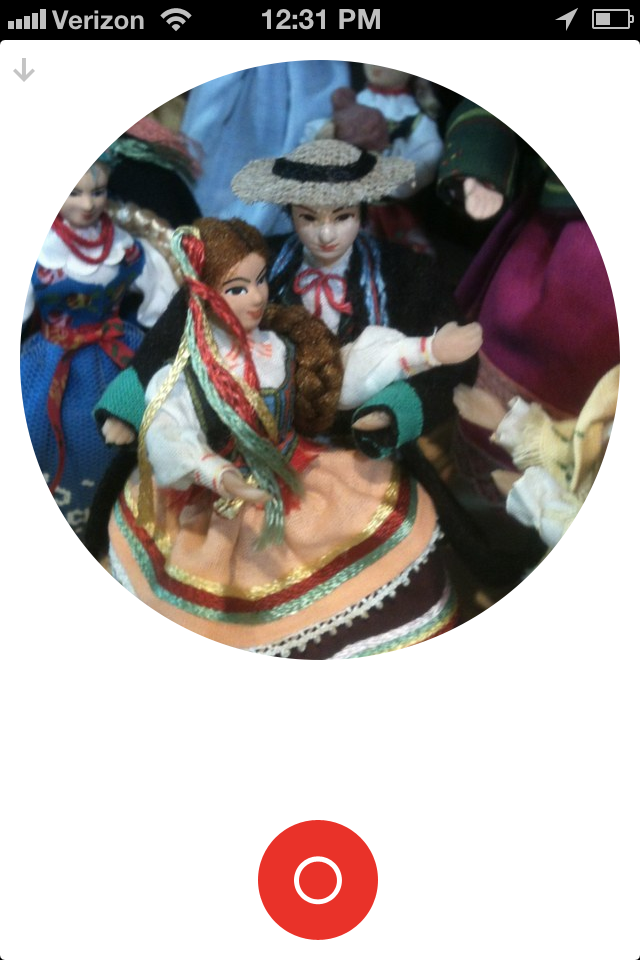 I had more luck the second time around with a photo of Monster, one of my dogs. A push notification alerted me that she was delivered to someone in Moscow, Russia. That was pretty sweet, and I felt confident my Russian non-friend would find Monster as adorable as I do.
Not long after, another image reached me, sent from a German town on the southern border of the country, as the GPS showed. The picture itself showed an older, presumably German woman on the phone in a room with religious decorations. I got the sense it was the user's mother, or grandmother.
Again, the mystery had me wanting to up my game, so for the next move, I sent out a close-up detail of an Edward Hopper painting that hangs in my hall. Maybe whoever received it would be able to deduce the context. For my efforts I got a photo of a wristwatch on an hirsute arm, from just outside Mumbai, India.
Rando has the capacity to remind you of the oneness of the planet and all you share in common with other people—without ever having to meet them. It's subtly addictive, and I expect to use it a lot more.
Photo by Miles Klee