On June 7, the day after nine major Silicon Valley tech companies, including Facebook, Google, and Apple, were implicated in aiding the National Security Agency with its Internet surveillance program, their stocks rose.
Plenty of reasons have been offered for why tech company stocks didn't drop during the first days after the NSA's program, known as PRISM, was revealed. One of the most common arguments has been that, for one reason or another, Americans simply don't care that much. A popular anecdote: According to Google trends, twice as many people wanted to know about "National Donut Day" as PRISM. 
Now two weeks out from the disclosure of PRISM, the companies' stock performances are more varied: Facebook's stock has done quite well (up almost seven percent as of June 21) and Google's too has risen a modest two percent. All the others, however, have dropped. AOL, for example, is down nine percent.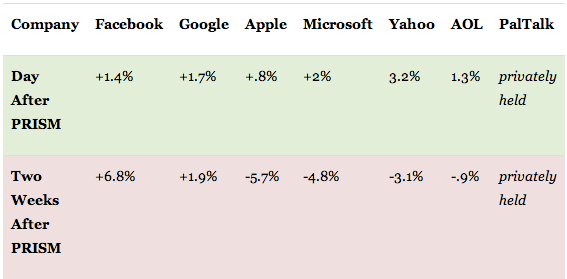 Two weeks is a long time. There are no doubt many contributing factors to the respective stock movements of all eight companies (the ninth, PalTalk, is privately held). For instance, unlike Facebook and Google, Apple is a major hardware seller. Others like it have fallen in the past two weeks as well (HP is down slightly from June 6, as is Dell). Its performance might have more to do with its industry than its participation in PRISM. 
On the other hand it's much easier to make a case that Facebook and Google were not affected by PRISM, as their stocks have not fallen.
One possible reason for the two companies' resilience is that, between Facebook's ever-evolving privacy settings and Google's personalized ads, the pair have long inspired privacy concerns among their user base. Their participation in PRISM–willing or unwilling–was perhaps unsettling, but hardly unthinkable.
Short of an exodus from social media, it's difficult to see how revelations about PRISM would affect a company like Facebook with its almost untouchable social media market share. Right now, it has no close competitors. Even if customers did leave, they would likely have to switch to Google+, controlled by another PRISM company. 
Google is in a similar position with its search and email functions whose users would find little comfort turning to its PRISM-participating, exclamation point-wielding competitors, Yahoo! and Microsoft (Bing!).
One of the tradeoffs for robust, ubiquitous social networks like Facebook is that consumers lose the ability to "vote with their dollar," as the saying goes.
It says a lot about Facebook that its CEO, Mark Zuckerberg, believes this: "People have really gotten comfortable not only sharing more information and different kinds, but more openly and with more people…we decided that these would be the social norms now and we just went for it."  But it says even more that he would feel comfortable saying it out loud.
Photo by Ben Sutherland/Flickr