House Speaker Nancy Pelosi is facing ridicule online after sharing the wrong photograph of an iconic Black baseball player.
While attempting to honor the 90th birthday of the legendary Willie Mays on Thursday, Pelosi instead shared a photograph of deceased Black baseball player Willie McCovey.
"Happy 90th Birthday to an all-American icon, Willie Mays," Pelosi tweeted. "A trailblazing, record-breaking baseball player, civil rights leader, and champion for youth sports and well-being, Willie Mays is a civic legend and a national treasure."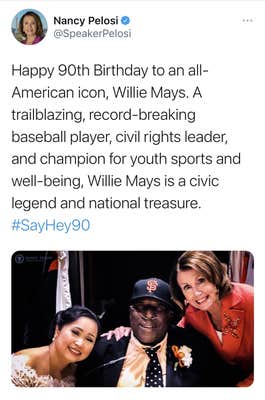 Unsurprisingly, the photograph was flooded with comments shortly after pointing out that Pelosi had showcased the wrong man. McCovey, who died at the age of 80 in 2018, spent years playing alongside Mays for the San Francisco Giants.
The embarrassing tweet was eventually deleted and replaced with an actual photo of Mays.
The second tweet also linked to a larger statement from Pelosi in which she outlined the historic accomplishments of Mays.
"On his 90th birthday, we remember Willie Mays growing up with injustice and blazing a trail, first in the Negro Leagues, and then as a Hall of Famer in Major League Baseball with the Giants," she said. "We celebrate his lasting impact, through his Say Hey Foundation and the Willie Mays Boys and Girls Club of San Francisco, on the legions of youth scholars and athletes he has helped."
The deleted tweet has since been widely shared by critics of Pelosi, including Sean Spicer, the White House communications director under President Donald Trump in 2017.
In a statement to CBS San Francisco, Pelosi's office blamed the mistake on an unnamed staffer.
"A staffer inadvertently selected the wrong photo for the tweet," the statement read. "The photo we wanted to use was of the speaker and Willie Mays at Willie McCovey's August 2018 wedding. The quickly deleted photo was the wrong photo from the right wedding. We apologize for the error."
---
This week's top technology stories