Video of a young man wearing a red Make America Great Again hat, along with a large group of similarly aged and similarly clad young men, physically confronting and surrounding an elderly Native American protestor went viral on Saturday.
Twitter user @2020Fight was one of the first to post footage of the confrontation to Twitter, although the original video appears to have come from Instagram user @ka_ya11. The video shows a young white man wearing a MAGA hat standin directly in the Native American protestor's space as he beats a drum and chants. The young man smiles, chuckles, and stares throughout the video.
Is that what you're calling THIS? Standing up for the sanctity of this man's life? For the sanctity of Indigenous Peoples lives? pic.twitter.com/OdDpsf9RL2

— Lulu Says (@lulu_says2) January 19, 2019
The incident allegedly took place at the Indigenous People's March, according to people who posted about the incident.
Some of the young men in the video can be seen wearing clothing associated with Covington Catholic High School, a private, all-male high school in Park Hills, Kentucky with 586 students.
The Cincinnati Enquirer confirmed that the students were, indeed, from Covington Catholic High School.
"We condemn the actions of the Covington Catholic High School students towards Nathan Phillips specifically, and Native Americans in general, Jan. 18, after the March for Life, in Washington, D.C. We extend our deepest apologies to Mr. Phillips. This behavior is opposed to the Church's teachings on the dignity and respect of the human person," Laura Keener, the communications director of the Roman Catholic Diocese of Covington, said in a statement to the Enquirer.
The Daily Dot has reached out to multiple faculty members about the incident via email, but did not receive a comment by press time. Covington's Twitter and Facebook accounts have been made private, while their publicly available phone number leads to a full voicemail box.
Keener told the Enquirer that expulsion was being considered.
The school's website says a group of students planned on busing to and participating in the Washington, DC March for Life, held the same day as the Indigenous Peoples March. The anti-abortion event, which Vice President Mike Pence attended, is in its 46th year. Conservative speaker Ben Shapiro was also in attendance, and garnered attention for his comment that "the truth is no pro-life person would kill baby Hitler."
Soon after, more footage of the incident between the young men and the Native American protester was posted on Twitter. The young men can be seen jumping and chanting over the voice of the Native American protester.
https://twitter.com/lulu_says2/status/1086552871674368001
https://twitter.com/lulu_says2/status/1086553818966310913
Film director Ava DuVerny posted a video response from the Native American protestor, identified by DuVernay and Indian Country Today associate editor Vincent Schilling as Nathan Phillips. According to Schilling, who says he personally knows Phillips, he is a Vietnam War veteran, an Omaha tribe elder, and a keeper of a sacred pipe. The video was originally taken by Instagram user @ka_ya11.
"I heard them saying 'build that wall, build that wall,'" Phillips says in the video, chanting still audible in the background.
"This is indigenous land. We're not supposed to have walls here. We never did, for a millennium, before anybody else came here you never had walls. You never had a prison. We always took care of our elders, we took care of our children, we provided for them. We taught them right and wrong."
After taking a moment to breathe, Phillips continues: "I wish I could see that energy of the young men…put that energy into making this country really, really great"
Thank you to @VinceSchilling of @IndianCountry and many others who identified the proud Native man who is being harassed. He is Mr. Nathan Phillips. I'm reposting this video from "ka_ya11" on IG. This man's words pierce my heart. The grace. The wisdom. The hope. pic.twitter.com/BKOA40SVq5

— Ava DuVernay (@ava) January 19, 2019
Many want to know who the kids are, particularly the one trying to stare down the elder. Those kids have already told you who and what they are. I want to know who this elder is. And those who stood with him while surrounded by ignorance, continuing their spirit work, undaunted. https://t.co/z5vrPVYcfU

— Ava DuVernay (@ava) January 19, 2019
In another video posted by @ka_ya11, an unidentified young man in an Owensboro Catholic sweatshirt can be seen following Phillips, saying "And y'all stole [Native American land] from the aboriginals. … Land gets stolen. That's how it works. It's the way of the world."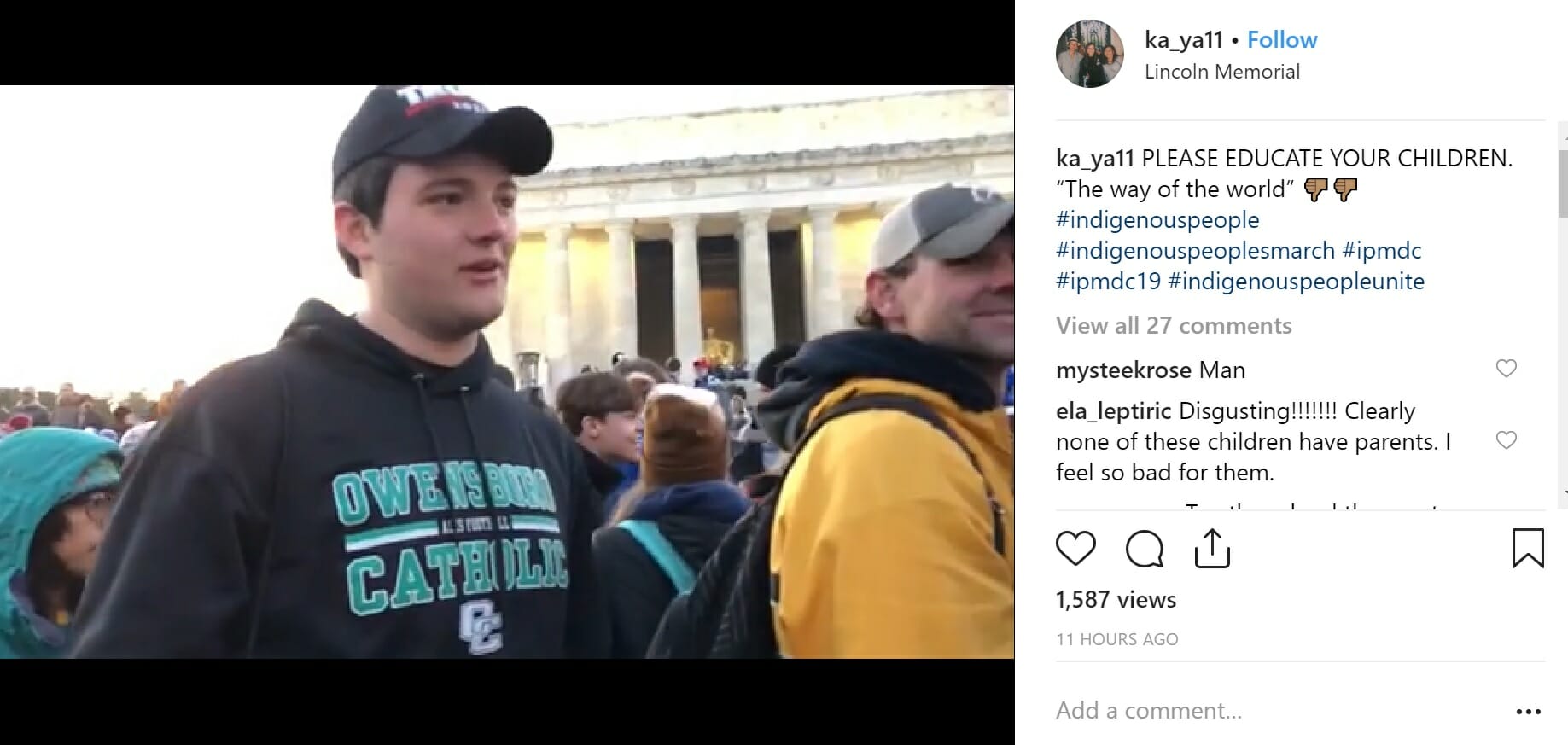 Reactions to the video included disgust and dismay.
As a Catholic, a parent, and an educator, the behavior of these boys makes me sick to my stomach. Every single college or university those entitled brats apply to should reject them. Their parents and their school should condemn their actions or be publicly shamed.

— Kajoelle (@kajoelleresists) January 19, 2019
His love and soul radiate through his eyes. Even as that little ignorant boy tries with all his might to spread hate. The elder's strength overcomes the hate with knowledge of the real truth. Love is all that matters.

— Amanda Greco (@AmandaGreco8) January 19, 2019
Like so many before him, he pressed on in the face of hate and ignorance. I salute this man and his service!

— Tireak C. Tulloch (@TCTulloch) January 19, 2019
The white noise damage of the Trump presidency is a generation of young people who see racism and bullying validated by the person in the Oval Office https://t.co/5M7im5axEG

— Ben Rhodes (@brhodes) January 19, 2019
All of this is so heartbreaking. These MAGA youths… so full of hatred and so purposefully malicious. My heart breaks that they have this evil in their hearts. https://t.co/FlGrhVHLYN

— Meredith Salenger (@MeredthSalenger) January 19, 2019
They were shouting at a Native American to build a wall against immigrants. Irony is dead in private high schools

— Kathleen Adams (@ktkeeresists) January 19, 2019
The Daily Dot has reached out to the superintendent of Covington schools, Mike Cline, but did not receive a response by press time.