The Lincoln Project is trying to distance itself from fellow co-founder John Weaver in wake of fresh allegations that he sexually harassed young men and boys online.
Unfortunately for them, the internet's memory is long and detailed. Jovial Twitter exchanges, shared bylines, and more are resurfacing as the anti-Trump political action committee attempts to run damage control on the scandal.
On Sunday, the New York Times published a comprehensive follow-up on allegations that Weaver, 61, preyed on young men and boys, one just 14 years old at the time. Twenty-one men told the Times that Weaver, a married father of two, sent them sexually inappropriate messages, including overt solicitations to at least 10. In some cases, Weaver allegedly offered to help them with their careers and finances.
One man claimed that he had sexual contact with Weaver, but that it was consensual.
Weeks ago, Weaver released a statement acknowledging the "inappropriate" messages and apologizing "to the men I made uncomfortable." He also claimed that he believed the exchanges were consensual.
"I am so disheartened and sad that I may have brought discomfort to anyone in what I thought at the time were mutually consensual discussions," he told the Times after being confronted details from its reporting.
"In living a deeply closeted life, I allowed my pain to cause pain for others. For that I am truly sorry to these men and everyone and for letting so many people down."
Lincoln Project leaders told the Times that they first learned of the allegations when they went public earlier this month. What's more, they allege, they weren't really all that close with Weaver, anyway.
However, rumors of his behavior have circulated since at least 2004.
Co-founder Galen Reed implied that members weren't as well-acquainted as one might assume, telling the Times that they didn't have a physical office prior to Weaver's departure for health reasons last fall, so staff and founders didn't spend face-to-face time together. In light of the sexual harassment allegations, Weaver's absence has reportedly become permanent.
After the latest story published, the multi-million dollar super PAC released a statement calling Weaver "a predator, a liar and an abuser." It also claimed that "at no time was John Weaver in the physical presence of any member of the Lincoln Project."
On a Monday morning appearance on Morning Joe, Lincoln Project co-founder George Conway claimed he wasn't well acquainted with Weaver.
"I didn't know John very well," Conway told cohost Mika Brzezinski. "I frankly only spoke to him a couple times on the phone early in the Lincoln Project."
People aren't buying it. Many quickly dug up shared bylines and Twitter exchanges between leaders of the group.
"Here's George Conway lying on national TV saying he didn't know fellow co-founder of The Lincoln Project very well," tweeted the Hill columnist Joe Concha. "In a related story, here's a NY Times op-ed he collaborated with Weaver on that Conway heavily promoted and touted. Utterly laughable."
The linked article is the December 2019 announcement from Conway, Weaver, Rick Wilson, and Steve Schmidt, that they were launching the project. The four and Galen also shared a byline on an April 2020 op-ed in the Washington Post. The same group, sans Conway, co-bylined an op-ed blasting Sen. Mitch McConnell (R-Ky.) in the Kentucky-based Courier-Journal the following month.
The men also have a history of bantering online, which Twitter users quickly surfaced.
On Sunday, Donald Trump Jr. slammed the Lincoln Project over the allegations.
"The sanctimonious sickos at @ProjectLincoln love to lecture about 'morality,' but if they actually cared about that & not just grifting $$$, then @gtconway3d @TheRickWilson @SteveSchmidtSES @reedgalen would have stopped their predator pedophile partner, instead of protecting him!" Trump tweeted.
Schmidt fired back in a series of tweets condemning Weaver's conduct and saying he hopes that law enforcement gets involved. He also alleged that the Trumps are in no position to judge others.
Unconfirmed reports indicate that at least some members of the Lincoln Project had knowledge that Weaver's alleged exploits were non-consensual. Schmidt acknowledged that they learned he may have sexual relationships with men, the Times reports, but believed they were all consensual until recently.
"EVERYONE knew for years what John was about. The challenge was the young men wouldn't talk to reporters even on background (which I understand, they feared retaliation)," Yashar Ali tweeted. "But this was no secret. Everyone talked about it."
Conservative writer Ryan James Girdusky claims that at least one young man attempted to talk to the group about Weaver and that rumors of the story were "circulating several outlets" early last summer.
In December, Schmidt wrote a lengthy thread touting all the "young people" who worked on the Lincoln Project.
"One of the most gratifying parts of @LincolnProject was giving space and opportunity for the young people involved to participate and advance their careers," he wrote.
"I know when they look back this will be both a memorable and important experience."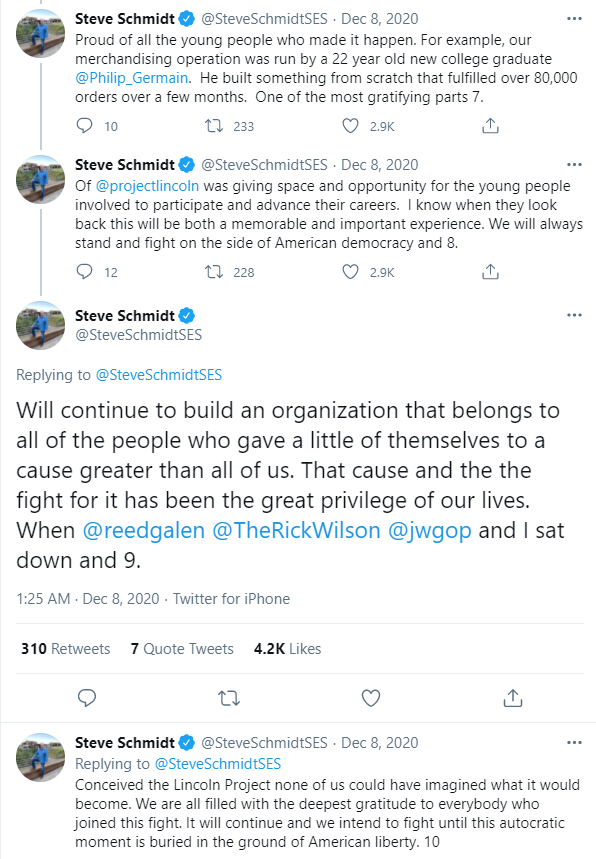 One man, 22-year-old Anthony Covell, told the Times that Weaver invited him to be part of a new initiative a few weeks before the Lincoln Project's launch, claiming he was "looking for young people who were creative and invested in this upcoming election."
Weaver reportedly suggested Covell "post a thirst trap" or "send me a pic," then call him to discuss the opportunity. He decided against it.
---
Read more of the Daily Dot's tech and politics coverage