As the United States marijuana industry makes its seemingly inevitable, albeit hazy, march out from the black market and into legality, pot consumers are gradually discovering they have the ability to be discerning.
In the 20 states that permit medical marijuana, as well as the pair of states—Colorado and Washington—that have legalized it for recreational use, potential potheads no longer have to worry about the long arm of the law when picking up a dime bag. Instead, people's concerns about buying pot are coming to look a lot more like those about ordering Chinese food or renting a pair of skis: Where do I go to get the stuff I like at the cheapest price?
Enter: Leafly, a website and smartphone app that functions like Yelp but for pot.
Launched in 2010, Leafly lets users search for and rate not only different strains of pot but also marijuana dispensaries and delivery services. People can look at strains that make them feel "creative" or help treat symptoms of glaucoma and then check crowdsourced reviews from other users.
"We're seeing for the first time ever a consumer-driven market for cannabis," explained Brendan Kennedy of Privateer Holdings, a marijuana industry-focused private equity firm that purchased Leafly in 2011. "You can go into the dispensary and make choices. Consumers want better brands, they want it to be tested. They're finally able to comparison shop."
When medical marijuana dispensaries first appeared on the scene, people were just going to to the closest one to wherever they lived. As legal pot is becoming more normal, an increasing number of people are beginning to act like discriminating shoppers—a practice facilitated by services like Leafly.
Interestingly, the trend isn't exclusively to places where pot is legal. Kennedy said that, in recent months, traffic on Leafly's site has surged in states where marijuana is still prohibited. Kennedy speculates that people are taking Leafly's resources, which only exist in the first place due to legalization, and applying them to the black market.
Cannabis has certainly become more mainstream, but much of the industry that surrounds it markets squarely at a small demographic of pot users—namely, 18-25 year old males who comprise the pop culture stereotype of "stoners." Most marijuana products have a tendency to wrap themselves in weed culture with pictures of pot leaves, references to Bob Marley and the Grateful Dead, and everything 420 all the time. If legal pot is going to grow (no pun intended, really), the companies offering marijuana products and associated services have to do so in a way that doesn't make a lot of people using them feel like they're breaking the law.
One look at Leafly and it's clear site takes a conspicuously different tact: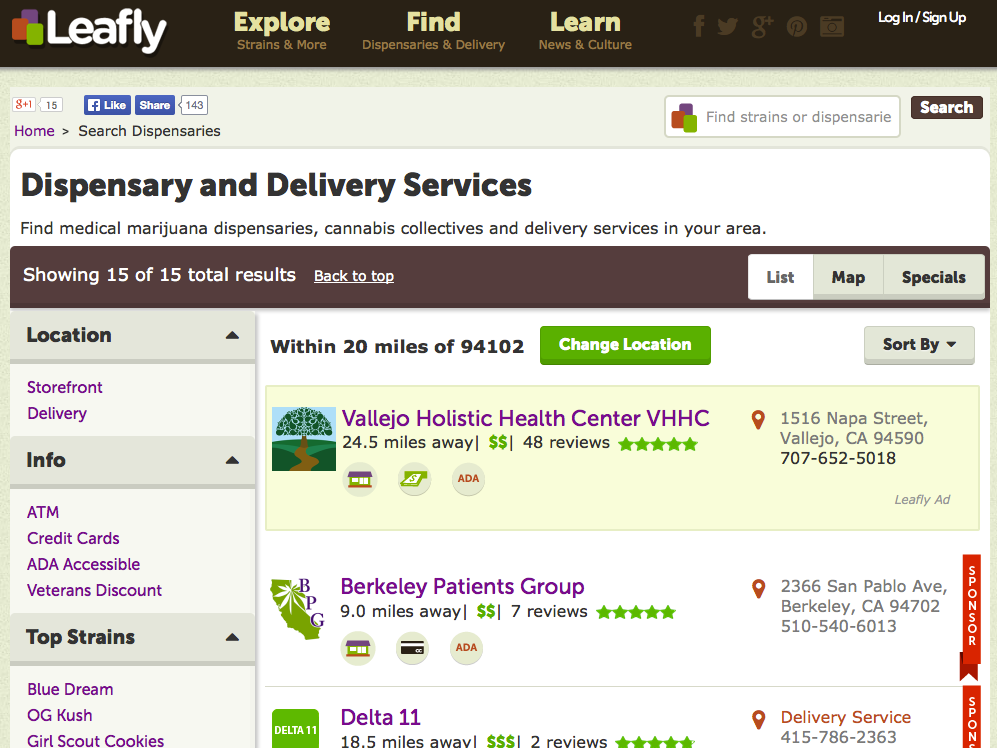 The color scheme and overall design are neutral and the only pot leaves to be found are on the logos of the pot shops to which the site directs users. From first glance, Leafly is a site that could easily be about anything, let alone a plant that's illegal to even possess in most states.
"Marijuana is not counterculture when 58% of Americans think it should be legal," Kennedy insisted. "It's not counterculture when millions of people smoke it every year. It's not counterculture when the last three presidents have admitted to smoking it. So why is it marketed like it isn't mainstream?"
H/T Motherboard | Photo by sesmm123/DeviantART (CC BY-SA 3.0)