Instagram hashtags are a boon and a bother. The tool certainly helps photos and accounts get discovered, and also makes it possible for users with similar interests to find one another… but also, they are so, so ugly. Row after row of pound signs totally overshadow an otherwise clever caption. What these posts need is an Instagram line break.
Those who want to utilize hashtags manipulate the comment field manually in order to insert them without the entire post looking hideously crowded. Users can hit return on their phone's keyboard, then switch keyboards, hit period, switch keyboards again, and hit return… again. Instagram doesn't recognize a line break without this process, but thankfully there are apps that force it to. Here are a few tools that make creating Instagram line breaks and make mass-hashtagging altogether easier.
This new tool does one thing and does it well: It adds line breaks to your Instagram photo captions so you can separate paragraphs (go ahead, channel your inner Caroline Calloway) or add a big space between the description and the hashtags. Bury those ugly icons as much as possible.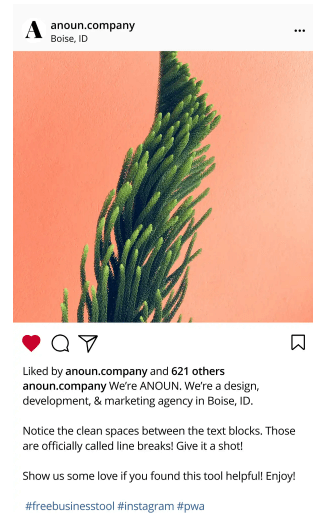 All you have to do is write your caption on the Instagram Line Break website, click the "generate caption" button. The copy will be there ready for you to copy and paste. It's way quicker than doing it yourself and probably better looking. The biggest benefit to Instagram Line Break is that you can easily use it from a web browser if that's how you prefer to write your captions; long-winded writers who like to dictate via a laptop keyboard and then transfer that content to either a web uploader for Instagram or send to mobile will appreciate having the tool accessible. It works just as well on mobile, too. No need to install a new app, just bookmark the website on your home screen.
However, if you prefer to download a new app, there are (obviously) options.
Caption Writer for iOS and Android devices is another easy-to-use app that works harder so you don't have to. The app simply creates a draft space for users to write their Instagram captions.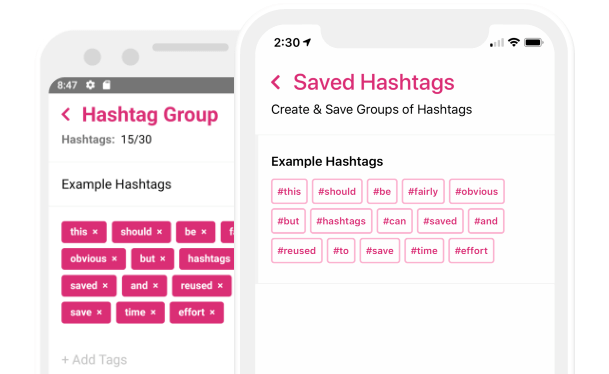 It also has a feature that saves hashtags you use often, so writing lengthy captions and loading them up with a long list of hashtags becomes as simple as typing out a text message. For those who run themed accounts and use the same hashtags repeatedly, this is a godsend.
Would it surprise you to hear that GramSpacer works nearly identically to the previously mentioned app? It should not! That's the whole point of single-service tools like these. That said, Caption Writer has a few more bells and whistles, and for those who want something with minimal scrolling through GramSpacer is truly just a write-and-copy caption app that also makes it easier to add Instagram line breaks.
Space is something of a combination of GramSpacer and Caption Writer: The app sets users up with a writing space for creating captions with line breaks, but also puts hashtags, dots, and square icons in an easy-access toolbar so users can grab and use them to separate text or add hashtags without clicking between different keyboards or copying and pasting them from elsewhere.
One more time: Insta-Space is a copy-paste app that lets users create captions with line breaks and also makes mass-hashtagging easier. It's faster and easier than doing it manually. The benefit to Insta-Space is that it has a mobile app for Android and iOS and also a copy-paste tool for desktop browsers. The website also lets users select from a wide range of languages.
READ MORE: