Instagram will finally give you more control over who sees your posts. The company is creating a new feature that will let you share photos and videos with a select group of followers, according to the Verge.
Excited to announce Favorites on Instagram, a new way to share privately to your closest friends. https://t.co/0vMlYGHevH

— Kevin Weil (@kevinweil) June 23, 2017
The new feature is a strong departure for an app that encouraged public engagement and only let public accounts share with everybody, or private accounts share with only friends. With favorites, users will have the option to send content to a smaller group of followers.
The social network's goal is to encourage people to post more by giving them control over who sees their posts. Users no longer have to worry about sharing an image in fear the wrong person will see it. As the Verge points out, some Instagram users, mainly teens, built their own version of favorites called "Finstagrams," or exclusive groups made up of private Instagram accounts.
Once Instagram updates its app with the favorites feature, you will see a new option to share posts or stories to your favorites. A new green "favorites" tab will appear on the top right corner of your post to show it has only been shared to a select group of followers.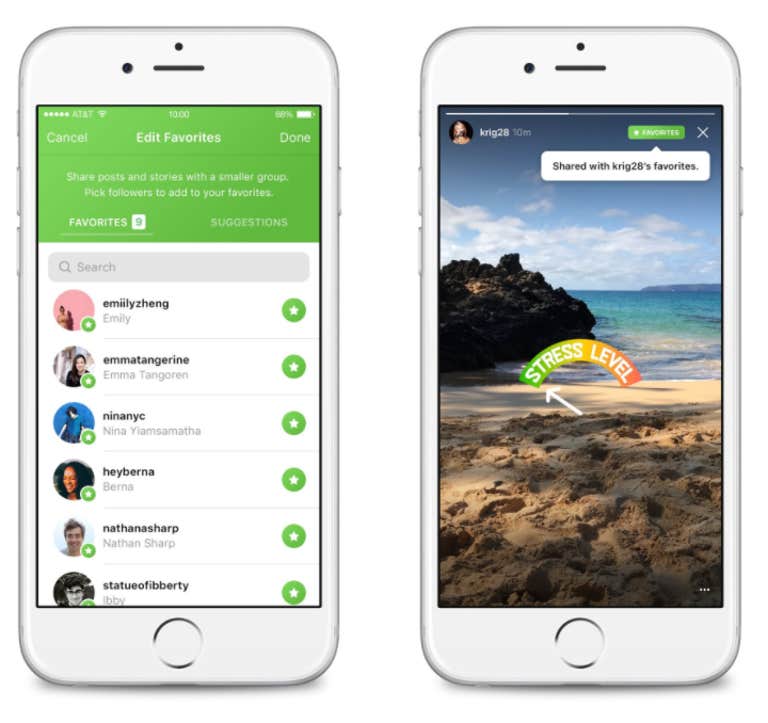 Users will not know when you add or remove them from your favorites list, but they will see the favorites badge on the top of your post.
Instagram is testing the feature "among a small percentage of users" starting today. It will reportedly launch favorites to a larger audience in the next few months.
H/T the Next Web