Given that he frequently comments on politics in America, Twitter users are routinely shocked to learn that Ian Miles Cheong, a prominent pro-Trump conservative, doesn't live in America.
Who is Ian Miles Cheong?
Known best for his commentary on Twitter, Cheong has made a name for himself in right-wing circles by frequently weighing in on U.S. politics.
Long before his foray into U.S. domestic issues, Cheong was best known for his work as a gaming journalist and for his role as an influential moderator on Reddit.
Cheong is also known for his involvement in Gamergate, a term used to describe a controversy between primarily male gamers and female game developers that led to a widespread harassment campaign in 2014.
Initially, Cheong, who described himself as a "turbo-feminist" at the time, leaped to the defense of female game developers such as Zoe Quinn. But Cheong's politics would begin shifting to the far-right as the years went on.
Where does Ian Miles Cheong live?
But Twitter users critical of Cheong began stating online that the pundit lived not in America but on the opposite end of the planet—specifically, the South East Asian country of Malaysia.
"I just learned that Ian Miles Lap Cheong lives in Malaysia??" @_tanwho_ wrote. "I always thought he was American because he spends all of his time licking Yankee boot."

So is Ian Miles Cheong actually living in Malaysia? It appears so. The conservative has made numerous references to the fact over the years.
Just last year, Cheong referenced living in Malaysia while explaining why he did not believe in climate change.
"Some moron asked me why I'm not a part of the climate cult because 'Malaysia experiences typhoons so you're directly affected by climate change," Cheong said. "Hey idiot, typhoons have been barraging the peninsula for millions of years. A few decades of industry isn't gonna change that."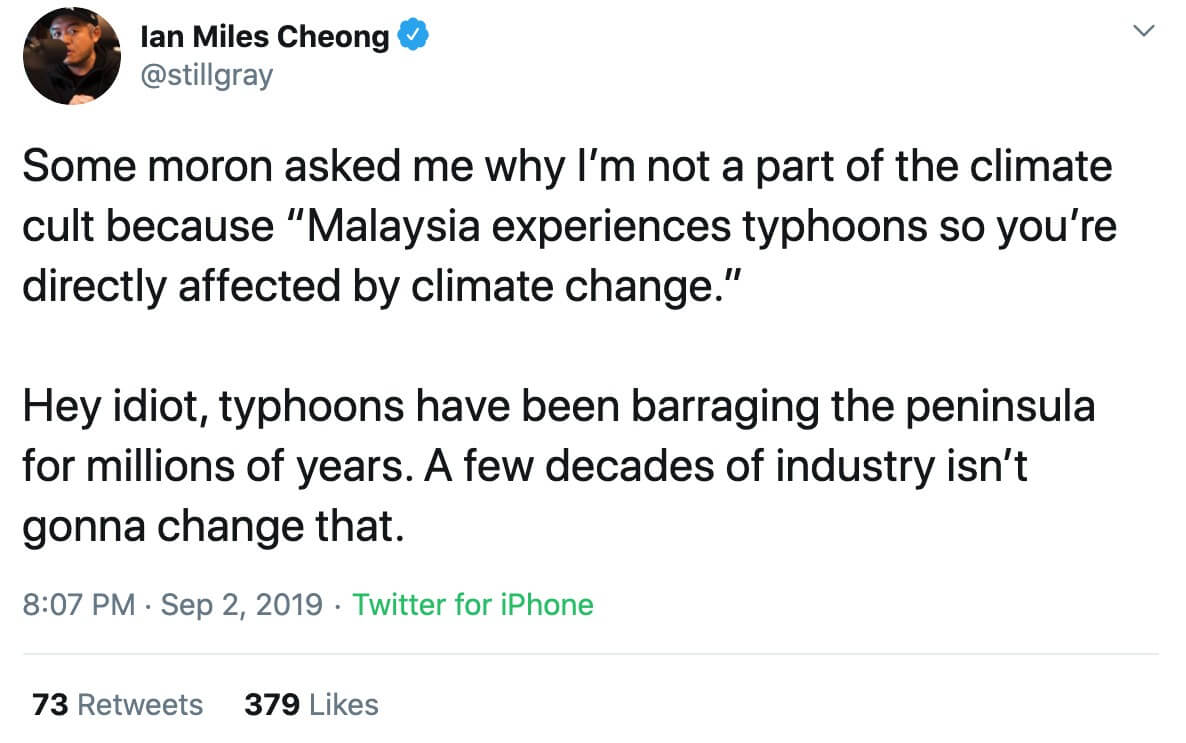 Ian Miles Cheong also tweeted out pictures in April 2020 of Malaysia amid the COVID-19 lockdown, stating that the images came from "where I'm currently living."
"Malaysia has taken the strictest measures against the coronavirus in the world, apart from China," Cheong said at the time. "5,251 cases, 2967 recovered. 86 deaths (also counting comorbidities). Everyone (including businesses) is getting an allowance, tax relief and discounted internet, water and power.

This week is far from the first time Twitter users have referenced where Cheong is living while pushing back on his political commentary.
A journalist in April pointed to Malaysia while telling Cheong to stop dictating how Americans should react to the coronavirus.
Although Ian Miles Cheong's residency is no secret, the revelation for many over the last week or so led to an onslaught of trolling against the conservative figure.
The replies in nearly every recent tweet of Cheong's are now filled with users telling him to butt out of U.S. politics.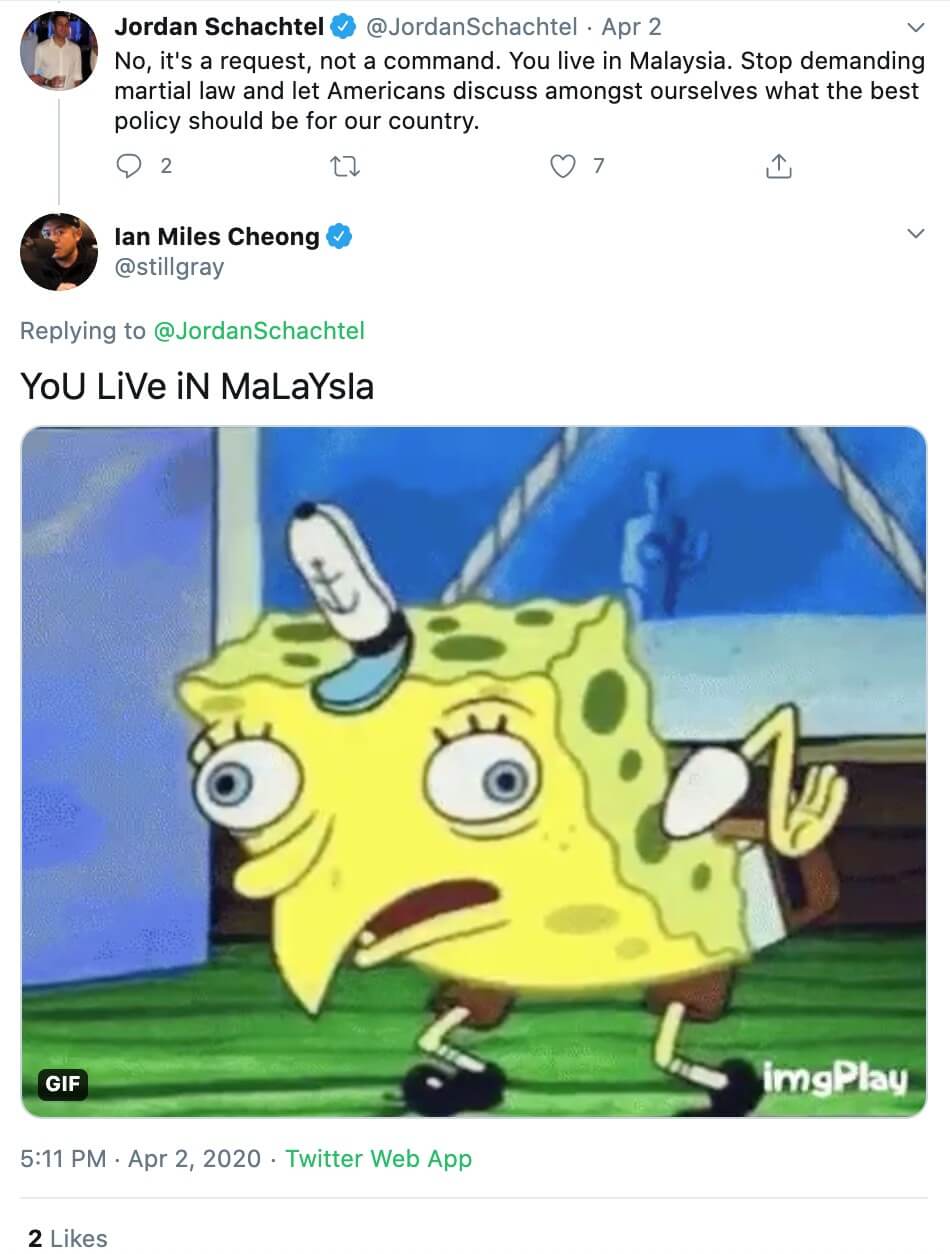 Cheong, for the most part, seems uninterested in responding to the criticism since his location seemingly becomes a topic of conversation every few months.
Ian Miles Cheong's controversial history
The incident is not the first time Ian Miles Cheong has become a topic of discussion online. The conservative has found himself embroiled in numerous controversies over the years.
One of the first controversies came in 2012 when Cheong was banned from Reddit after it was learned that he was promoting his own sites on some of the platform's biggest subreddits without disclosing the ties.
In 2014 old chat logs showing Cheong praising Nazi leader Adolf Hitler also stirred controversy. Cheong responded to the pushback by blaming the "toxic gaming community."
And despite his original defense of female game developers during the Gamergate saga, Cheong years later switched sides in an effort to court his growing far-right audience.
Cheong currently helps run a YouTube channel he co-created known as "Hype Break," where he amplifies the very viewpoints about the gaming industry that he once condemned.
READ MORE: