Hackers upset over the recent killing of a dog by a Cleburne, Texas, police officer are likely responsible for the wave of cyberattacks currently affecting the city's website and internal servers, local officials have said.
Mayor Scott Caine told reporters on Wednesday that Cleburne's website had been attacked three times and an internal server had been attacked twice. Caine ephasized that emergency dispatch services were not affected and residents' personal information had not been breached.
"We don't know who is launching the attacks but we are working with local and federal authorities to get to the bottom of this," Cain told Dallas News. "We are not going to put up with this." The Federal Bureau of Investigation (FBI) is reportedly looking into the attacks.
It's believed that hacktivists are utilizing distributed denial of service (DDoS) attacks to knock the city's servers offline in response to the Aug. 10 shooting of a resident's pitbull by Officer Kevin Dupre of the Cleburne Police Department. The officer's uniform camera captured the incident on video, and the recording was later released by the press.
DEVELOPING: @CityofCleburne reports city is victim of cyber attack, including attacks on operations in dispatch center (police & fire) #wfaa

— Lauren Zakalik (@wfaalauren) October 29, 2014
CLARIFY: @CityofCleburne says dispatch is NOT affected by cyber attacks but city web site keeps crashing, 6 million attacks per hour #wfaa

— Lauren Zakalik (@wfaalauren) October 29, 2014
In the video, Dupre is seen responding to 911 call from a woman who claimed to be trapped inside her car with an elderly woman and infant by the neighbor's loose pit bulls. When the officer arrives, he is greeted by one of the dogs, named Doughboy, who jumps up and puts his paws on the officer's chest. Later, the officer finds two other dogs, Coco and Maximus, in a nearby ditch. In a 22-second clip widely circulated on YouTube, Dupre can be heard making kissing noises, as if beckoning the dog, before raising his service weapon and firing three times, killing Maximus.
Cleburne resident Amanda Henderson, owner of the three dogs, has asked for the Cleburne Police Department to admit that Dupre made a mistake. She also said she appreciates the public's support, CBS reported, as long as it's not harming anyone. "Peaceful things are okay, but not hurtful things," she said.
So far, residents have only reported problems due to the cyberattacks while trying to pay utility bills or apply for permits online. According to police officials, however, Dupre, who is currently on administrative leave, has left the state with his family because of death threats.
Many who have watched the video say that it clearly contradicts Dupre's police report, in which he wrote, "The dogs were a long distance from me and I could not tell they were dogs at the time, due to tall grass and other obstructions. I exited my squad to confirm that they were the reported dogs. The dogs came to me with their tails wagging, and did not immediately seem to be aggressive."
Dupre went on: "However, when the dogs came within 20 feet of me, one of them (brown male) crouched low and took an aggressive posture and began growling. The other dog (female) appeared nervous. I made kissing noises in an attempt to calm the dogs. I was standing outside the ditch and it [the dog] was in the ditch. I raised my duty weapon to the ready position pointed at the growling dog's head. As soon as I lifted my pistol, the dog began coming up the hill, continuing to growl and display its teeth. The other dog began backing away. I fired three shots at it. It rolled back into the ditch and died."
A second video clip uploaded to Youtube on Oct 21, captured approximately a half hour before the shooting, appears to show a second officer speaking with Dupre and has led to allegations of race baiting.
When Dupre first arrives at the home, the police are seen speaking to a woman who allegedly avoids questioning. A second officer tells Dupre, "I wish this girl would quit being so evasive and tell us something. It's like she's trying to speak in some kind of Swahili code or something."
The 18-second "Swahili-code" clip was originally posted on YouTube by user Ralph J., who was criticized for releasing only select portions of the video and highlighting the fact that the dog owners are a bi-racial couple.
"The woman that was being evasive and not providing the information that the officers were requesting," wrote commenter Shawn Stephens. "The bi-racial couple that the officers did not know, because they were not there. You should be ashamed of yourself trying to throw the race card in a game where it is not even in play."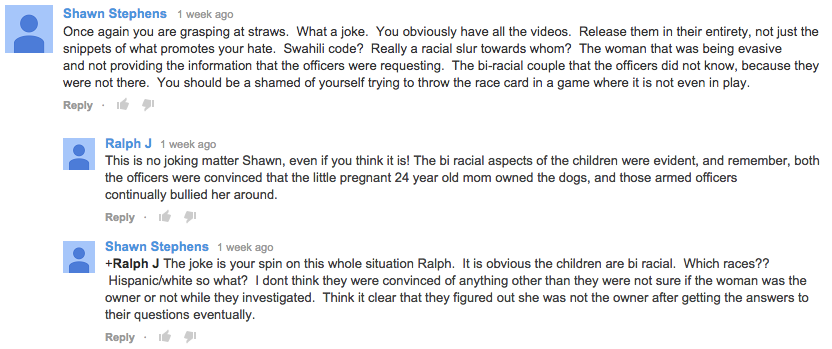 The Cleburne Times-Review published a 22-minute version of Dupre's uniform camera recording, which can be seen below.
A long portion of the recording between the 22-minute video and the clip of Dupre shooting Maximus is missing. Cleburne police say that Dupre was driving around looking for the other two dogs for 20 minutes, and that his uniform camera was turned off while he was in the car.
The video below, titled "Watch police shoot and kill harmless dog," shows Dupre fatally shoot Maximus. (Warning: this video is disturbing.)
On Sunday, a peaceful crowd of around 100 gathered at the Cleburne Municipal Court to protest Dupre's actions. "The tail tells the tale," read one sign, a reference no doubt to the fact that Maximus' tail can be seen wagging moments before he was killed. (A wagging tail doesn't always necessarily mean that a dog is friendly or calm.) Another protester wore a shirt that read "Paws up, Don't shoot," a reference to the protest chant used in Ferguson, Mo., after the killing of Michael Brown.
"We just want the officer removed from the police department," protester Kory Watkins told Dallas News. "If this was an everyday, normal citizen, they would be arrested and put in jail."
"Paws Up, Don't Shoot" shirts worn by citizens peacefully protesting outside the Cleburne Police Dept. pic.twitter.com/xedO0d3zgj

— CBSDFW (@CBSDFW) October 25, 2014
At press time, the Cleburne Police Department was still examining the incident. The city is also "expanding the investigation of the shooting and have asked the Texas Rangers or another outside agency for assistance," according to city officials.
The Cleburne Police Department did not immediately respond to a request for comment.
H/T Cleburne Times-Review | Photo via Fake Plastic Alice/Flickr (CC BY 2.0)