Google is holstering its pistol emoji and replacing it with a water gun.
The tech giant has already started rolling out the new emoji to Android users, according to Emojipedia. Its fierce rival Apple was the first to make the switch in 2016 before Twitter, Samsung, and WhatsApp followed suit.
Apple chose to replace the pistol emoji after it landed people in trouble with the law. A 12-year-old from Virginia was charged with threatening her school after she used the pistol, knife, and bomb emoji in an Instagram post. Another teenager in Texas was arrested for pointing the image at the police emoji. A similar incident occurred in Brooklyn. One man in France was even thrown in jail for three months for sending the ideogram to his girlfriend. In 2015, Apple was urged by an organization called the New Yorkers Against Gun Violence to replace its pistol emoji.
The tech company came through and later had the rifle removed from the list of potential emoji candidates for 2016. It wasn't until earlier this year before others followed along. Samsung replaced its revolver with the release of the Galaxy S9 while Twitter made the change earlier this month.
Apart from the potential of it being used as a threat, the pistol emoji became an issue of compatibility, one that could have led to some uncomfortable miscommunication. Previously, when an Android user viewed the water gun emoji posted by an iOS user, it would appear as a pistol and vice versa. As you can imagine, this could have caused all sorts of problems.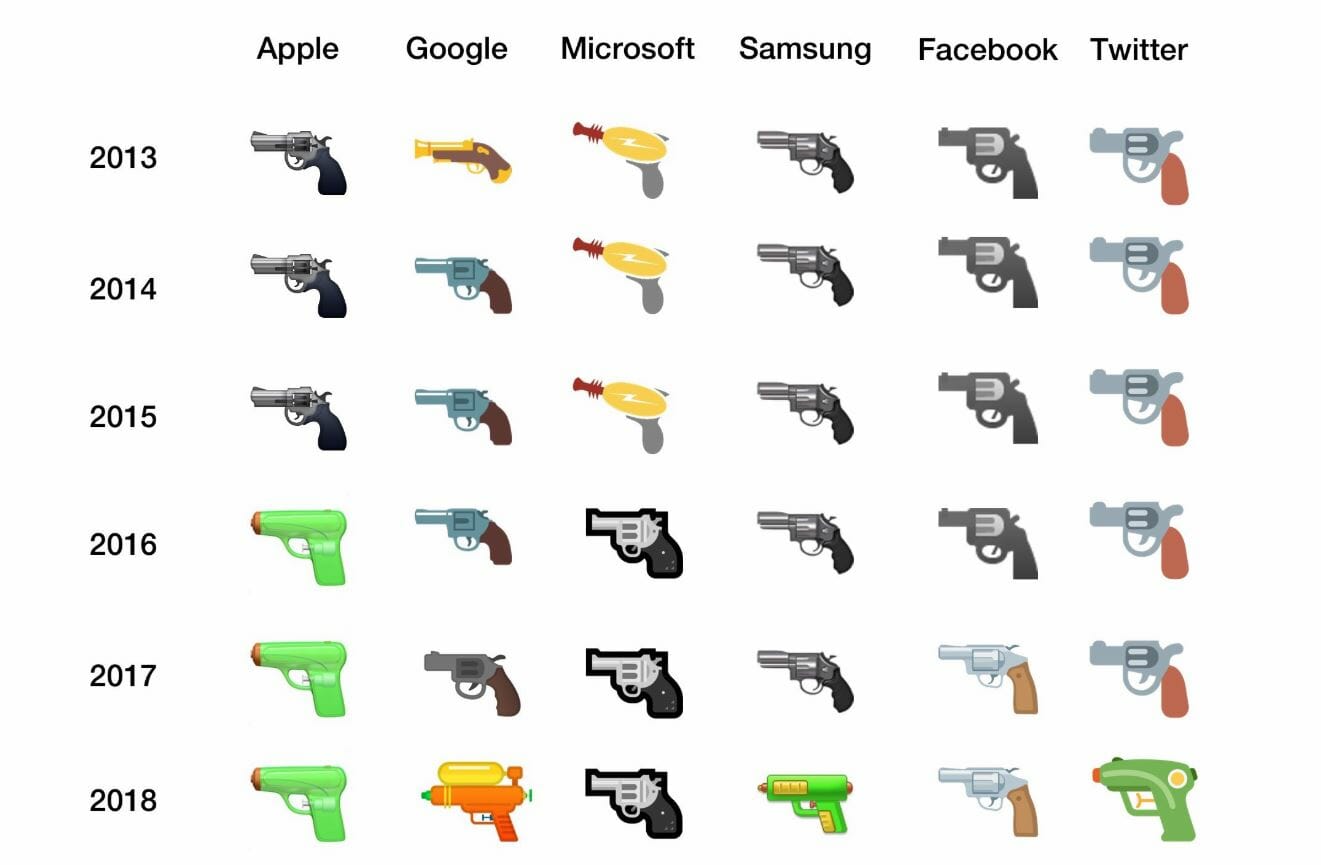 To its credit, Google's water gun—unlike its disgraceful hamburger—looks legit, and even something kids would want to play with. Meanwhile, Apple's looks like it was modeled after those cheap seethrough plastic toys that leak all over you, while those from Samsung and Twitter look like sci-fi laser guns.
Now that Google has finally jumped onboard, only Microsoft and Facebook have yet to replace the controversial icon. Facebook already said it would make the change later this year. That puts all eyes on Microsoft, which used a toy (or was it a ray gun?) image even before Apple ditched the pistol, then inexplicably changed it to a revolver years later.
Update April 27, 1:48pm CT: Microsoft announced it would replace its pistol emoji with a water gun two days after Google made the switch. The company said it's evolving its emojis to "reflect our values and the feedback we receive."
We are in the process of evolving our emojis to reflect our values and the feedback we've received. Here's a preview: pic.twitter.com/BlB3yYTSht

— Microsoft (@Microsoft) April 25, 2018
No other major tech company will use the pistol once Facebook updates its emoji later this year.