The built-in ad blocker Google designed to filter out intrusive advertisements is coming to Chrome on Feb. 15. First leaked in April last year, the integrated feature will block ad types outlined by the Coalition of Better Ads. The goal isn't to remove all annoying advertisements—remember, Google relies heavily on ad revenue—but to pressure sites to display ads that don't result in a bad online experience for users.
Google released a primer today explaining in detail how the upcoming ad-blocking technology will work. Most importantly, it goes over the types of ads the ad blocker will effect and explains how websites can determine whether they're abiding by the rules.
On desktop (Windows, Mac, Linux, Chrome OS), pop-up ads, prestitial ads (ads that appear before webpages have loaded) with countdowns, auto-play video ads with sound, and large sticky ads (ads that remain while scrolling) will be removed starting tomorrow.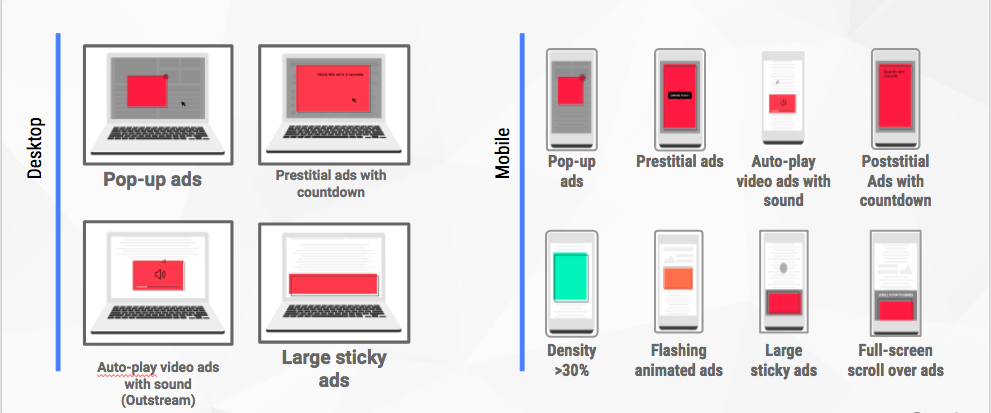 The ad blocker will have an even bigger impact on mobile, where ads can easily cover entire displays. Pop-up ads, presitial ads, auto-play video ads with sound, poststitial ads (ads that appear when you try to go to another site) with countdown, flashing animations, large sticky ads, full-screen scroll over ads, and ads that take up more than 30 percent of a phone's vertical space, will be automatically blocked by Google.
Sorry iPhone users, Google confirmed to the Daily Dot that the Chrome ad blocker will only be available on Android, not iOS, at launch.
According to a 40,000 person survey conducted by the Coalition of Better Ads, a group focused on improving the online ad experience, prestitial ads and flash animations are considered the most intrusive.
On the user end, Chrome will clearly indicate when an ad has been blocked and provide an option for users to override it should they want to see the ad. For desktop users, the notification will appear in the address bar and look similar to the current pop-up blocker. Android users will see the notification in a "small infobar" at the bottom of their screen (see image below). Selecting "details" will give users the option to enable "always allow ads on this site."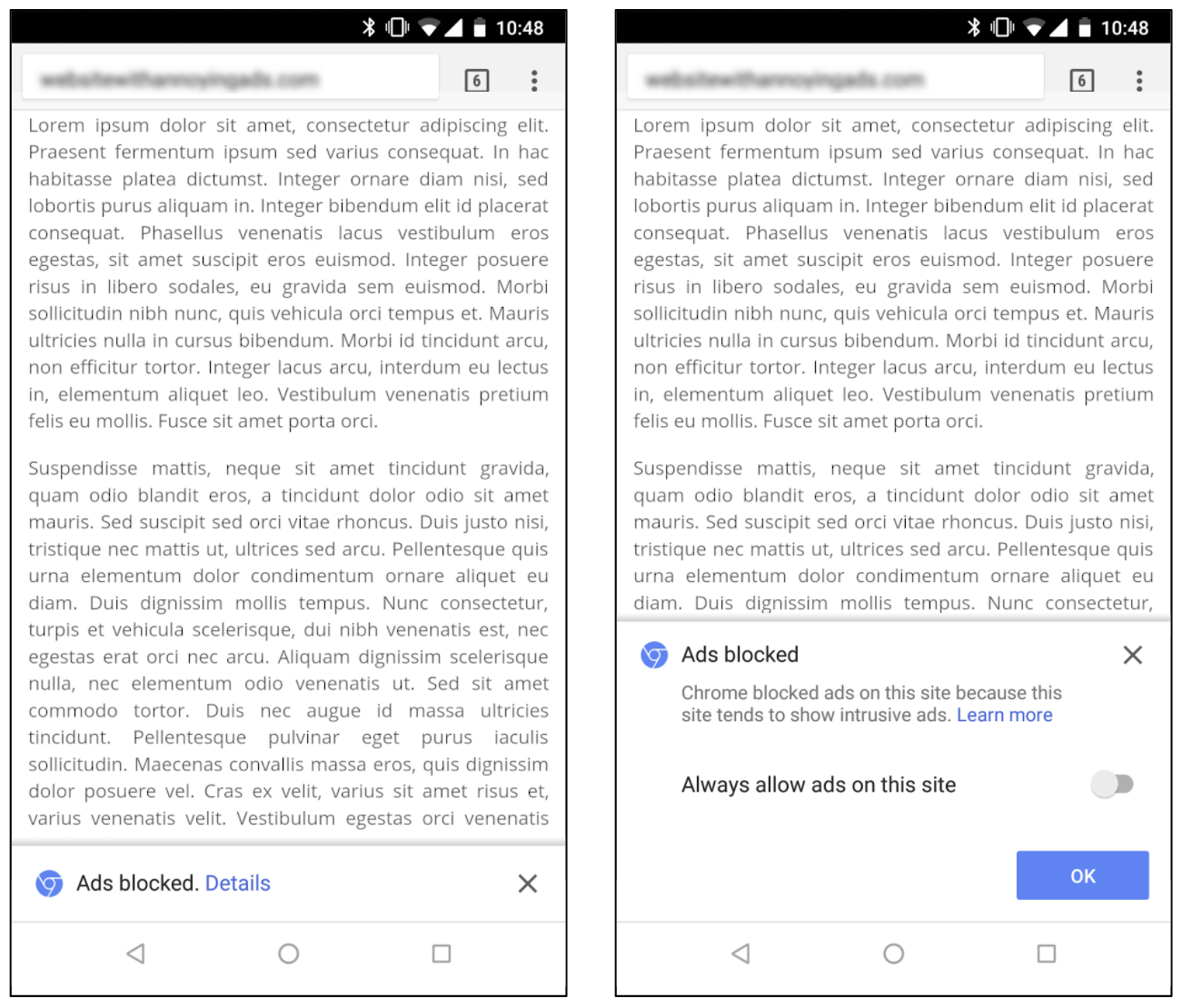 Google determines whether a site is displaying ads that don't follow the rules by taking a sample of pages and looking at how many times it violates the Better Ads Standards on a passing, warning, or failing scale. The ad blocker then detects when a user enters a failing site and checks the page's images and graphics against a list of known ad-related URLs. If there's a match, Google will block the request, preventing the ad from loading.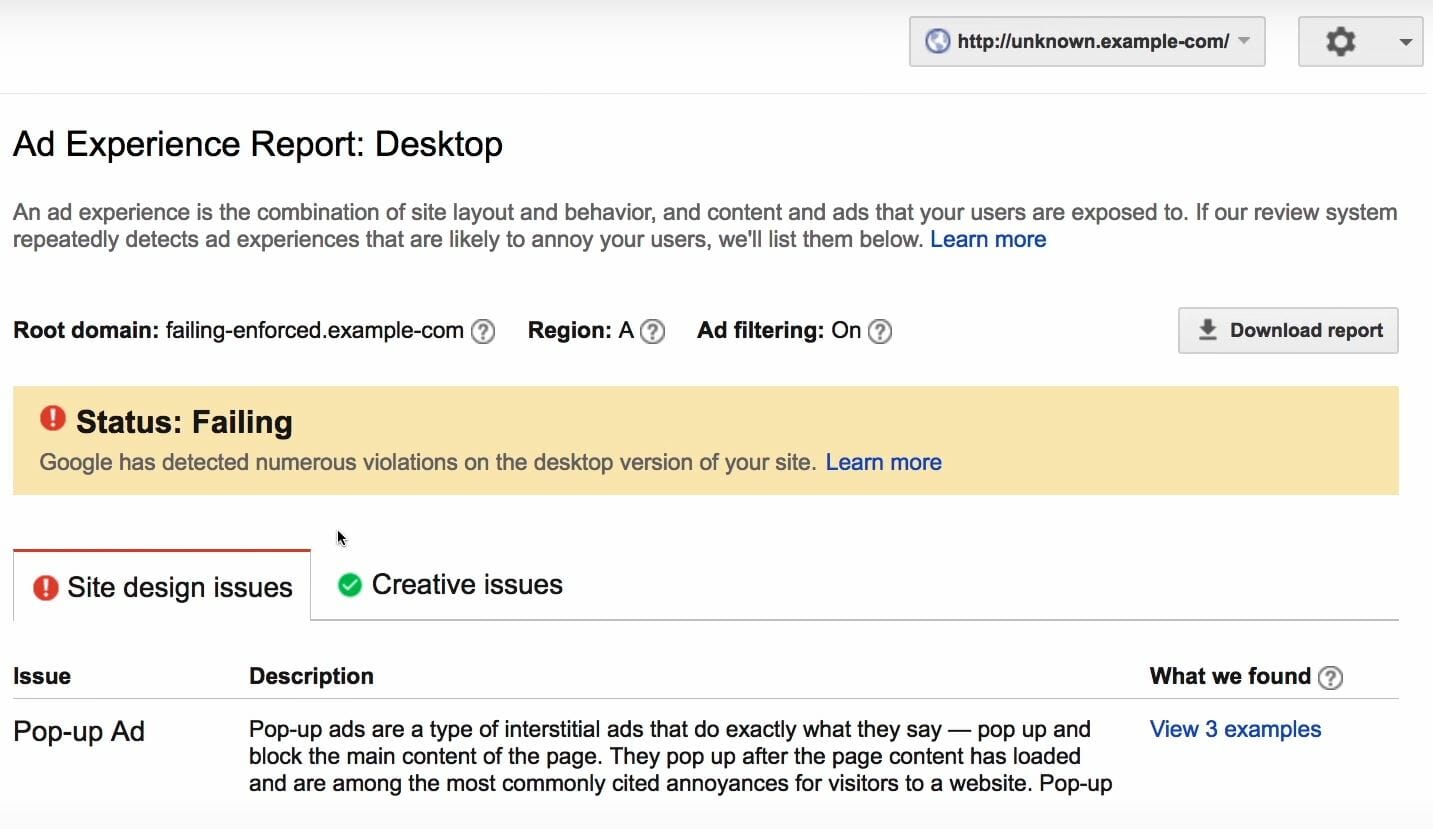 While an integrated ad blocker has been a long time coming, Google's ultimate objective is for sites to police themselves so there won't be a need for ad filtering. To that end, the company released tools that let site owners see whether their domain is passing or failing. Owners have 30 days after being notified of a failing grade to remove non-compliant ads or they will be blocked, resulting in a loss of ad revenue. Once they make changes, site owners can ask Google to re-evaluate their webpages.
"We've already seen more and more people express their discontent with annoying ads by installing ad blockers, but blocking all ads can hurt sites or advertisers who aren't doing anything disruptive," Rahul Roy-Chowdhury, vice president of Google Chrome, wrote in a blog post. "By focusing on filtering out disruptive ad experiences, we can help keep the entire ecosystem of the web healthy, and give people a significantly better user experience than they have today."
Google claims the pressure it's putting on sites to clean up their ads is already seeing results, and that 42 percent of sites that were failing the Better Ads Standards are now passing.
Some users may look at the new ad blocker as a way for Google to undercut competition, but the company assures the new rules will apply to its own ads. It will be interesting to see how this effects YouTube video ads.
"It's important to note that some sites affected by this change may also contain Google ads," Roy-Chowdhury said. "To us, your experience on the web is a higher priority than the money that these annoying ads may generate—even for us."
By integrating its own, Google will attempt to reel in third-party ad blockers, which are used by 26 percent of internet users in the U.S. Google tell the Daily Dot that third-party ad blockers won't be affected by the built-in filtering.