When most people send an email to the VIPs of very big companies, it's often without an expectation of hearing back. Yes, there are rumors of Bill Gates answering the company phones, and Steve Jobs was known to answer random emails from time to time. But these are people who receive digital mountains of email every day, and their assistants have assistants who also have assistants who are probably paid more than you or me. They're busy. 
The dismal chances of a response didn't stop Jarar Malik from reaching out and asking people like Tim Cook and Larry Page when their companies would adopt Bitcoin. They didn't answer, but Malik persisted in emailing executives from Apple, Google, and Amazon. 
To his surprise, he received a response from Vic Gundotra, the VP of Engineering, who wrote: "We are paying attention to the issue." Following that exchange, Malik ended up corresponding with several other Google executives and posting the exchanges on Reddit, and was asked to start a Google Moderator board soliciting ideas from users about how to integrate Bitcoin and Google. 
"When I initially asked Vic Gundotra about them integrating it with Google Wallet, he responded and CC'd me with Sridhar [Ramaswamy], who's the SVP heading up Google Wallet. Sridhar then specifically said they're working to integrate it. Those were his words," Malik wrote in an email, emphasizing that his Reddit post was accurate.
"Ariel Bardin then emailed me himself asking me to facilitate that Google Moderator board. I posted the screenshots online… and the emails have been verified by Forbes,Vice, Coindesk, and a few famous tech bloggers." 
Malik forwarded the Daily Dot these emails as well. They appear authentic: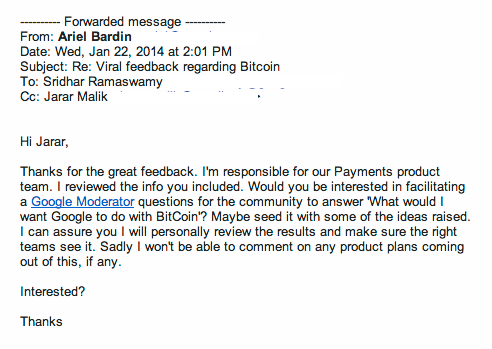 Daily Dot reached out to Google to comment, and they promptly responded, offering the same comment they gave to Forbes: "As we continue to work on Google Wallet, we're grateful for a very wide range of suggestions. While we're keen to actively engage with Wallet users to help inform and shape the product, there's no change to our position: we have no current plans regarding Bitcoin." This is similar to the denial of plans a Google spokesperson made in October 2013, so they're being consistent in their denial that active plans exist. 
And Malik told the Daily Dot that Ariel Bardin had asked him to re-arrange some of the words of his Reddit post, which suggests the company is looking to minimize what people can read into this. But despite Google's backtracking, Malik still believes they're serious about Bitcoin. "I don't know how they're planning to integrate it, and I'm not even sure when. But look at this way – if Google was going to take an anti Bitcoin position, or release a rival product/service, these guys wouldn't have responded to me.. let alone let something like that slip. You know? Clearly it's in the works," Malik wrote. 
I'd tend to agree with Malik. I don't think Google is lying—there very well may be no plans to integrate Bitcoin. But clearly the idea is floating around the higher rungs of the company. And Google and Bitcoin have some talent overlap; Mike Hearn, a Google software developer who lives in Switzerland, also works on Bitcoin. Daily Dot emailed Hearn to ask his opinion on this dust-up, but have not received a response. 
So there we have it: Man emails Google about possibility of a potential project. Man unexpectedly receives multiple emails from Google executives noting that they are aware of this potential project. Google executive asks man to conduct user survey looking for recommendations about said potential product. Man excitedly tells world. Google denies that they are seriously considering potential product. 
It is totally understandable that Google would want to keep any potential Bitcoin integration plans under wraps until they reached a certain point, but it certainly appears that, if the company is not actively planning to get involved in Bitcoin, they are quite obviously considering it seriously. 
And some of the ideas offered in the Google Moderator forum are interesting. Many suggest integrating the currency with Google Wallet and allowing Google Play purchases with bitcoins. Others want to allow tipping on YouTube accounts. Some were mad that Google wasn't emailing random users about integrating Dogecoin, though. You can't please everyone. 
Google has been emphatic enough in its denials of a plan that, if there is one, we're probably not going to hear about it until it's in much later stages. But the Bitcoin community should still be heartened that the Internet behemoth is at least quite obviously open to the possibility of integration. 
Screenshots via Jarar Malik | Photo via Antanacoins/Flickr