Avril Nolan, a 25-year-old resident of Greenpoint, Brooklyn, does not have HIV. But she does know Jena Cumbo, a photographer who took her picture for a magazine editorial some years ago and then apparently sold it to stock-photo company Getty Images, which licensed it to New York State Division of Human Rights, which used it in a newspaper ad for state HIV services.
Now Nolan is suing Getty in Manhattan Supreme Court for $450,000 in damages, claiming that the company "never requested proof" that she had executed "a legally enforceable and binding written model release." The quarter-page ad, which ran in the free daily AM NewYork this past April, features Nolan's image juxtaposed with the words "I am positive (+)" and "I have rights."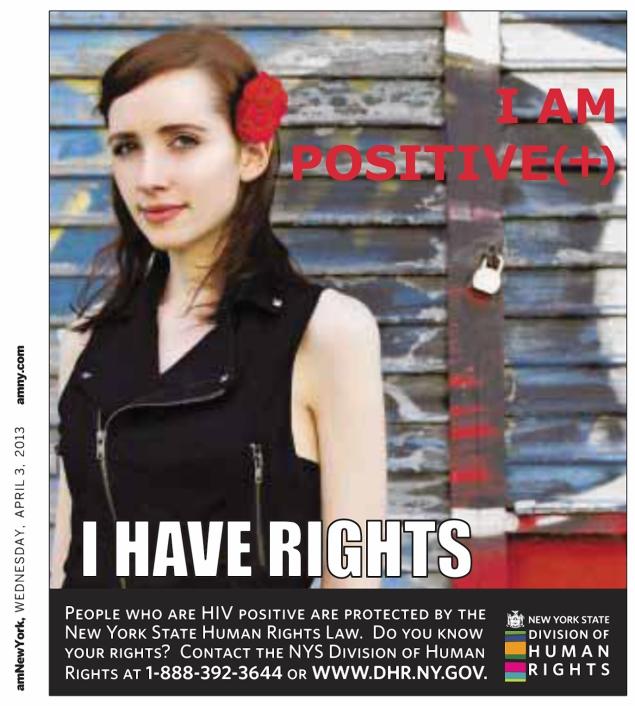 Cumbo has been apologetic, telling the Daily News that she made a mistake and "didn't understand" her contract with Getty. Nolan says Cumbo did not have authorization to sell her likeness in the first place and that as a result, neither Getty nor the Division of Human Rights—now targeted by Nolan's lawyer for claims of defamation and civil right violations, ironically enough—used her image legally.
Nolan found out about the ad from a Facebook acquaintance and her Pilates instructor, and was subsequently forced to explain to her employers, friends, and family that she did not in fact have the life-threatening STD, as well as a few "potential romantic partners," according to the lawsuit. 
Photo by NIAID/Flickr