Franklin Graham, the evangelist and ardent Trump supporter, got banned from Facebook for 24 hours last week for a post he published in 2016. Now, Graham has denounced the social media website on many platforms, saying Facebook is "censoring free speech."
The 2016 post read:
"Bruce Springsteen, a long-time gay rights activist, has canceled his North Carolina concert. He says the NC law #HB2 to prevent men from being able to use women's restrooms and locker rooms is going 'backward instead of forwards.' Well, to be honest, we need to go back! Back to God."
Facebook suspended Graham and removed the post for violating a policy banning "dehumanizing language," then put his account back up and apologized.
A Facebook spokesperson told the Charlotte Observer that it was a mistake to suspend Graham and a mistake to remove the post. The spokesperson further said that the company's content review team, comprising 15,000 people, had mistakenly decided to flag the post saying it included "dehumanizing speech" and excluded people based on sexual orientation and other factors.
Graham's Facebook account has more than seven million followers. Graham was on Fox and Friends this morning to discuss the issue. He also re-posted his 2016 post, denouncing Facebook's behavior.
Facebook's mistake spurred criticism on the social media platform, with followers of Graham saying the social media platform violated Graham's freedom of speech.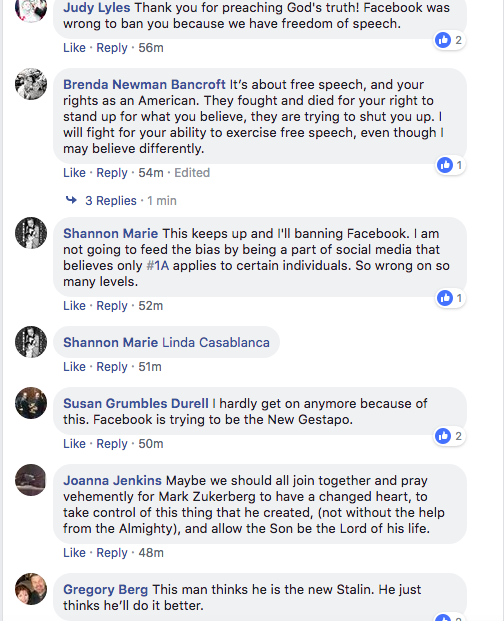 On Friday, Graham fired back in a Facebook post.
"Well, now we know. Facebook has a secret rulebook for policing speech. I was banned from posting on Facebook last week for 24 hours. Why? Because of a post from back in 2016 about North Carolina's House Bill 2 (the bathroom bill). Facebook said the post went against their 'community standards on hate speech.' Facebook is trying to define truth."
Graham later took to Twitter to thank Facebook for its apology.
I thank @Facebook for their apology and I accept it. All truth is in the Lord Jesus Christ, who is "the Way, the Truth, and the Life." I would encourage all Christians—as well as Facebook—to stand on God's Word and His truth. pic.twitter.com/rgEsOZna3C

— Franklin Graham (@Franklin_Graham) December 30, 2018
Graham, the son of evangelist Billy Graham, is also the President and CEO of the Billy Graham Evangelistic Association, a non-profit Christian organization which decries homosexuality and says it's against the Bible.