British diver Vern Unsworth, who played a pivotal role in locating the 12 boys trapped in a Thai cave, is considering a lawsuit against Elon Musk for the billionaire's accusations of pedophilia.
If that sentence makes absolutely no sense, don't worry, we'll get you up to speed.
When a search-and-rescue team started looking for the boys and their coach, it was Unsworth (an expat who's lived in Thailand for a decade, mapping the cave network the boys got stuck in) who initially located them. Unsworth stepped aside so Navy SEALS could continue the rescue operation, slowly retrieving each individual child from the flooded underground, with one SEAL losing his life in the process. Elon Musk, the Silicon Valley tech billionaire and founder of Tesla and SpaceX, was prompted by some Twitter followers to offer aid, even though no one from the rescue operation had really asked him for help.
So Musk directs his engineers to build a submarine about five to six feet long, big enough to hold a single child, and gets in contact with rescue leadership, who from all accounts were courteous but not entirely interested. Musk went so far as to go into the cave network himself, posting footage from one cave that was big enough for a group of people to walk through. Unsworth says Musk was asked to leave the cave shortly thereafter.
https://www.youtube.com/watch?v=1TmjpIkVDrU
After the boys were rescued and Musk's sub rendered useless, a small flood of criticism ensued, including a New York Times opinion piece by Zeynep Tufekci, a professor who studies the sociological impact of new technologies. Unsworth, the cave diver, gave an interview with CNN where he stated Musk could "stick his submarine where it hurts," stating the machine wouldn't have made it past 50 meters into the cave. Musk, responding to Tufekci's tweets about her own article, claimed he would prove critics wrong by getting the sub to cave five (where the boys were located) and ended his response by calling Unsworth "pedo guy," seemingly implying the cave diver was a pedophile.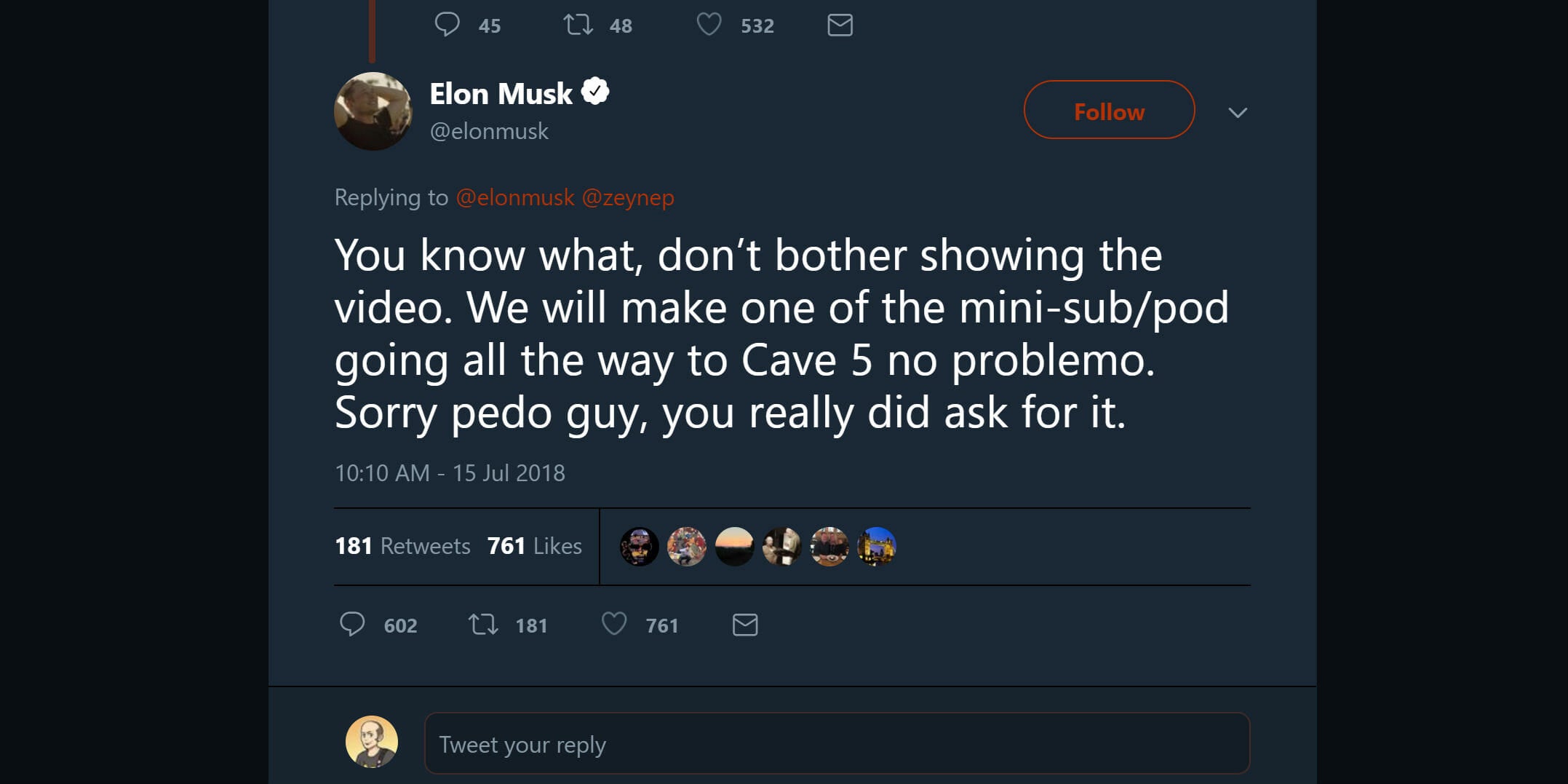 Woof.
Unsworth told reporters on Monday that he was considering legal action against Musk for the defamatory comment.
"It's not finished," he said in an interview with the Australian Channel 7. "I think people realized what sort of guy he is."
Unsworth told the Associated Foreign Press that he would make his decision whether or not to take legal action after flying back to the United Kingdom.
"He's just a PR stunt merchant, that's all he is," Unsworth said to BBC.
Musk's statement may have been trying to imply that Unsworth, a white British man, was in Thailand seeking to explore the nation's child trafficking industry.
Musk has since deleted his tweets, including a follow-up to his original accusation. After Musk's Twitter followers asked about his baseless accusation, the billionaire replied: "Bet ya a signed dollar it's true."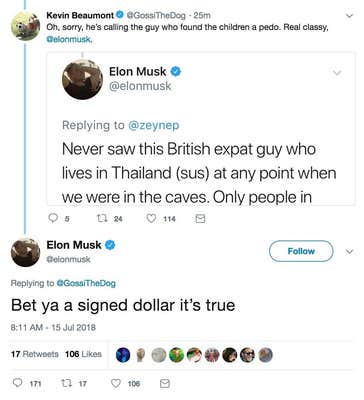 Musk has been on a particularly strong bender of social faux pas and declarations, including announcing his intent to "fix" the water in Flint, Michigan after being goaded into it, again, by his Twitter followers.
H/T: BBC