Protesters in Washington D.C., seemingly went conspicuously silent on social media in the early hours of June 1.
The stillness led many to allege, without much evidence, that the nation's capital had cut internet and cell phone service. That, in turn, caused #DCBlackout to trend on Twitter.
Sunday marked the third consecutive day of protests in D.C. over the death of George Floyd, the unarmed Black man who died last Monday after Minneapolis police officer Derek Chauvin knelt on his neck for nearly 10 minutes. Like the previous nights, cops fired on protesters with rubber bullets and tear gas as they charged the White House, the Washington Post reports. At one point last night, the White House went dark.
Protesters reportedly set fire to numerous buildings, cars, and American flags. Then at around 1am, after the White House turned off its lights, the rest of the city seemingly followed suit, according to Twitter dispatches.
The hacker collective Anonymous was one of the first to allege that the government cut communication.
"The US government cut all communications in D.C. from 1 a.m. to 6 a.m. the fate of the protestors or events during this period is currently unknown," the hacking collective tweeted.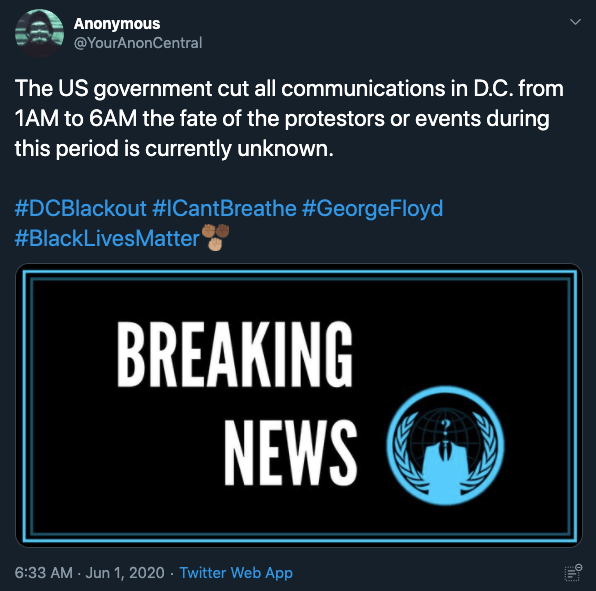 Following Anonymous' tweet, the already-burgeoning #DCblackout hashtag exploded on Twitter. At the time of this writing, it approaches 200,000 tweets and is the highest-trending hashtag in the United States.
However, over the weekend during its return, Anonymous made a number of false and bombastic claims that did not hold up under scrutiny.
Meanwhile, reporters and social media researchers are pushing back against the claim.
For one thing, the White House turns off its lights every night at around 11pm. In addition, D.C. Mayor Muriel Bowser instituted a Sunday night curfew extending from 11pm to 6am, likely leading to the quiet.
CBS News reporter Christina Ruffini said that the city went quiet simply because "even TV crews need to sleep." She added that journalists in the field had cell service.
Alex Kaplan, an expert on social media misinformation, said that the first account to use the hashtag appears to be a troll with a far-right username.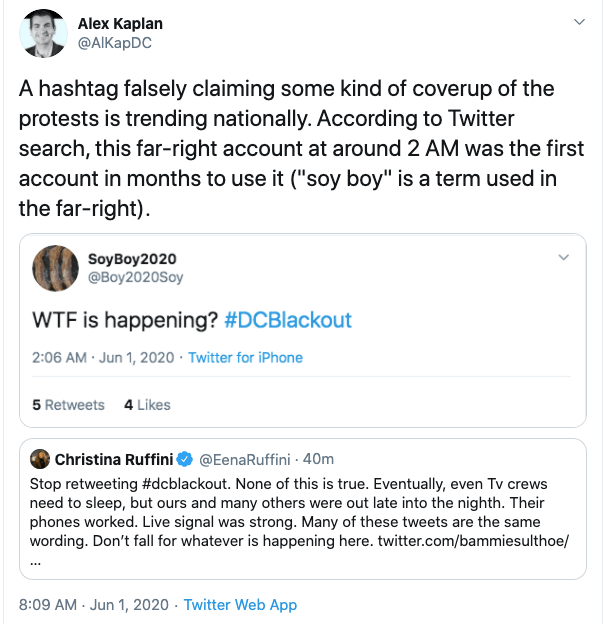 "This appears to be misinformation," the Metropolitan Police Department of the District of Columbia told the Daily Dot. "We have no confirmation of a cell phone blackout."
Update 9:20 a.m. CT, June 1: The story was updated to include a quote from police in Washington D.C.
READ MORE: