Since the beginning of June, complaints about illegal fireworks have skyrocketed in Brooklyn, New York.
As compared to last year, the first two weeks of June saw a 4,000% increase in fireworks' complaints, the New York Post reports. Many being detonated are reportedly large, "professional" fireworks.
Now some are theorizing on Twitter that the endless explosions are a psychological warfare effort by the government.
They believe that authorities are seeking to disrupt the recent wave of civil rights protests, and, potentially, to desensitize people to the sound of explosions.
Then again, the explanation could be simple: Fourth of July fireworks are canceled, so prices are down, and sellers are tapping into an eager market of people bored from being cooped up during quarantine.
It is also possible that both are true.
Over the weekend, in a lengthy, much-read thread, author Robert Jones, Jr. expounded on the theory that the government is behind it.
Jones said that Friday night's fireworks in Brooklyn, where he lives, was "the loudest I've ever heard…. It sounded like war."
"My neighbors and I believe that this is part of a coordinated attack on Black and Brown communities by government forces; an attack meant to disorient and destabilize the #BlackLivesMatter movement," he wrote in a subsequent tweet.
Jones believes that goals include: sleep deprivation "to create confusion and stoke tensions" and desensitization so "that when they start using their real artillery on us we won't know the difference.
"It's meant to sound like a war zone because a war zone is what it's about to become."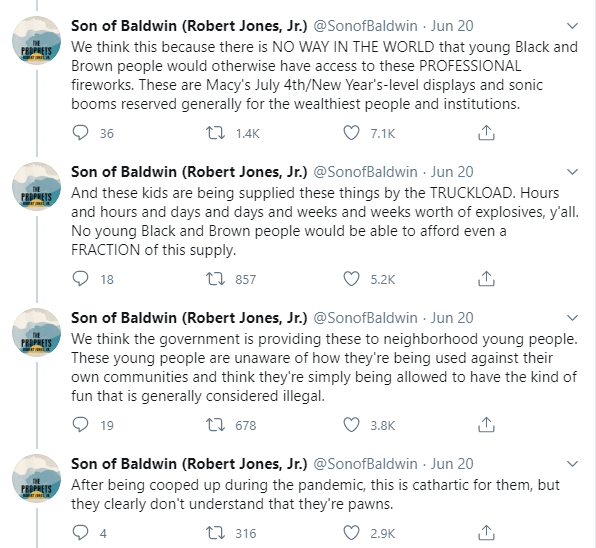 Jones went on to urge people to educate anyone they know who's illegally shooting fireworks in Brooklyn that they're unwittingly being deployed against their own people.
He also speculated that "water rationing" was next.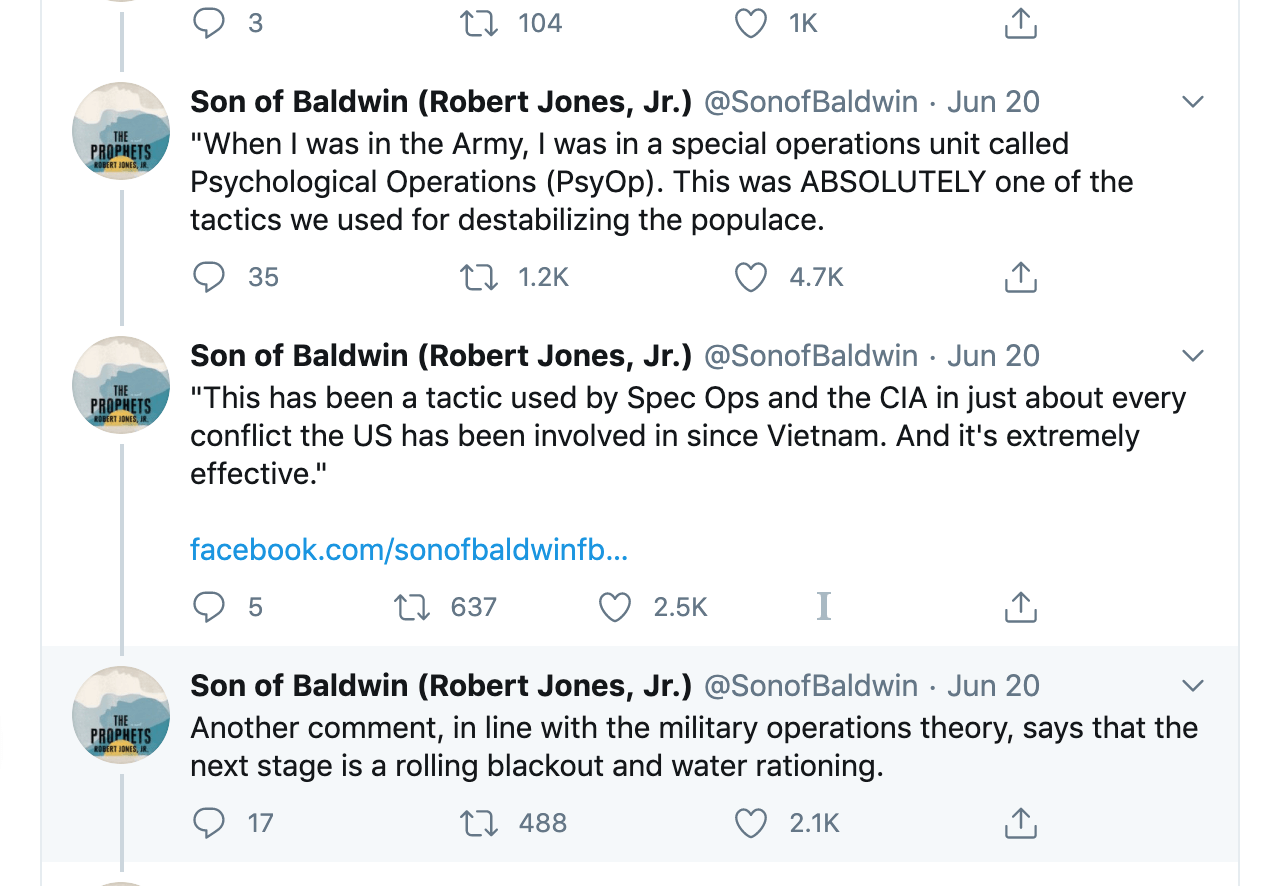 Others share the same belief. Several said that they were experiencing the same thing in other cities, including Washington, D.C., the Bronx, San Francisco, Los Angeles, and elsewhere.
Many have suspicions that firefighters or police are involved. Several have claimed that when they walked around looking for the source of the fireworks, it turned out to be right next to a fire station.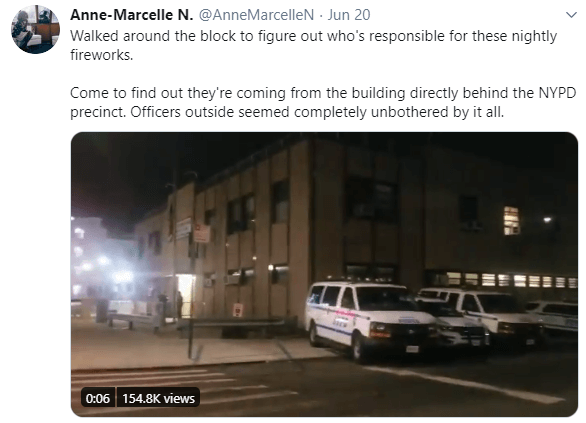 One video circulating on social media also shows firefighters purportedly lighting illegal fireworks in Brooklyn, the Post reports.
In the thread, Jones also accused fire departments of selling them to children as well.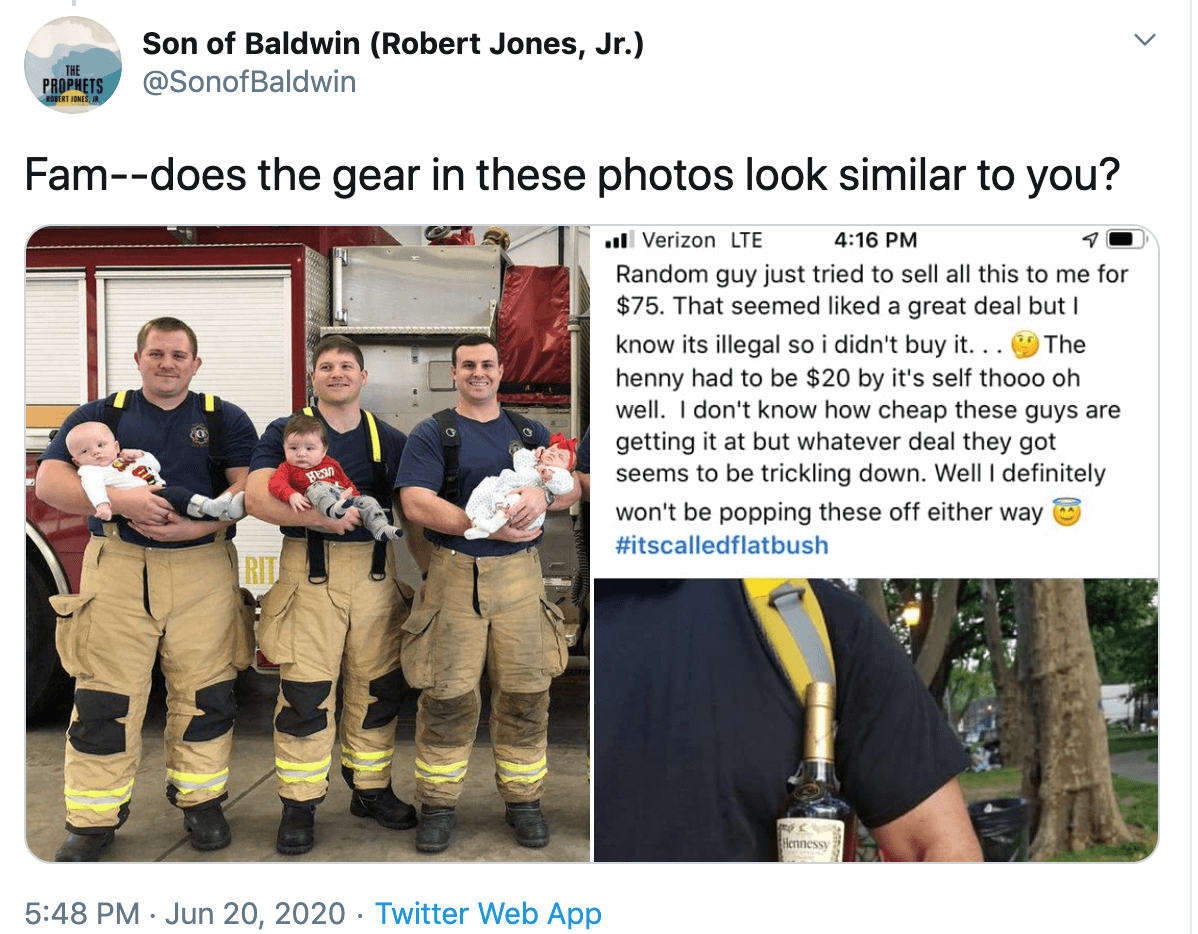 Authorities in Brooklyn acknowledged that the fireworks have been uncharacteristically incessant and elaborate, but deny that the government is behind it.
They believe that the explanation is simply that fireworks sellers are dumping their stock in highly-populated areas to make a quick buck and make up for lost revenue due to canceled Fourth of July celebrations.
Brooklyn Borough President Eric Adams told Gothamist/WNYC, "I'm not seeing any diabolical plot being planned out by the police department or some unit in the police department. I don't buy that. I believe that there is a clear pathway of illegal fireworks into the city."
It's also plausible that at a time where the legitimacy of law enforcement is being challenged nationwide, people are less inclined to follow city ordinances they used to respect.
READ MORE: