In a 911 call in the early morning hours of June 1, an audibly distressed Cassandra Fairbanks said people were shooting guns and fireworks at her house.
"Please hurry," she said.
The Gateway Pundit reporter later tweeted that people, presumably the shooter(s), had surrounded her home and pounded on her windows. She claimed to have called a friend to protect the exterior as she, weapon in hand, watched from inside.
Fairbanks blamed antifa, who she claimed had doxxed and threatened her.
But a new report by Right Wing Watch (RWW) reveals it all was a money-raising hoax.
Fairbanks quickly capitalized on the incident with a GoFundMe for moving expenses, which was launched by the founder of the far-right Rebel Media. So great was her fear that she immediately wanted to move somewhere far away from Washington, D.C.
When someone commented sympathetically that she'd probably be "called a grifter and blamed for her attack," Fairbanks responded that she was "[t]oo frazzled at the moment for pride."
Supporters ponied up more than $24,000 to "move Cassandra Fairbanks to a safe house."
The only problem with the story of middle-of-the-night terror: There were no guns. It was just fireworks down the street.
This morning, RWW reported that conversations with eight of Fairbanks' neighbors and police reports all fail to prove her version of events that "rioters" from antifa terrorized her at home.
On the contrary, what apparently actually happened is that some people shot off fireworks more than 100 feet away, far enough that Fairbanks' house is "barely visible" from the spot, RWW reports, in the middle of the night, then drove away.
Nor were the fireworks shot at her home, according to neighbors and a police report comprising precisely four sentences, per RWW.
"This person is stealing money from people, basically, to get the fuck out of their house," one neighbor, who declined to be named, told the outlet.
"There's no antifa around here or anything like that," Fairbanks' now-former neighbor (she reportedly moved earlier this week) Jeffrey Proctor told RWW. "There ain't no fucking way that was targeted at [Fairbanks] and her daughter."
One neighbor told the site that she initially thought it was gunshots until her boyfriend told her it was fireworks.
"…[N]one … said they had seen or heard anything that would support Fairbanks' belief that the fireworks detonated in their neighborhood were meant to target her and her daughter," RWW reported.
The city's gunshot detection system was apparently negative and there was no physical evidence of gunshots. All police found were spent fireworks casings, some of which Fairbanks later tweeted pictures of.
That didn't stop right-wing media from jumping on the story. Breitbart, Russia Today (Fairbanks herself has worked for Russia state media), and the Gateway Pundit (where Fairbanks has also worked) eagerly disseminated the tale to readers equally eager to believe antifa is violent and dangerous.
When RWW started asking questions about the June 1 incident, Fairbanks began attacking the reporter in subtweets accusing him, without evidence, of being a "leftist conspiracy theorist" and "antifa apologist" on Twitter. She refused multiple interview requests, RWW reports.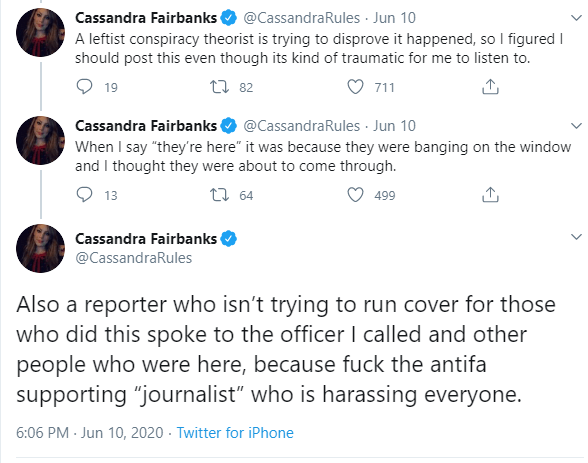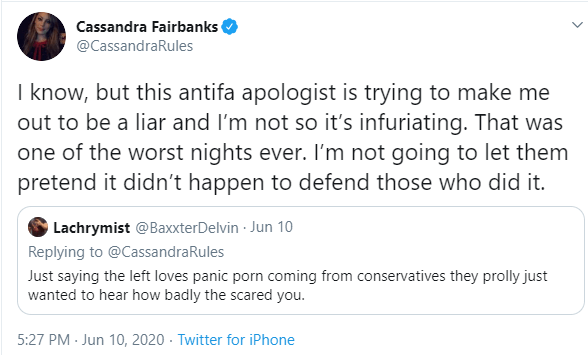 Fairbanks has since reportedly relocated to a "rural red state" where her family will be safe from "antifa"—but not fireworks.
Her GoFundMe is still live. On Twitter, after RWW ran its story, she denied it.
READ MORE: