Representatives of two conservative media outlets, BlazeTV and Gateway Pundit, shared a photo of the Speaker of the House's open email account on her computer screen Wednesday, in the midst of the siege on the U.S. Capitol by militant Trump supporters.
The image was initially shared by BlazeTV's Elijah Schaffer. Schaffer appears to have deleted his now-unavailable tweet within an hour of posting it. In the tweet, Schaffer noted that "thousands of revolutionaries" were in the Capitol building, and marveled at her computer being left unattended, with its email account open, as evidence of how quickly she evacuated the House chambers.
Gateway Pundit's Jim Hoft also appears to have deleted his tweet, though the Kim Dotcom Twitter account shared a screenshot of Hoft's tweet, which also highlights the Schaffer photo.
In his tweet, Hoft declared, "Patriots are INSIDE NANCY PELOSI'S OFFICE," and shared Gateway Pundit's story on Schaffer being in close proximity to Pelosi's computer.
The Daily Dot also preserved a screenshot of the Hoft tweet before it was deleted.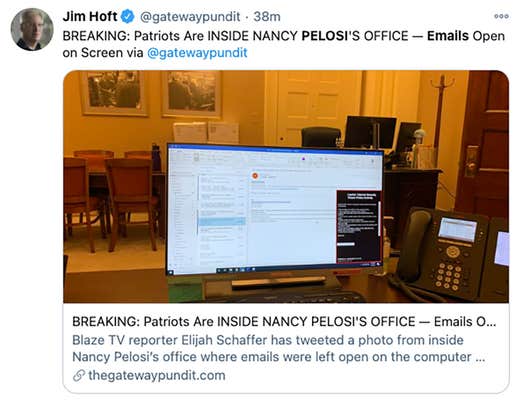 The article includes the full text of Schaffer's tweet:
BREAKING: I am inside Nancy Pelosi's office with the thousands of revolutionaries who have stormed the building
To put into perspective how quickly staff evacuated, emails are still on the screen alongside a federal alert warning members of the current revolution
The sharing of Pelosi's email online generated a range of reactions. Dr. Lora Burnett preserved a screenshot, noting, "The braggart who preened about reading emails in Nancy Pelosi's office has deleted his tweet. Fortunately, I was able to screengrab it from my texts. Arraign him for every single crime he just bragged of committing."
Suzie Dawson, responding to HuffPost senior reporter Jennifer Bendery's confirmation that Pelosi was safe, cracked, "Great news Nancy Pelosi is safe … until her emails hit the news."
Another seized upon the Pelosi account having an email folder for hair appointments.
And another observer noted that Schaffer's actions might be a testament of how very online we all are, remarking, "Breaking into Pelosi's office, discovering her email still logged in, realising you have unprecedented access and opportunity to scour for government secrets, yet feeling immediately compelled to simply tweet a pic of it instead. Hitherto uncharted levels of 'poster's brain.'"