President Donald Trump posted an unattributed quote someone said about him on Twitter Friday morning, and in the process misspelled the word "chief," leading to the incorrect spelling to trend on Twitter.
"'President Donald J. Trump is the greatest hostage negotiator that I know of in the history of the United States. 20 hostages, many in impossible circumstances, have been released in last two years. No money was paid.' Cheif [sic] Hostage Negotiator, USA!" Trump wrote.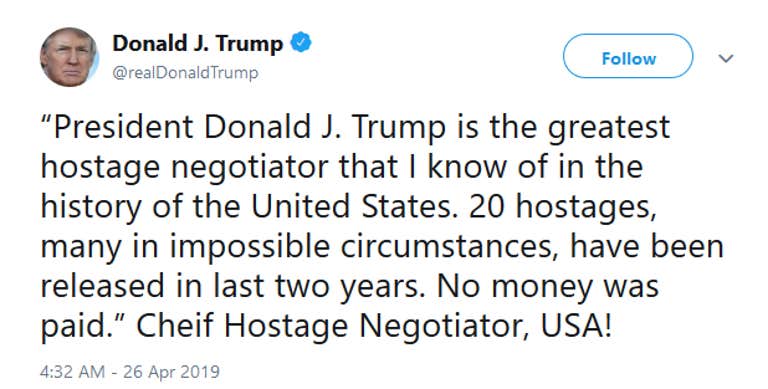 Right before posting the quote, Trump tweeted that "no money was paid" to North Korea in exchange for the return of Otto Warmbier, who was arrested in the country in 2016 and returned to the United States in 2017. He died a few days later.
It would appear that the quote was in reference to the president's tweet about Warmbier, a hostage in North Korea. The Washington Post reported that the White House spokesperson said the president was referring to remarks by Robert O'Brien, who served as an envoy to the administration for hostage affairs.
Meanwhile, the misspelling of "chief" quickly became a trend on Twitter.
I before E except after C. https://t.co/0Qz2srkNFj

— Brian Bilek (@BrianBilek_) April 26, 2019
Hail to the Cheif https://t.co/vc2TEJ0tGV

— Joyce Alene (@JoyceWhiteVance) April 26, 2019
*sees Cheif trending*
Me: Oh God he did it again, didn't he?..
*checks hashtag thread*
Yep… pic.twitter.com/Lp04cwns7Y

— Nicole Joy (@Joy657_) April 26, 2019
SARAH SANDERS: The President spelled Cheif correctly, despite what the fake media is telling you kids, the e always comes before the i, without exception. I have had constant calls this morning from Cheif Grammar Experts and they all agree. pic.twitter.com/kNpHEPmbF8

— Jeremy Newberger (@jeremynewberger) April 26, 2019
https://twitter.com/QueenLambright7/status/1121758037516197888
It is the latest Twitter mishap that has sent Twitter into a frenzy, following the likes of "covfefe" and "hamberder."
READ MORE: