"Retweet if you support my dad," is not the most convincing set of words to prove you a Barron Trump, but that isn't stopping the right-wing internet from losing it.
A viral tweet circulating around President Donald Trump's most loyal MAGA Twitter heads is billing itself as Barron, the youngest son to Melania Trump and the president. 
The account with the Twitter handle "@Trumps_son" has a headshot of a young Barron with the bio "Make America Great Again," and it most recently tweeted out a message urging followers to retweet a photo of Trump and "him," if they support his father. 
"RETWEET IF YOU SUPPORT MY DAD," the tweet sent out on Dec. 18, 2019 reads. 
https://twitter.com/trumps_son/status/1207358004678414336
Over the past two days, the tweet has gone viral, accumulating over 2,600 retweets and over 3,800 likes.
Everyone from QAnon–supporting Trump fans to third-rate conservative candidates running for Congress have voiced their support in the comments. 
https://twitter.com/JWrightforCA34/status/1210090688571834368
https://twitter.com/virginiamack/status/1209967709816934400
MERRY CHRISTMAS, Barron! God bless You and Your Family!

— Q-NONNA1755⭐⭐⭐ (@nonna1755) December 26, 2019
https://twitter.com/bonnie1968/status/1210213346043056128
If it's Barron he has to be careful. The minute he enters the public debate, he becomes a target of the left's criticism, attacks, and scorn.

— .@Marine76 (@Marine_1976) December 26, 2019
Hello Barron!
First time I've seen a tweet from you – nice! :)

I've been fan of your dad's for decades & was thrilled to see him run for/win presidency!

I hope you all had Merriest of Christmas's & New Year brings some peace & joy to the battle you dad has waged on our behalf!

— Sue – JustTryingToMatter (@NoFacebookForMe) December 26, 2019
When searching Barron Trump's name on Twitter, the top result is that of a different Twitter account, "@RealBarronTramp," which retweets President Trump frequently. That seems unlikely to be him, however.  
But Barron might have another Twitter account. Both Trump campaign manager Dan Scavino and Eric Trump have tagged the account "@BARRONTRUMP," in the past.  
.@realDonaldTrump @ChrisCuomo after #GOPDebate. @MELANIATRUMP @EricTrump @LaraLeaTrump @TiffanyATrump @BARRONTRUMP pic.twitter.com/ZWJOBxrLVl

— Dan Scavino (@DanScavino) March 11, 2016
#NationalSiblingsDay @IvankaTrump @DonaldJTrumpJr. & I arriving at @TrumpToronto. #NSD @TiffanyATrump @BARRONTRUMP pic.twitter.com/nrn6pU7c7P

— Eric Trump (@EricTrump) April 11, 2014
Barron Trump's mother, Melania, has also tagged the account—which does not have an avatar—in the past. The account only follows Melania Trump.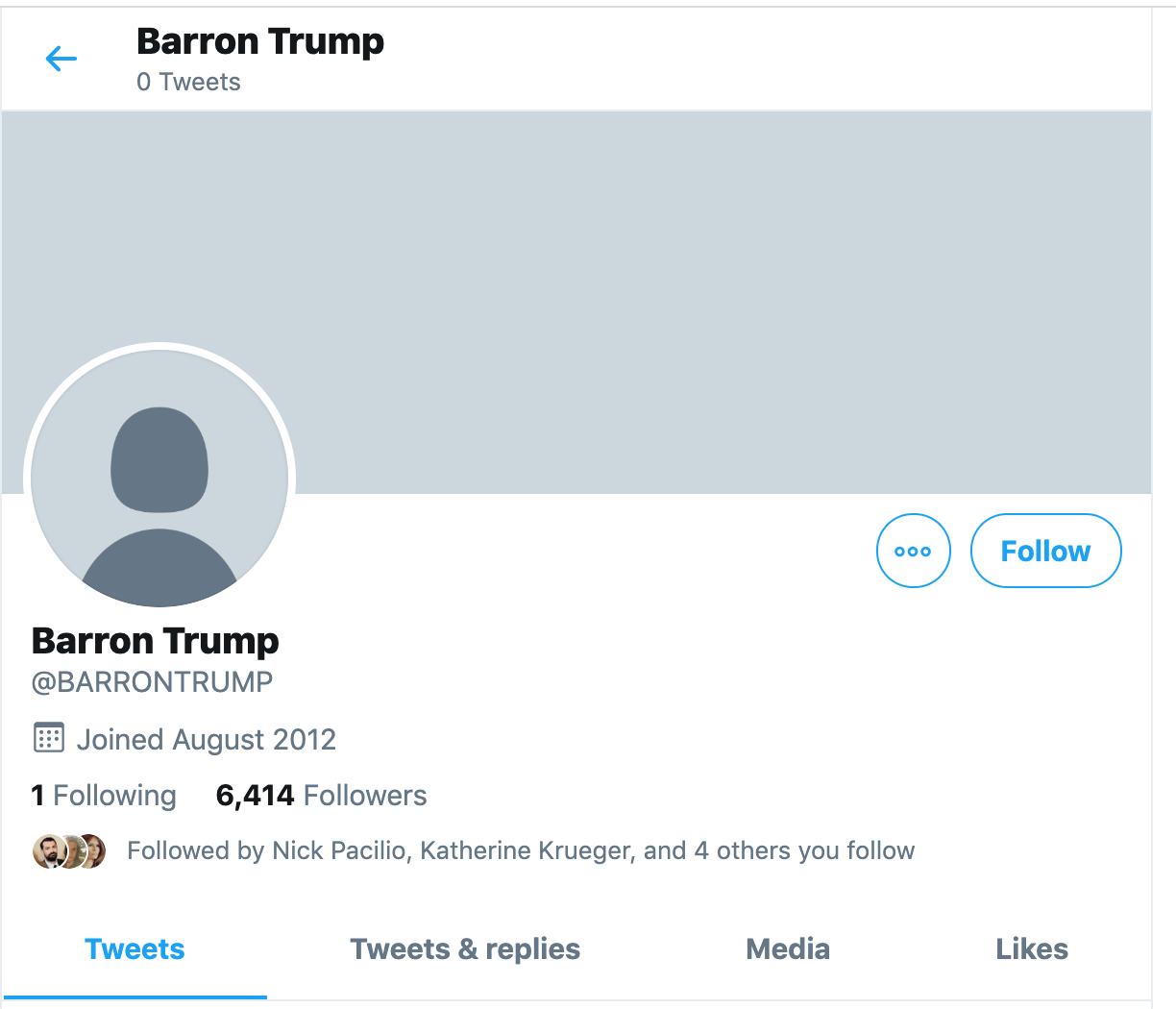 #fbf 2009 @BARRONTRUMP w/ my mom & dad pic.twitter.com/FdEsZDx1t2

— MELANIA TRUMP (@MELANIATRUMP) January 9, 2015
https://twitter.com/MELANIATRUMP/status/548916528272650241
President Trump recently boasted that he "could have Barron Trump go into Central Park and he'd get a crowd" more significant than what Elizabeth Warren had at a campaign rally in the city recently. His youngest child, though, has mostly been absent from rallies hosted by the president. 
Twitter did not respond to comment from the Daily Dot on the many Barron Trump Twitter accounts that are circulating on the social networking site. 
Barron is old enough now to have a Twitter account at 13, although he very likely could have created one before his birthday, as Twitter has long been lax about enforcing age restrictions on the site.
READ MORE: