Far-right streamer Baked Alaska may have been banned from YouTube after his latest stunt, harassing retail employees about masks, caught flack online.
While Baked Alaska (real name Anthime Gionet) has professed penance for his previous antics, it appears he is up to his old nonsense. This time, he's causing trouble in a Flagstaff, Arizona area camping store over having to wear a mask.
Gionet was filming on Twitch when he asks a woman employee if she has a mask for him, which he initially accepts. However, he quickly says: "I have to say 'fuck your mask,' I'm not wearing it."
The male employee tells him to get out, but Gionet shushes him and proceeds toward an aisle with hats.
He comes back with the hat, but the staff is on the phone with the police and will not allow him to check out.
"I'm not being a dickhead; I wanna buy this hat." They refuse.
"Is this not America, bro?," Gionet asks, not letting them answer before calling them communist.
Simultaneously, Gionet has the "super chat" automated voice commenting going on his stream, where people can hear toxic nonsense his Twitch followers say. One message says the woman employee is "just testing him if you are a beta without even realizing it."
Gionet continues with the idea that mask-wearing is pointless, spouting off fake data at the employees and is continually refused service.
One of his watchers, going by the handle "Angel Martinez," calls his shot: Gionet will end up getting arrested.
Lo and behold, as he finally attempts to leave, a police officer arrives to detain Gionet for trespassing.
He's told he had plenty of chances to just leave and had now "lost that opportunity" to do so.
Then, predictably, Gionet's tone changes. No longer antagonistic, he's just trying avoid cuffs being put on him. The officer tells him to put his hands behind his back.
Gionet asks, "Are you serious? The officer: "I'm dead serious."
He put the phone down, which is the end of the video.
According to the Flagstaff Police, Gionet was involved in an incident at the Flagstaff Mall, but no charges were filed.
Gionet says there's no mask mandate for Arizona. However, while there is no state-directed mandate, individual cities and counties can enforce mask mandates. Flagstaff Mayor Coral Evans enacted a mask order on June 20 for all public spaces.
Gionet has been going around harassing people over masks recently. He recently charged up some convenience store employees.
Although Baked Alaska's anti-mask stunts came on Twitch, a couple of left-wing comedians began a concerted effort to get him kicked off another video platform, YouTube.
As of today, Gionet's YouTube channel has been deleted, possibly due to the efforts of Tim Heidecker and Vic Berger, who called for a ban.
Gionet took to his Instagram stories, castigating Heidecker as a snitch and a burn-out.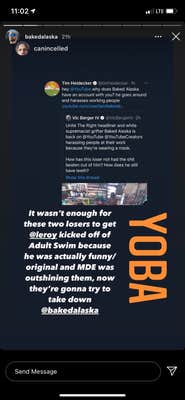 He's also claiming he will seek vengeance for his YouTube ban.
According to a YouTube spokesperson, Baked Alaska was banned for multiple violations of its policies on hate speech and harassment.
This story has been updated.
---
Today's top stories