As protests against police violence swept the country in early June, an Austin Police Department (APD) tweet showing off a pile of "Thank You" cards went viral, with many finding it suspect. Weeks later, Texas Monthly reviewed the messages and confirmed that, yep, they are "deeply strange."
The tweet in question, sent on June 6, said, "We can't express enough how grateful we are to serve you, Austin. Our officers have been working around the clock during these unprecedented times and thank everyone who took the time to write and make our day a little brighter. #OneAustinSaferTogether #Thankful."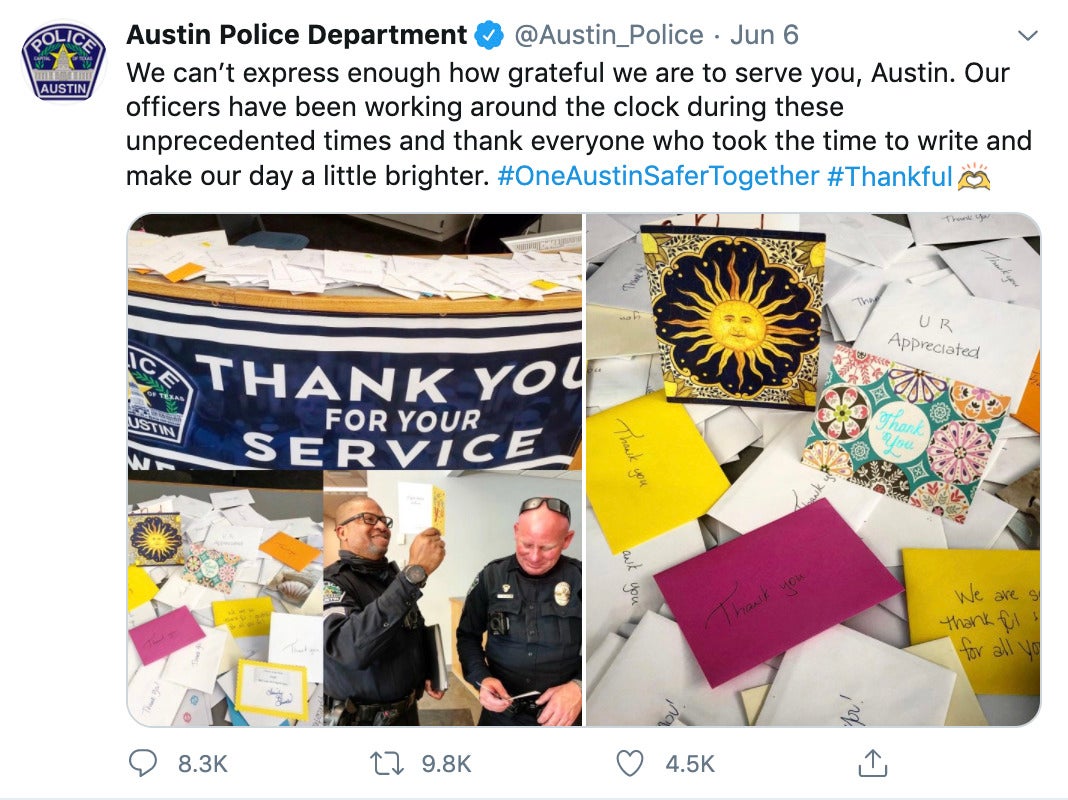 It included a series of photos of scattered cards and smiling officers, which immediately raised eyebrows. The uniformity of the cards, from their shape and size to the identical handwriting on the front of multiple envelopes, was quickly called out by social media users, who questioned their authenticity.
At the time, the APD told the Daily Dot, "The cards were from several community members to include kindergartners and Austin families, who wanted to show support for APD officers. Two people, who organized delivering the cards in person, addressed the envelopes with a 'Thank you,' so our officers would open the notes to receive encouragement during these difficult times. That is why the front of the envelopes appear to have the same handwriting."
Now, an open records request from Texas Monthly offers a look at what was actually written in those cards—and it doesn't exactly make them seem more legitimate.
The request turned over photos of 185 cards, the majority of which were reportedly unsigned. Of those that were, "at least 30" came from someone named "Cheryl Waters," with 17 others coming from two sets of families. The outlet says none had return labels, and reporters were not able to verify the origin of any cards. The police department did not offer up any additional information on where they came from.
The notes inside ranged from "prayers" to praise for the police officers' "self-control" and "selflessness." Another 46 included an identical message, reading, "In case you forgot to remind yourself this morning … Your butt is perfect. Your smile lights up the room. Your mind is cool. You are way more than enough. You are doing a great job."
The article notes that some of the cards mentioned the APD's Citizen Police Academy, which might hint at their source of origin.
Based off these messages, it would be quite interesting to know what they're teaching there.
READ MORE: