One of the internet's more notorious scammers pledged one of the Lincoln Project's largest donations.
The Lincoln Project has attracted tons of attention since its founding late last year. The Never Trump message in its scathing ads and tweets resonates with both liberals and disaffected Republicans, like the project's founders.
Donations have poured in. In less than a year, the Lincoln Project political action committee has raised nearly $20 million to oust President Donald Trump.
The second largest single donation it received last quarter came from a man in Chicago. The $250,000 he promised was quickly refunded. Nevertheless, the donation raised eyebrows across the internet.
It wasn't the amount of the pledge nor its rapid refund that set tongues wagging, however. It was the the donor's identity: Arturas Kerelis.
Arturas Kerelis, née Rosenbacher, has been described as a "charlatan" and a "notorious scammer"—and that's just the headlines. Elsewhere on the internet he's been called a "liar," "con artist," and "psychotic."
He's been accused of tricking Twitter, Facebook and Instagram into verifying his accounts. (The former is now suspended; the latter accounts are no longer verified.)
In 2013, ZDNet reported that Kerelis, then going by Arturas Rosenbacher (his full name is Arturas Albertas Kerelis Rosenbacher), hijacked an internet bounty to hack Apple's fingerprint technology, stealing headlines and enraging the people who actually started it. When the time came to pay the $10,000 he'd pledged, he claimed that his funds weren't "liquid" enough.
In 2018, Gizmodo reported that he convinced Twitter that he was in Syria during the United States' airstrikes, again earning press coverage and thousands of retweets in the process. He wasn't anywhere near Syria.
And that's just for starters.
Other of Kerelis' alleged exploits include claiming to have been a founder of Tumblr, Twitter, and the Tap Tap Revenge iPhone app; running fake social media accounts; and being a professional investor with $200 million at his disposal. Kerelis' history has been extensively documented by internet researcher Asher Langton.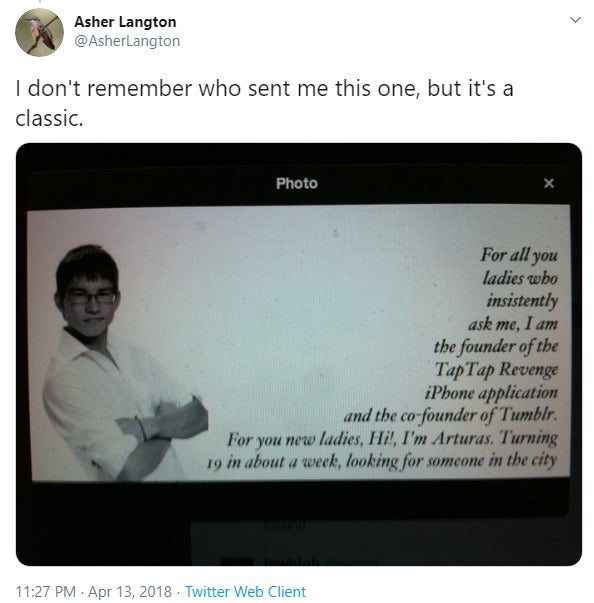 Kerelis has disappeared from the public eye in the two years since he convinced the internet that he was live-tweeting the U.S. airstrikes in Syria.
The Lincoln Project donation pledge sent a ripple through circles where it's still recalled that the already notorious then-26-year-old briefly ran for an Indiana congressional seat in 2018. Or that he was accused of infiltrating Anonymous and also running a scam about a fictitious distributed denial of service (DDoS) tool called "RefRef" in 2011.
"The real RefRef never appeared, and most likely never existed in the first place," wrote a blogger known as joepie91 in 2013. "The end result was that the supposed 'creator' of RefRef ran off with the donations, effectively turning this into a giant scam.
"And guess who perpetrated it? Arturas Rosenbacher."
Reached via Facebook messenger, Kerelis denied promising to donate a quarter-million dollars to the Lincoln Project.
"Somebody is going around and pledging money to tons of people in my name," Kerelis told the Daily Dot. "The Lincoln Project sent me a hat the other day, and a letter thanking me for the pledge.
"I'd love some more info about where these pledges are coming from, if you can help me out."
He also acknowledged the many accusations against him in cyberspace and said he's maintained a low profile "since the Syria tweeting."
He also had a theory about why someone would impersonate him to promise the donation to the Lincoln Project.
"…[I]t looks like someone is trying to put me on news again, for one reason or another."
Kerelis said that whoever it was had pledged donations to a startup and some Republican candidates, which he considers laughable given his politics.
"I'm as liberal as they come. Would never give money to that party of White Supremacists."
According to federal election records, Kerelis pledged $2,500 to the Washington State Republican Party in March, which was later refunded. The records don't report any donations to candidates, though those could've been on the state level.
Kerelis became far less chatty when the Daily Dot asked about a warrant for his arrest in Florida for a probation violation associated with a 2014 driving under the influence conviction, per Hillsborough County public records, and a controversy he's currently embroiled in involving the FSATC Discord server and the 14-year-old boy he sued for control of it earlier this year.
Discord is a commonly used by gamers to communicate. FSATC users play a popular flight simulation game and chat about it online.
"No comment," he said, then blocked a reporter from the conversation.
For all his alleged faults, Kerelis is fascinating, a fact he seems aware of. For $150 you can purchase a Cameo of him. If you just want to chat, that'll be $19.99.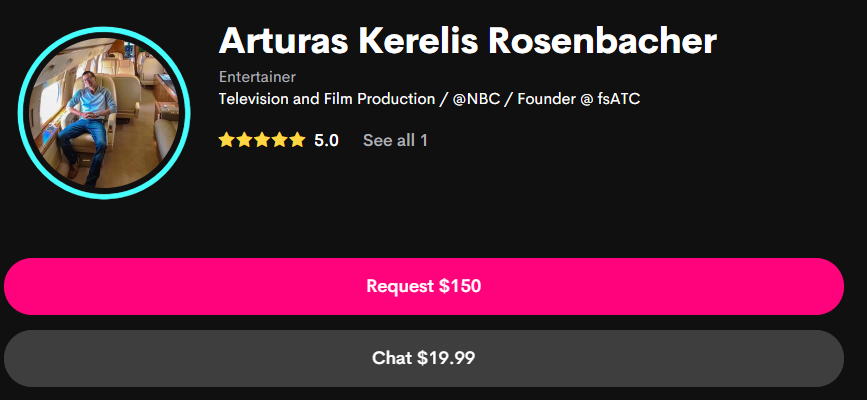 Those familiar with both would likely describe Kerelis as a sort of a liberal Jacob Wohl. He and Wohl share a penchant for making grandiose claims. They also tend to be accused of running scams.
Getting suspended by social media companies is similarly in their mutual wheelhouse. Both also got an early start on whatever it is they actually do. Kerelis started claiming he co-founded Tumblr at the tender age of 18. Wohl was 19 when he was banned from selling securities.
Even their Instagrams are eerily similar. Both focus on the finer things in life: beautiful women, thirst traps, glamorous hotspots, and international travel.
But where Wohl comes across as desperate and a little bit sad, Kerelis seems likable and well-adjusted.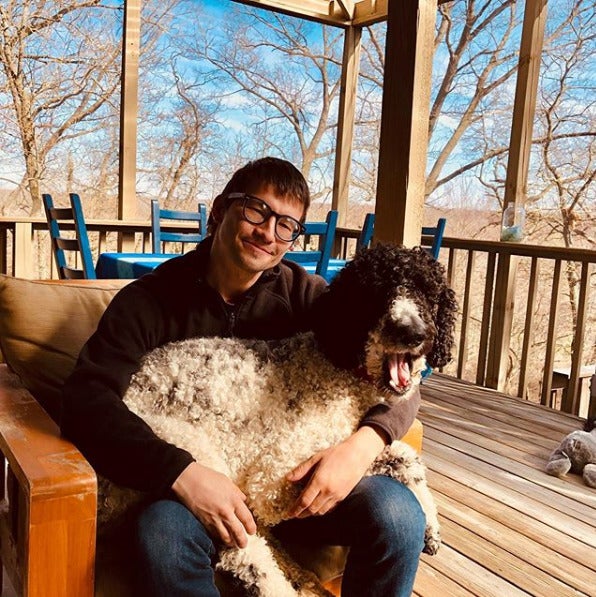 It's hard to reconcile the social media Kerelis with the man FSATC users claim filed a quasi-legitimate lawsuit against a young teen to seize control of a Discord server. (Public records confirm he did in fact file suit against an individual whose rather uncommon name matches that of a soccer player profile for a high school freshman in Pennsylvania.)
He dismissed the suit three days after it was filed.
For this, some FSATC users loathe Kerelis to this day. They say he sued the teen because Microsoft was interested in some sort of business relationship with FSATC. He has denied making any money off the server.

It is unknown whether there is an agreement with Microsoft—though it seems unlikely.
A non-disclosure agreement (NDA) between FSATC and Microsoft that he purportedly posted—according to a blog by the other person he reportedly forced out of FSATC (he's denied ousting both)—looks suspiciously unsophisticated and legally questionable. The blog alleges that it "appears to be forged."
Further, a publicly-available NDA template matches up almost precisely with FSATC's alleged contract with Microsoft.
Given that he claims on LinkedIn to work for NBC Universal, Warner Bros., Walt Disney Television, Fox Networks Group, and Showtime Networks, in addition to being the founder of FSATC, Kerelis must be a rather busy advancing his career. Attracting headlines and shining a spotlight on himself, some which would inevitably focus on his past bad behavior, doesn't seem like a particularly savvy move.
So why would he make, then rescind, a $250,000 donation to the Lincoln Project, which would inevitably do just that—if he did indeed make that donation, which he unequivocally denies? It's unknown.
It does seem an interesting coincidence that on June 10, the very same day that the Lincoln Project recorded the $250,000 donation from Arturas Kerelis, founder of FSATC and resident of Chicago, the Twitter account of one Arturas Kerelis tweeted praise for the project.

It could be mere coincidence. Or it could be that the person masquerading as Arturas Kerelis to pledge political donations made that Twitter account, used one of Kerelis' Instagram photos for an avatar, and tweeted about the Lincoln Project as a way of making it more believable.
Few can claim this level of diabolical thinking. One person who can is arguably Arturas Kerelis.
Of course, he's suspended from Twitter, so it couldn't possibly be him.