Do two wrong arts make a right? At least one eBay seller seems to think so.
Last year, a sculpture by Jeff Koons—who is either a pioneering genius or a monstrous, self-merchandising fraud—became the most expensive work by a living artist: Balloon Dog (Orange), part of the series he's best known for, fetched $58.4 million at a Christie's auction.
Apparently looking to burst the art world's bubble, Michael Green has produced an animated GIF of a stainless steel Koons balloon dog deflating—and slapped a $5,800 price tag on it. The image "will be shipped to the buyer within 24 hours through a USB stick, along with a COA (certificate of authenticity)," at no extra charge, which is nice.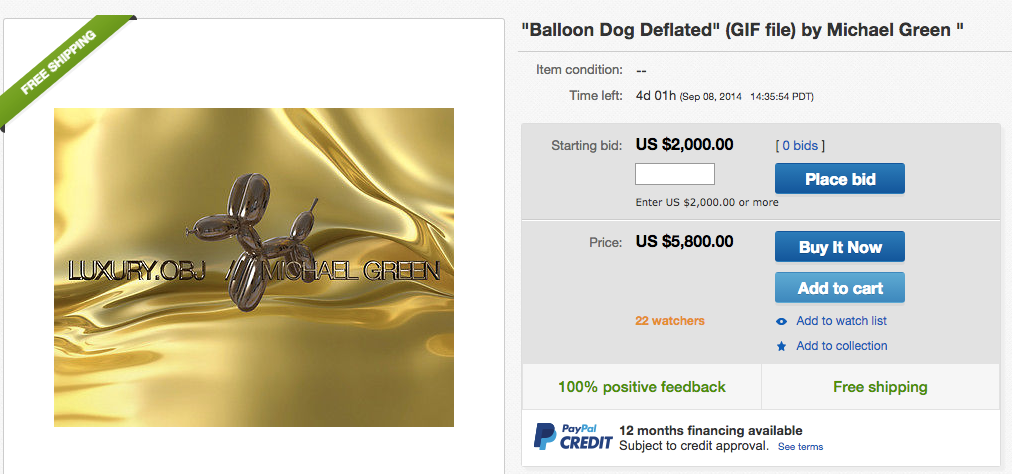 At the risk of being branded a high-end art thief, here is the GIF itself, just one of several Green has posted to his Tumblr, luxury.obj: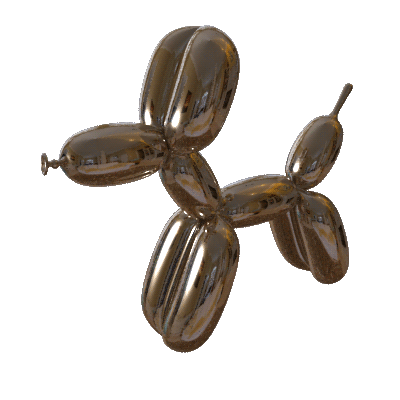 The blog, Green says, "explores the desire of class 'objects' through the replication and representation of the original object, with specific attention detailed on the essence of the object itself, through the use of various digital lighting and texture techniques."
Mimicking Koons' industrial process, Green was merely the overseer of his project, which was brought to life by the craftsmanship of other people:
"Balloon Dog Deflated" was conceptually crafted with the same principles of the original; the digital sculpture itself was downloaded legally through a CC license, Modeled by Bassam Kurdali and Commissioned by Rob Myers, then processed through the 3D animation program Maya, for treatment of the textures, and the deflation of the balloon. Like Koons, Michael Green was the CEO of the project, overlooking every detail without ever actually having to create the 3D sculpture, or write code to produce the animation.
So why pay one ten-thousandth of what Koons' sculpture cost? Because if you do, "you will be making history, as you will have purchased the most expensive bitmap image format in the history of mankind." And by the way, "[t]he museum of 2014 is the internet. … Physical museums, like compact discs and books, are dead. It's in the cloud now, and it is time to embrace this fact and make the essence of an art object relevant to everyday society."
Got that? Try to create art objects that are more relevant to daily life. Like an "ironic reworking" of a 20-year-old piece of someone else's iconic kitsch, uploaded to eBay alongside a pretty thin and disjointed manifesto, for example. We assume the lack of any bids is part of the point.
H/T @anchorlines | Photo by Kim/Flickr (CC BY-SA 2.0)