The news that Apple will pair up with IBM on "a radical step for enterprise" isn't all corporate handshakes in pale cubicles. The deal could trickle down to the average iPhone owner in some ways straight out of Minority Report. Consider that this fall, iOS 8 will ship with all kinds of bells and whistles designed to quantify the human body. Health is a massive focus for Apple—and a vision it shares with its brand new partner.
Like Google X—the division working on a blood sugar-sensing contact lens—IBM has its own zany future-tech research division. IBM Research operates 12 research labs across six continents. And like Google, Apple has perked up to smart health in the last year.
Yes, Apple and IBM are ostensibly partnering to develop software for business needs. But healthcare is big business—massive and largely untapped by tech companies. The FDA estimates that 500 million mobile users across the world will be using a health care app by 2015. IBM and Apple's partnership could develop that set of apps.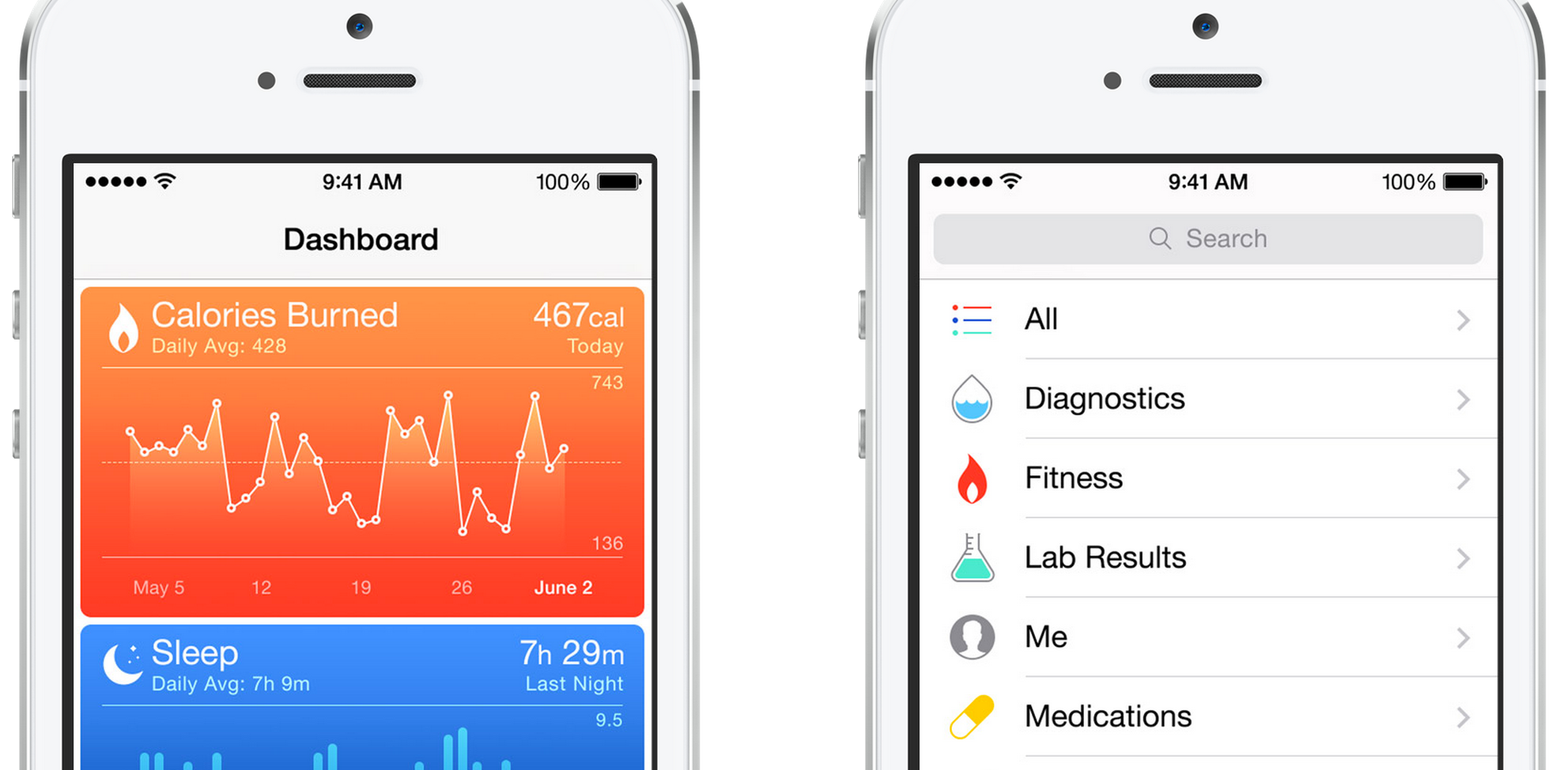 "For the first time ever we're putting IBM's renowned big data analytics at iOS users' fingertips, which opens up a large market opportunity for Apple," said Apple CEO Tim Cook, in the company's press release. "This is a radical step for enterprise and something that only Apple and IBM can deliver."
What is that something? Well, it helps to see what IBM is up to.
Nanomedicine
IBM is pushing its deep knowledge of tiny, powerful devices like silicon semiconductor chips to the molecular level. As it actively expands into connected health, IBM has already developed so-called ninja polymers—"sticky nanostructures that move quickly to target infected cells in the body"—that can treat antibiotic resistant conditions like Staph infections and then biodegrade.
Another project converts the material that plastic that water bottles are made out of (PET) into a treatment for fungal strains including Candida, which causes tricky-to-treat conditions like yeast infections.
If that doesn't add up, consider that we're not far off from tiny ingestible sensors that track anything from medicine levels in the blood to how often we're napping. In its research arm, IBM is actively developing vessels that enter the body, don't make a ruckus, and dissolve. It's far-out, but then again, so is Apple at its best.
Watson
You probably remember the hubbub about the supercomputer that beat human Jeopardy champions back in 2011. These days, the trivia champ known as Watson is hard at work analyzing datasets that will help doctors create better treatment plans custom fit to improve patient outcomes. But Watson is just the tip of the iceberg, more a proof of concept that made the evening news. Watson spawned a pair of projects known as WatsonPaths and Watson EMR assistant, both aimed at doctors and health care providers.
IBM excels at analyzing massive, complex data sets; Apple would love to vacuum up all the data it can get to catch up with Google and Facebook. In the technologically dysfunctional world of medicine, Apple could forge a new path strewn with data.
Health aside, with IBM, Apple can dig into the sprawling sector of the market that remains vaguely synonymous with Microsoft and BlackBerry. Both of those companies lost traction in mobile as iOS and Android rose to prominence, but the mobile world and the business world are now inextricable.
Now, instead of doling out secure devices with a poor user experience, many companies are inviting employees to bring their own device to work, a practice known as BYOD (yes, it sounds really boring). Teaming up with IBM marks a huge opportunity to cash in on IBM's corporate connections as well as IBM's number crunching muscle.
Apple cares about the enterprise world because a) Apple is already there just by making phones and tablets aren't terrible: Tim Cook claims that 98 percent of Fortune 500 companies use iOS already (BYOD!). And b) with western consumer markets nearing a saturation point, it's an opportunity to actually expand instead of tread water while Wall Street watches.
If it makes a big play in health, both on a corporate and a consumer level, instead Apple could be walking on water once again.  
Photo via double-m2/Flickr (CC By 2.0) | Remix by fern