In a continued partnership with Synchrony Bank, Amazon has placed another card on offer: Amazon Credit Builder. It's also been called out by some critics for targeting and potentially exploiting vulnerable consumers. Should you make room for it in your wallet? Here's everything you need to know to about the service.
What is Amazon Credit Builder?
An Amazon Credit Builder secured credit card offers many of the same benefits as a regular Amazon Prime store card, such as 5% back on Amazon purchases. There are more restrictions with the new card, however, as Amazon Credit Builder can only be used to make purchases on the Amazon website and businesses with Amazon Pay functionality.
For first-time credit customers and those who are trying to rebuild their credit, the Amazon Credit Builder card may be a good option. The credit line can range from $100 to $1,000. Business Insider says the card is designed to cater to low-income and unbanked customers without means of traditionally shopping on Amazon's website. According to Business Insider, previous efforts to cater to these customers include Amazon Cash, a service which allows customers to load money onto their Amazon accounts via convenience stores.

How does Amazon Credit Builder work?
Amazon says its card has no annual fee, with opportunities for special financing and cash back with a Prime membership. However, the card comes with a hefty interest rate of 28.24%. This is considerably higher than the maximum average of 24.09% APR, which U.S. News says is typical of store credit cards.
The card can be applied for online, and the refundable security deposit paid by ACH transfer or mail. Once the deposit is received by Synchrony, customers will be awarded a $40 Amazon gift card.
The credit line is also dependent on the security deposit paid to Synchrony Bank. Amazon says this deposit may not be used to pay any balances owed but may be refunded upon upgrading to the Amazon Store Card "in as little as seven months" of on-time payments, at the discretion of the bank.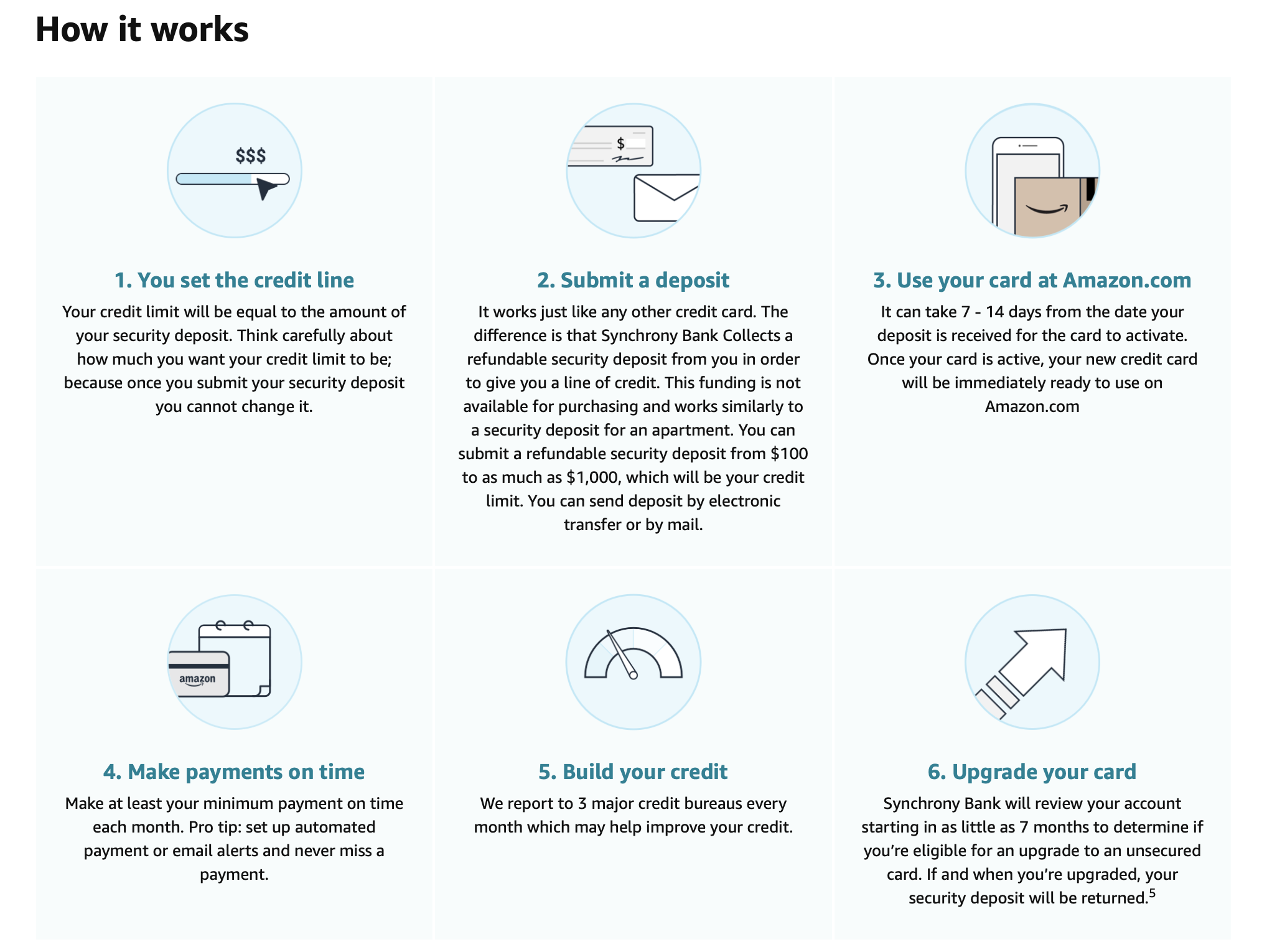 Amazon Credit Builder controversy
Lifehacker.com suggests that the card may not, in fact, be the best choice for first-time and low-income customers or those in credit recovery. Between the high-interest rate, exclusivity to Amazon, and the necessity of a $119 yearly Prime subscription to reap cash-back benefits, Lifehacker argues the card lags behind the value of secured credit cards from smaller credit unions and banks.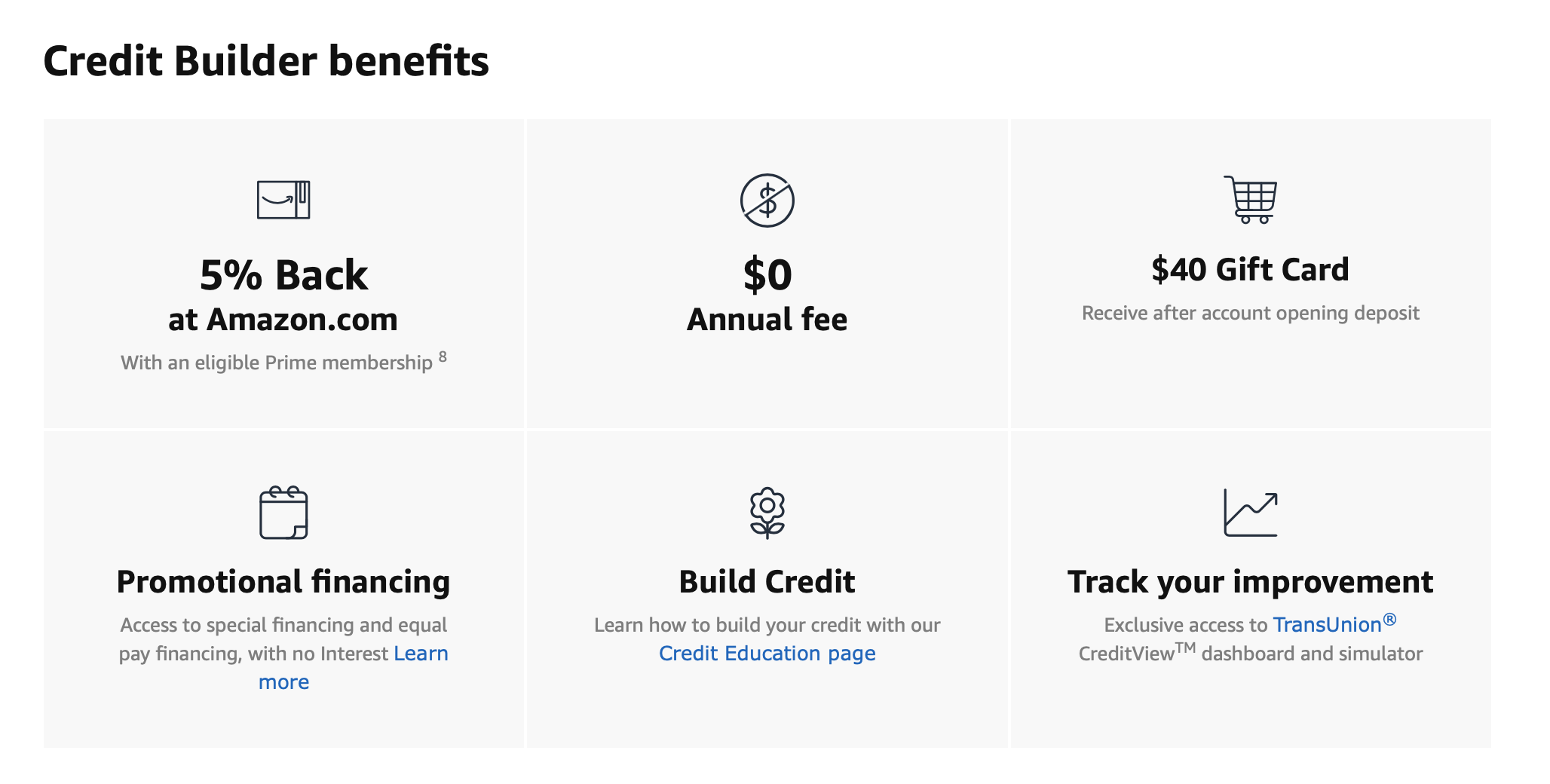 The exploitative nature of these tight constraints designed to make money off of customers who typically would not be eligible for credit, Lifehacker points out, are an odd coincidence with Amazon's Prime Day sale right around the corner on July 8.
We've reached out to Amazon and Synchrony Bank for comment.
Looking for more help? Here's what you need to know about Amazon Alexa and how to use Amazon Alexa as an intercom system, Amazon Map Tracking, Amazon Prime Pantry, Amazon Lockers, Amazon Prime Wardrobe, how to sell on Amazon, Amazon Prime membership and if it's really worth it.