Apple announced on Monday the launch of its new AirPods Pro complete with exciting new features including Active Noise Cancellation.
Available for online order now and set to hit store shelves this week, Apple is promising everything from an all-new lightweight design to a much more immersive experience for fans of wireless earbuds.
New lightweight and sweat-resistant design
Like the previous model, the new AirPods will allow users to not only play music, make phone calls, and listen to their favorite shows and movies, but to utilize the power of Siri as well.
Unlike the original AirPods though, Apple made sure to make the Pro model water- and sweat-resistant in order to accommodate active lifestyles.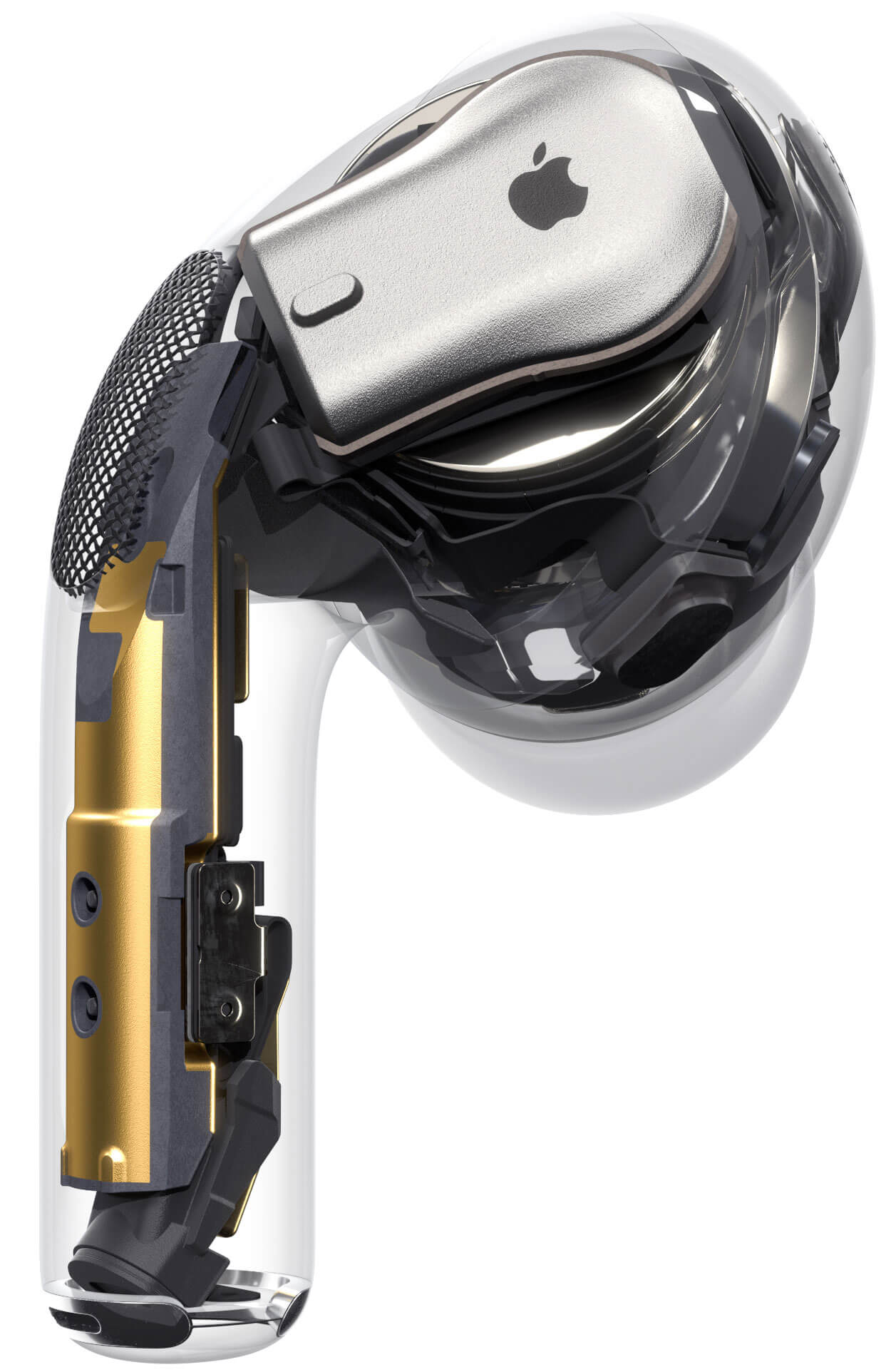 "Each earbud comes with three different sizes of soft, flexible silicone ear tips that conform to the contours of each individual ear, providing both a comfortable fit and a superior seal — a critical factor in delivering immersive sound," Apple said. "To further maximize comfort, AirPods Pro use an innovative vent system to equalize pressure, minimizing the discomfort common in other in-ear designs."
Even more impressive, Apple says an advanced algorithm can let users known which earbud size fits them the best by measuring the sound in their ears and determining which offers the best seal.
Active Noise Cancellation
The biggest addition, however, is Apple's Active Noise Cancellation feature, which utilizes "two microphones combined with advanced software to continuously adapt to each individual ear and headphone fit."
"This removes background noise to provide a uniquely customized, superior noise-canceling experience that allows a user to focus on what they're listening to — whether it's a favorite song or a phone conversation," the company added.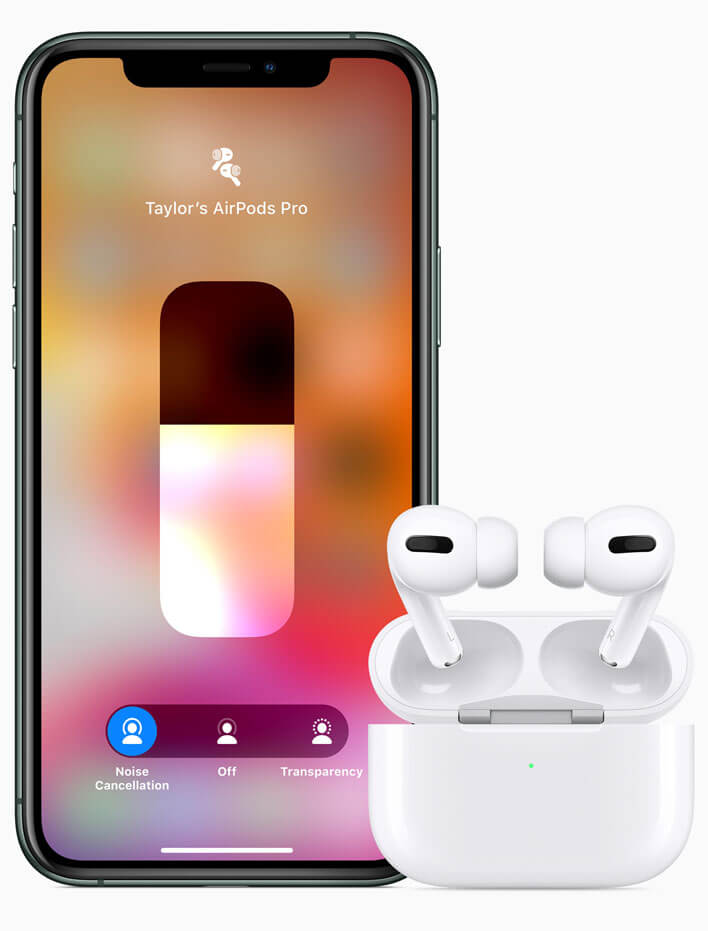 The system works by first using an outward-facing microphone to analyze sound in your environment to then "create an equivalent anti-noise" to cancel out those background noises. An inward-facing microphone does much of the same, cancelling out background noise to deliver high-quality sound.
In order to ensure a constant stream of quality sound, the Active Noise Cancellation feature will continuously monitor the sound around you 200 times per second.
Better sound with Adaptive EQ
Apple is also promising that its AirPods Pro earbuds will deliver a much more immersive sound thanks to the help of Adaptive EQ. The feature "automatically tunes the low- and mid-frequencies of the music to the shape of an individual's ear."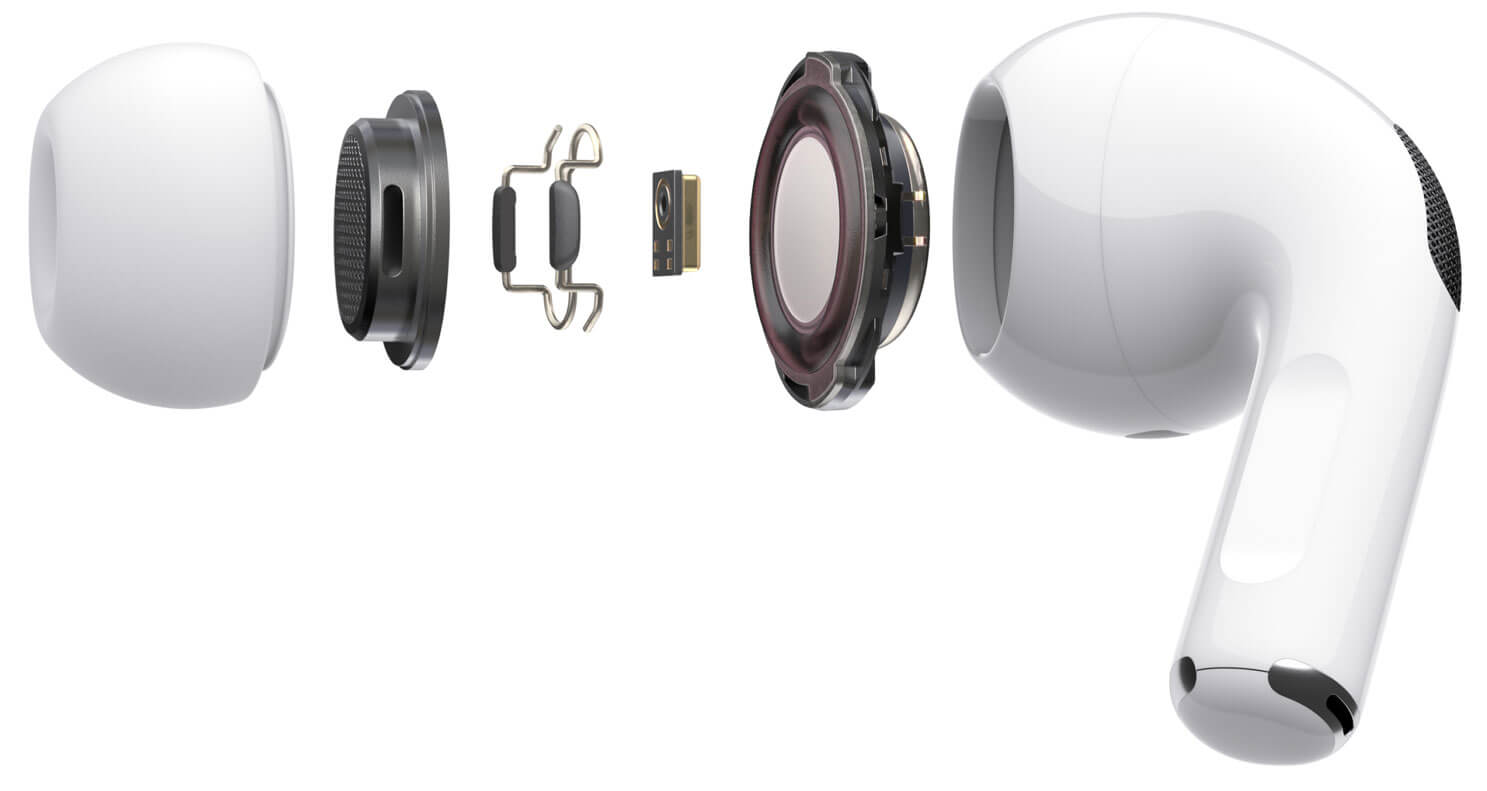 Apple also says that its custom high dynamic range amplifier will not produce a clearer sound but will also help extend battery life.
The amplifier will also enable "a custom high-excursion, low-distortion speaker driver designed to optimize audio quality" while providing "consistent, rich bass down to 20Hz and detailed mid- and high-frequency audio."
Impressive battery life
For those concerned about battery life, the AirPods Pro promise to deliver the same five hours of listening time that they have come to expect from the original AirPods model.
When the Active Noise Cancellation feature is enabled, that listening time drops slightly to four and a half hours or down to three and a half hours if your AirPod Pro earbuds are being used to talk.
Apple notes though that thanks to its Wireless Charging Case, users can extend their AirPods Pro listening time to 24 hours or 18 hours for talk time.
Transparency Mode
Last but certainly not least is Transparency Mode for the AirPods Pro. While some users may want to utilize the Active Noise Cancellation feature to block outside sounds, Transparency Mode will allow users to keep one foot in their music while the other remains grounded in the real world.
Apple says this feature will let you listen to your favorite tunes while still paying attention to anything from the sounds of traffic to that important train announcement while on your way to work.
"Using the pressure-equalizing vent system and advanced software that leaves just the right amount of noise cancellation active, Transparency mode ensures that a user's own voice sounds natural while audio continues to play perfectly," the company says.
Pricing
So how much will Apple's AirPods Pro cost? $249.
The AirPods Pro can either be ordered on Apple's website, for U.S.-based users, from the Apple Store app. The earbuds will begin shipping this Wednesday and will be available in stores sometime this week.
Apple also notes that AirPods Pro require users to have a device running "iOS 13.2 or later, iPadOS 13.2 or later, watchOS 6.1 or later, tvOS 13.2 or later, or macOS Catalina 10.15.1 or later."
For those new to the wireless earbuds game, Apple's older and less expensive models of the AirPods are still available on their site as well.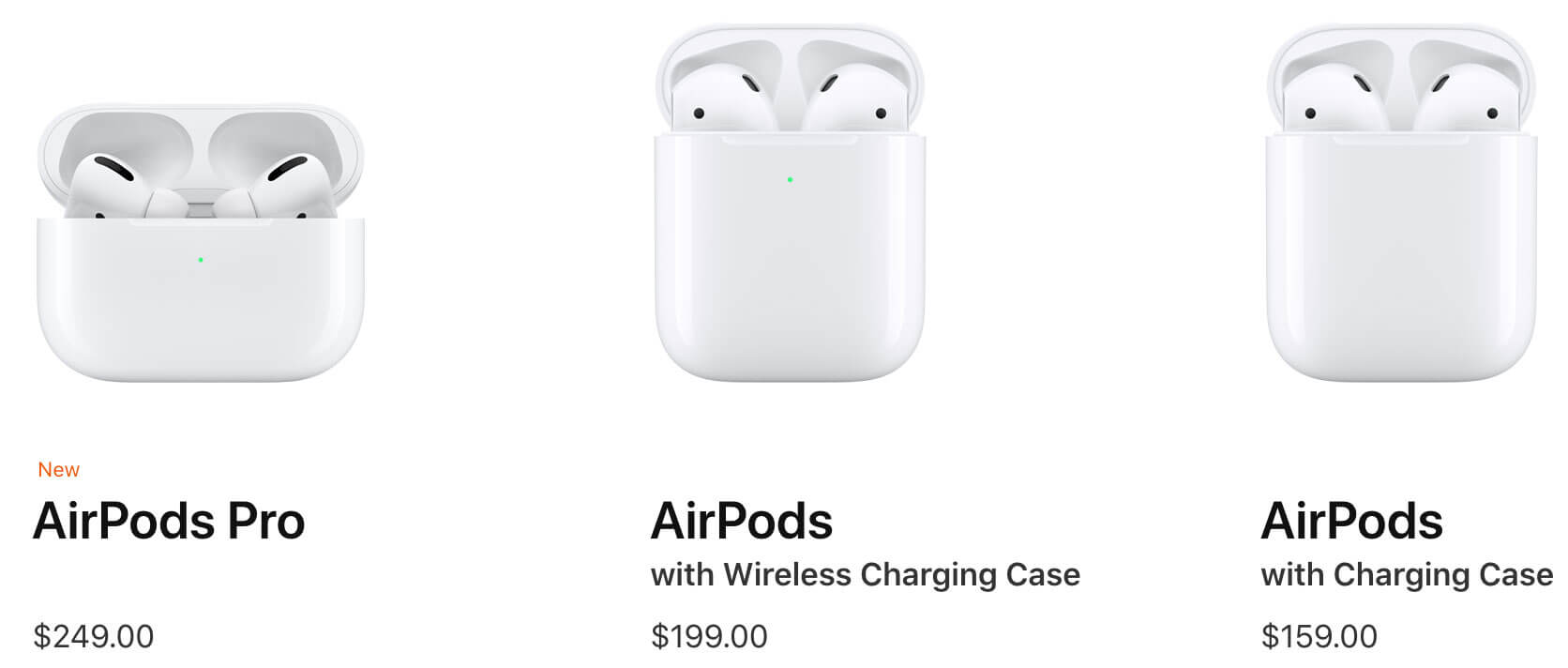 READ MORE: