Evidently "da real dons" subsist mostly on iced wine and overstuffed baggies of crisp kush weed. 
That's what Cleveland Browns wide receiver Davone Bess would have you believe, at least. This morning he tweeted out a photo that pictured his coffee table holding some rather scandalous items, including a 5-hour Energy bottle, half smoked cigar, tiny pile of weed, and similarly sized baggie of what we can only imagine is the same exact weed.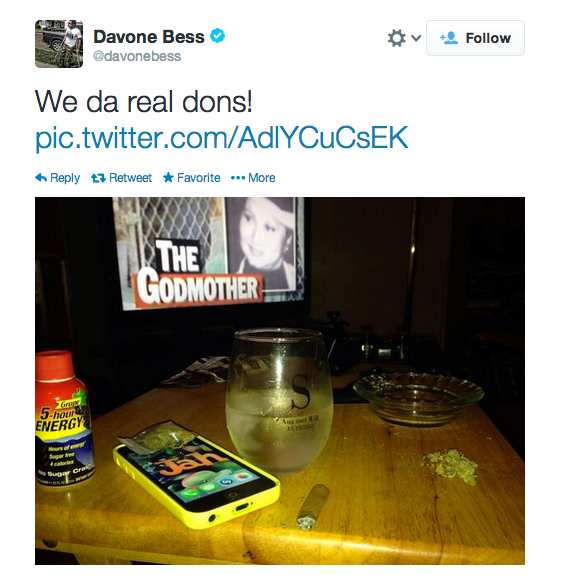 The picture still resides on Bess' timeline—three hours after its posting. A few minutes after the first post, he uploaded this picture of a cloud made to look like a lion. 
The Browns are apparently "looking into" the picture. A spokesman for the team issued a statement this morning saying "The team is aware of the photos and looking further into the situation and will deal with the matter internally."
Bess, who identifies as a Rastafari, had a similar issue pop up in December when he posted a photo on Instagram that showed him smoking what might have been a joint. That photo got quickly deleted. So far, this one doesn't seem to be suffering the same fate. 
Bess is the third highest paid player on the Browns' roster, due to make $3.1 million in 2014. He missed the last two games of the 2013 season so that he could deal with a serious family issue back home in Oakland, Calif.