Undercover cops busted a pair of Long Islanders on Monday for selling heroin over Craigslist, an item advertised as "pain relief." But Daniel Bigelow and Gustavo Arce-Giron aren't the first criminal masterminds trying to hawk product on Craigslist. The problem's been around for years.
The daughter of billionaire Peter S. Kalikow was arrested in 2012 after advertising heroin on Craigslist as "high quality diesel pain relief." That same year, the New York Police Department launched a massive undercover sting called "Operation Dot Com" that nabbed 21 people. Haven't these people ever heard of the Silk Road?
You can see for yourself how many confused drug dealers are using Craigslist. Just search "pain relief" at your local site. If you'd prefer to be completely out in the open about it, however, you can just search "oxy." Searches for "heroin" and "coke" are a little less reliable.
Here are all the ads selling "pain relief" on New York's Craigslist over just the past three days. Most are for Percocet, a.k.a. Oxycodone. "Roxies" refers to the opiate derived from Oxycodone. "Yellows" is a slang term for Percocet pills.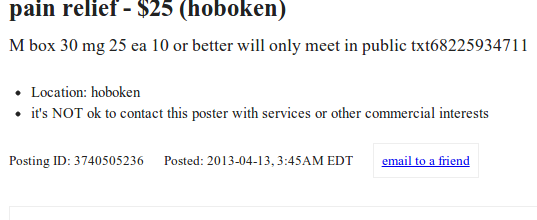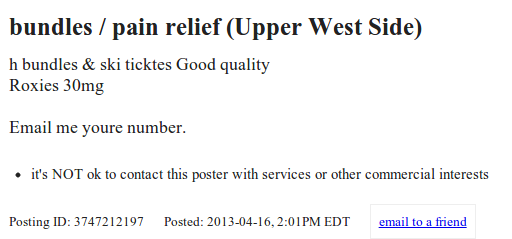 Photo by Be.Futureproof./Flickr