This article contains sexually explicit language that may be NSFW. 
The FBI says that Christopher Grief, known online as Mookie, had nightmarish tastes.
Grief, a 25-year-old New Yorker who lives with his parents in Long Island, has been arrested and faces federal child pornography charges after he admitted to using the Tor anonymity network for a year to watch videos of child abuse and the murder of small mammals. He faces up to 10 years in prison.
Although the FBI hasn't explicitly explained how it caught Grief, the criminal complaint strongly suggests that Grief used the same nickname (Mookie) across multiple child pornography websites and connected to them through "gateway sites" (such as Tor2Web), which allow access to the Deep Web—the portion of the Internet not indexed by Google—but provide none of the anonymizing power of Tor itself.

READ MORE:
The darkest net
 
Gateway sites, which offer an unprotected proxy service to Tor hidden services, are used to browse the Deep Web without downloading Tor. Many people new to the technology make the mistake of assuming the gateways are anonymous as well.
Grief's detention follows a string of pedophile arrests since the FBI's seizure of Freedom Hosting, called the Web's biggest host of child porn, last year.
The FBI declined to provide much detail in the criminal complaint because investigations are ongoing.
The specific websites that Grief utilized are described only in code in the criminal complaint ("Website C" and "Website 21"), but federal agent Danielle Messineo left enough clues for us to understand most of what she described.
Website 21 was a online child porn forum that Grief frequented. It focused on HurtCore, a brand of pedophilia that revels in torturing the abuse victim. The site was brought down around Aug. 2, 2013, the criminal complaint reports, a date that lines up exactly with the Freedom Hosting bust.
Website 21 was "Hurt 2 The Core," a website recently profiled in The Kernel. It was founded by Lux, a pedophile who found his way to the Deep Web via 4chan and retired earlier this year. Here's a screenshot of Hurt 2 The Core's front page in June 2013. A selection of popular threads at the time include "Producing kiddie porn for dummies", "Toddler childporn star", "Crying rape", and "Need ideas for blackmailed girl."
Website C is a directory of instant messaging usernames coupled with sexual preference—in this case, the age and gender of the children being sought. It still exists today.
The FBI presented extensive forum and chat logs showing Mookie soliciting pornography adhering to his taste. He asked for hurtcore, rape, snuff (murder porn) featuring toddlers, and "torture of babies." When he was arrested, Grief told agents that videos of him mutilating rats could also be found on his computer. He also said he liked to have sex with stuffed animals, something made clear by the fact that he posted pictures of bears on Twitter for several years.
Grief's social media presence, which includes his LiveJournal and Myspace, detail his involvement in the "plushie" community that fetishizes stuffed animals. He attended community meet ups around the tri-state area. On Xtube, a pornographic video site, he posted more photos of bears that include urinating and defecating on the toys.
Although Grief has posted photos and videos of his plushie exploits for years, he almost always used the same set of screenames, a fact that made it easy for others to repeatedly find and reveal his identity, as evidenced by the following screengrab from YouTube.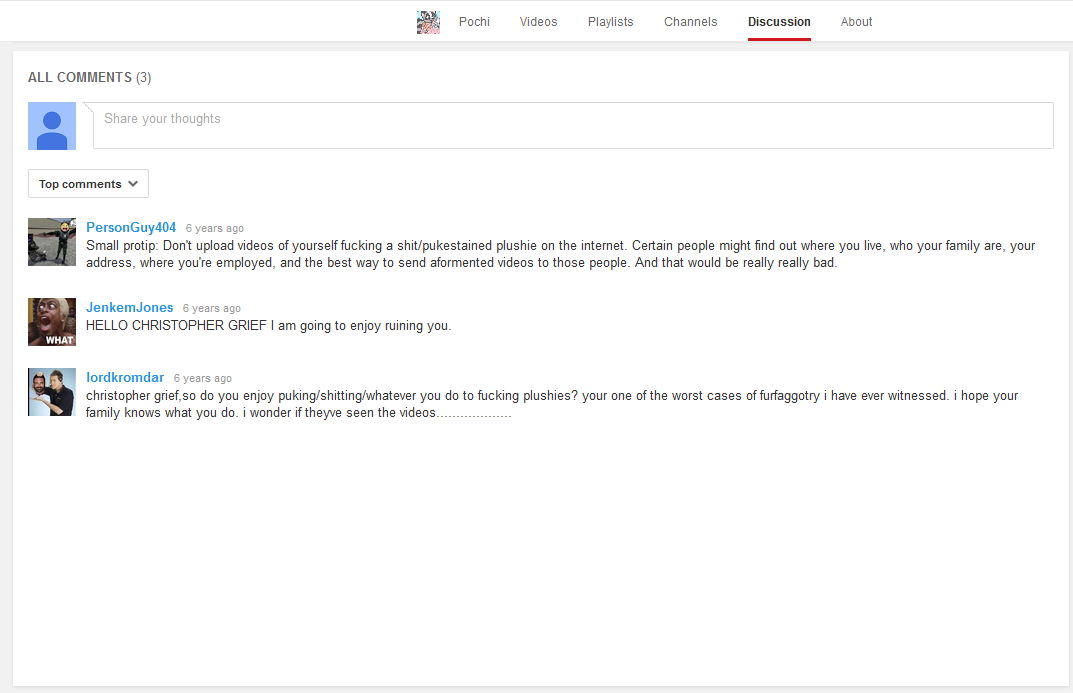 Photo via Pastebin
 
Grief is currently being held without bail. He voluntarily skipped a preliminary hearing and is currently awaiting examination by an independent psychiatrist to evaluate his mental health status.
H/T Zomgtorsploit, Reddit | Photo via Tim Snell (CC BY ND 2.0)