What started off as an attempted robbery ended in a solid beat-down for a would-be thief and a awkward and hilarious celebration by those who foiled him.
On Sunday evening, a YouTube video was uploaded to r/justiceporn—Reddit's go-to section for bad people getting what they deserve—that showed two employees of a Norfolk, Va., Wing Zone restaurant stopping an armed man from robbing them. After a struggle, the two teenagers successfully disarmed the suspect of what appears to be a knife and kicked him out of the establishment before he could make out with the cash.
The clip was taken from the store's security camera system, and we hear the two teens reliving their moment of glory over the footage.
According to redditor nmosc89—the video's submitter and a former employee of the Wing Zone in question— this wasn't the first time someone tried to rob the restaurant.
"This is a bad neighborhood in Norfolk, VA and the place is open late, so these things are pretty typical (it happened at least three times in the year I was there)," he commented on his submission, which has since accrued 1,900 karma points. The clip was also posted to r/videos, where it received more than 2,400 karma points.
nmosc89 also noted that the two heroes are the sons of the owner of the store. 
"[They're] a military family who are really into hitting the gym and doing all these different types of fighting styles," he added. "I was there during one of the armed robberies and the shorter guy actually tried to wrestle the gun away from that guy while I ran out the back door and got the police."
As for the attacker, he's apparently not in police custody yet, but according to nmosc89, the authorities know who he is. 
"He regularly hung out in the parking lot of the plaza the restaurant is in and the cops also knew him from previous encounters," he added. 
In the meantime, the two siblings have one more thing to celebrate: Their hilarious and awkward embrace has been made into a GIF.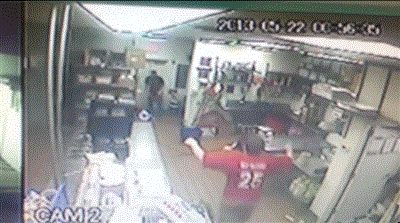 GIF via uVaztes/Reddit
Photo via Zane Waldemar/YouTube