What do you do if you take a nonconsensual photograph of the wrong New Yorker?
If you're the cohost of this popular Sirius radio show, you instigate a fight and then spend hours unloading an obscene, racist, misogynist invective against the woman in question on Twitter.
The real question is not what happened to make popular Opie and Anthony cohost Anthony Cumia blow a racist gasket all over social media last night, it's why and how he's been allowed to get away with this kind of thing for years without it affecting his job.
Gawker reported late last night that Cumia had basically lost it on his Twitter, where he has over 150,000 followers. Cumia claimed to have caught an unwitting bystander in the frame of his Times Square photo, after which she allegedly started punching him.
So, I'm taking pix in NYC & a black girl who was in frame punched me in the face. I called her a fucking "&$;;-:" cause that's what she WAS!

— Anthony Cumia (@AnthonyCumia) July 2, 2014
Then she punched me 5 more times. She's lucky I was a white legal gun owner or she'd be dead. Then 5 blacks started giving me shit!

— Anthony Cumia (@AnthonyCumia) July 2, 2014
Strong warning for vile, misogynist, racist language and beliefs in pretty much every tweet from here on out.
OK, first, this photo isn't exactly Cumia "taking pics of NYC" unless he just typically goes around taking pictures of ugly Manhattan scaffolding. She's clearly the focus of the composition, and is being caught impromptu on camera, apparently without her permission:
Here's the pic that got the whore bitch piece of cunt all pissy. pic.twitter.com/ckju7ukBTy

— Anthony Cumia (@AnthonyCumia) July 2, 2014
Secondly, although Cumia seemed to be justly angry that he was assaulted, his tweets immediately took a violent and sustained racist turn. Over a period of many hours, and on into today, he described the woman, repeatedly and continuously, as "savage," as "an animal," and as "it," using a number of profane misogynistic slurs. He also repeatedly stated he hoped she would be shot and killed.
But Cumia didn't just stop there. He went on to apply the violence of the woman who he'd nonconsensually photographed to sweeping statements about black women and black people in general:
It's really open season on white people in this day and age. No recourse. Fight back and you're a racist. The predators know this. Good luck

— Anthony Cumia (@AnthonyCumia) July 2, 2014
RT @monobrowj: its women not black ppl -No, it's not. I've never been hit repeatedly by a strange white woman on the street. Don't lie.

— Anthony Cumia (@AnthonyCumia) July 2, 2014
They aren't people.

— Anthony Cumia (@AnthonyCumia) July 2, 2014
In the ensuing uproar, Twitter users called for Cumia to be fired, while the media unearthed examples of previous bluntly racist things Cumia has said over the years, often on his own radio show.
On Reddit, where Opie and Anthony has a subreddit of over 7,000 subscribers, distraught fans alternately rallied around Cumia, better known as "Ant," and debated whether the show could survive the media blitz and outrage.
They also discussed how to scour the Web of all further uploads of the show which might make it easier to track down other racist and problematic things Cumia has said in the past. While Cumia's cohost Gregg Hughes has so far been notably silent on the subject, the show's radio sidekick Jim Norton minced no words supporting his colleague:
One bystander pointed out how directly Cumia's tweets had translated to headline news:
The news comes just one day after Sirius XM reported an increase in quarterly earnings and a rise in stock value—the worst time imaginable for a PR disaster to hit the company.
But as for Cumia, he seemed completely unfazed by the magnitude of the backlash, retweeting angry responses to Alyssa Rosenberg's piece about the incident in the Washington Post, and continuing to declare that his status as an attack victim trumped all of his subsequent racism in response:
We are living in a strange backward world. Where people support the attacker & the victim is the villain. Enjoy!

— Anthony Cumia (@AnthonyCumia) July 3, 2014
All the while, he made it clear where his priorities lay:
Now, this girl seemed nice enough. pic.twitter.com/foKe7PtV3B

— Anthony Cumia (@AnthonyCumia) July 2, 2014
Update: Anthony Cumina has been fired by Sirius XM, he confirmed in a tweet early Friday morning.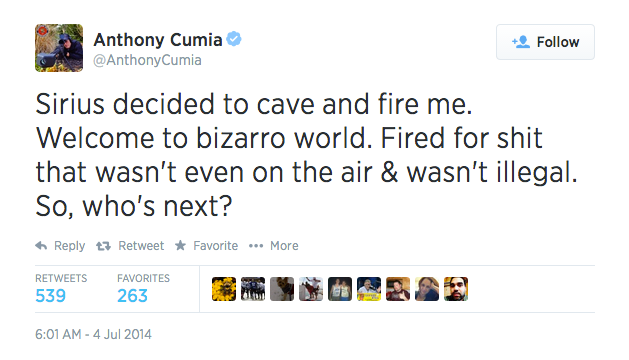 Photo via Google+