I'm a fraud, and so's my YouTube video. Everything about our relationship is fake.
The video I'm talking about is right here. You can also watch it below. It's a clip of me attempting to complete the Cinnamon Challenge. I made it as a celebration of the Daily Dot's first anniversary last August. In January, I juiced it with 160,000 fake views.
Two weeks before then, YouTube had gone through with a massive cleanup of the videos on the Google-owned site that had botted views. Engineers didn't get everything, but by the end of that week, even major music labels had lost upwards of 2 billion views from their channels. Universal Music Group, which saw the greatest purge, woke up with 1 billion fewer views in its bank.
I bought those 160,000 YouTube views primarily to show interested readers just how easy it was, but I also wanted to at least try and put YouTube on the spot: YouTube botting happens. It's cheap, dirty, and ridiculously easy.
I wondered what it would take to get caught.
I bought those views from a guy named Kenzo, who owns YTView, a site that promises "real views," "higher retention" between 60 and 100 percent," and claims to have delivered more than 400 million views. There are all sorts of sites like Kenzo's: YouTube Boost, 500 Views, YTPros, and Social Fans Geek—where you can purchase a surplus of pretty much any YouTube-related analytical figure: likes, dislikes, phony comments. You name it.
I spent $160 on 160,000 fake YouTube views, and three months later, the video is still up—taunting me, ignoring me, forever reminding me of that cinnamon.
I installed AdSense, Google's revenue-generating, advertising program. With a few banner ads, we made $0.19. That's not a lot of money, but the point of botting views isn't to turn an immediate profit. It's to garner attention in hopes that the video's popularity will lead to legitimate views and serious press coverage, creating a domino effect that, hopefully for the buyer of those views, ends with a video as popular as Baauer's "Harlem Shake."
Exactly $0.19, and YouTube never bat an eye.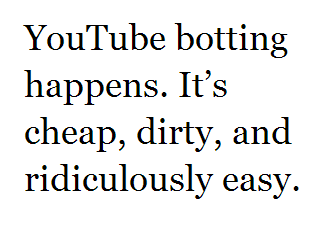 So I threw another $170 towards Kenzo, and we walked away with 345,000 more views, the idea being that with AdSense loaded, YouTube would hopefully monitor the legitimacy of our views more closely.
Once those loaded up, I called Fletcher Batts, an entertainment social marketer based out of Atlanta. He's owned a few view-buying sites and worked with a number of small-time artists looking to boost their social numbers on YouTube and Facebook, as well as other sites. Fletcher's the only view buyer who's willing to speak with me on any medium other than Skype. He considers view buying a necessary evil, something smaller artists have to do to stay afloat on YouTube's massive, sprawling site.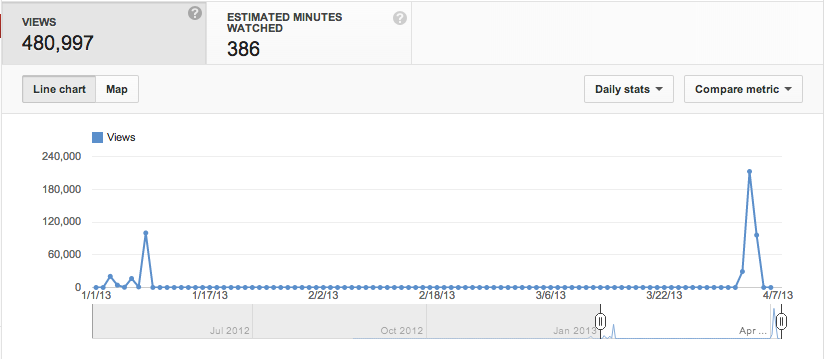 "It wasn't my fault," he said of the times in which a video he'd worked on had gotten removed from the site. "It was their fault. The client used multiple services. I did what I did, a few other guys did what they do," and the other guys' work apparently tipped YouTube off.
YouTube's police force doesn't adhere to an exact science, Fletcher said, but "there's some stuff that will definitely get their eye."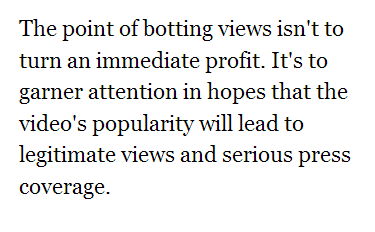 "Most of the time, getting a million views in a day or two, if you're an unsigned artist and it's one of your first videos, or you've gotten 1,000 views on all your videos and this one has 1 million, those are dead giveaways."
Stick out like a sore thumb, got it. The Daily Dot's YouTube channel has 505,395 views. All but 1,570 belong to the Cinnamon Challenge, and six videos share the rest. Our test dummy wasn't just sticking out; it was the elephant in the room.
"It's really not about the views, though," Fletcher amended. "It's about the retention. If you want to stay off their radar, you've got to be buying the good views."
By good views, Fletcher means views that look more legitimate, or views that carry retention rates that would suggest that a real person actually watched the clip.
I wanted the exact opposite. Fortunately, my man Kenzo comes cheap. "Crack prices," Batts once told me, like the Barksdales in The Wire.
The 503,840 views on the Cinnamon Challenge video had a cumulative retention rate of a whopping 389 minutes, according to YouTube's analytics. The number in the right hand corner of the stat sheet says it all: Average video duration, 0:00.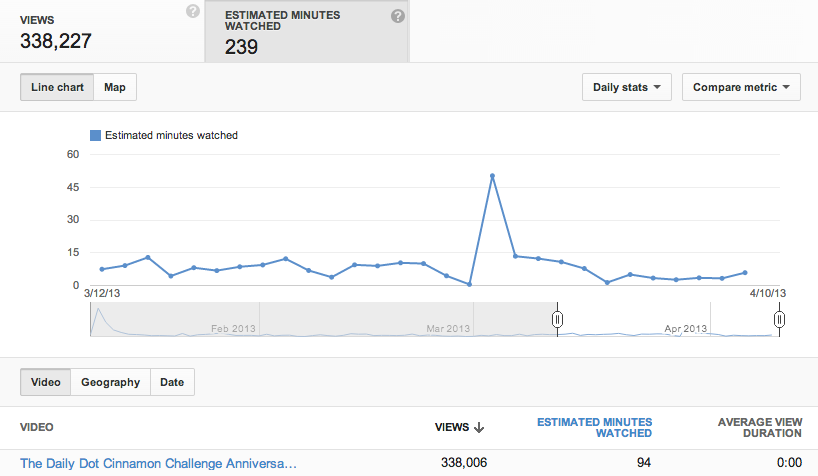 One number had started to grow, however: The AdSense had brought in another $0.93. Still in the red, but we'd profited according to YouTube. Surely that's enough to trigger some form of action, right?
I emailed my YouTube contacts, told them we had a video that was shooting up the charts—340,000 views in one day. Nearly a dollar in profit. The company did not respond to requests for comment.
The video's still up. Oddly enough, it also pushed an ad about Ponzi scams this afternoon. On YouTube, you just have to fake it 'til you make it.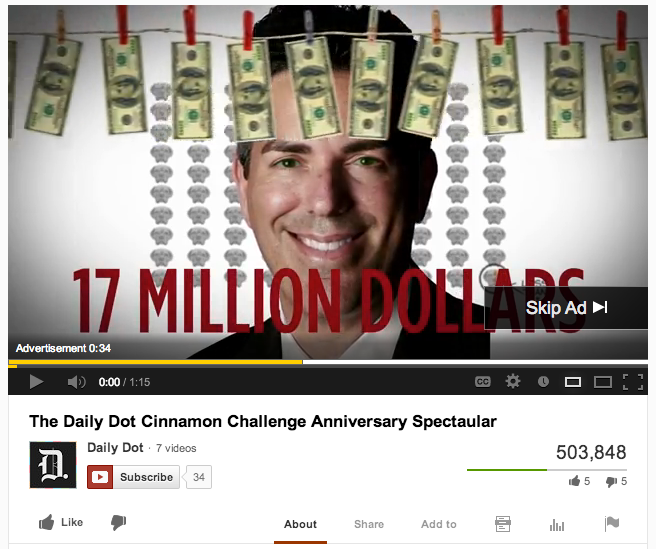 Illustration by Jason Reed