By almost any measure, I have an impeccable résumé.
I spent three years as a staff accountant at Thomas, Pickford & Thomas, an equity research firm with a specialty in oil and gas. It's a small team of investment analysts, accountants, and attorneys with an office in Austin's trendy South Congress neighborhood. The family-owned firm was founded by brothers Gary and Michael Thomas 1998, who boast decades of Wall Street experience.
The firm's philosophy, as listed on its website, "based on the premise that companies that generate a high return on equity on a consistent basis generally achieve an above average share price appreciation over time."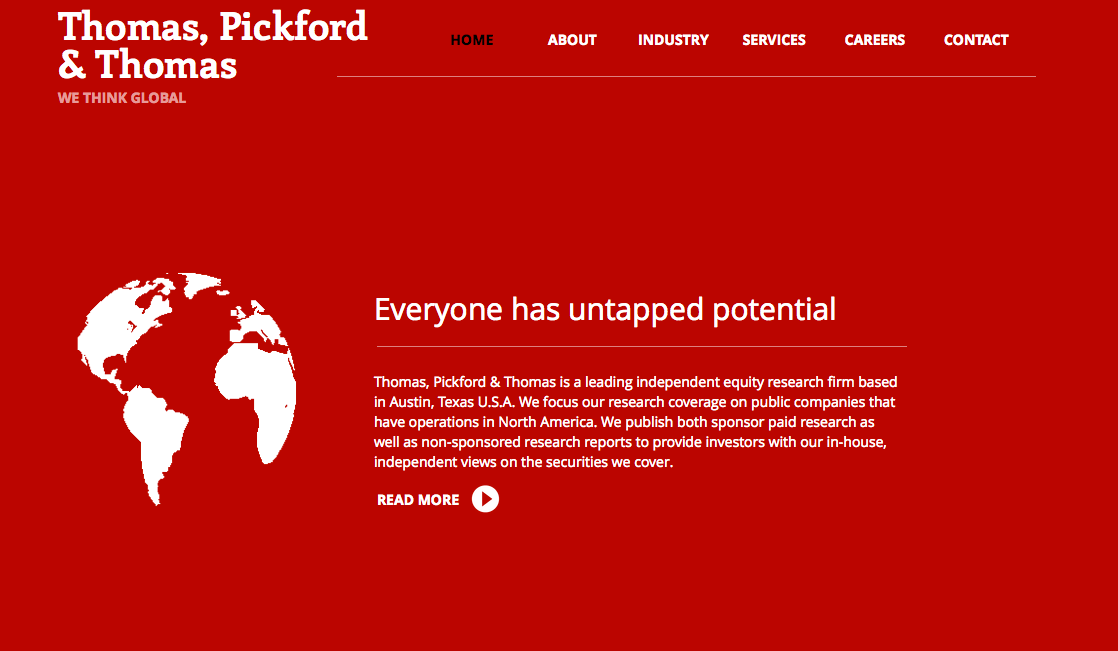 Jack Ford, my supervisor there, will have no problem verifying any of that for you.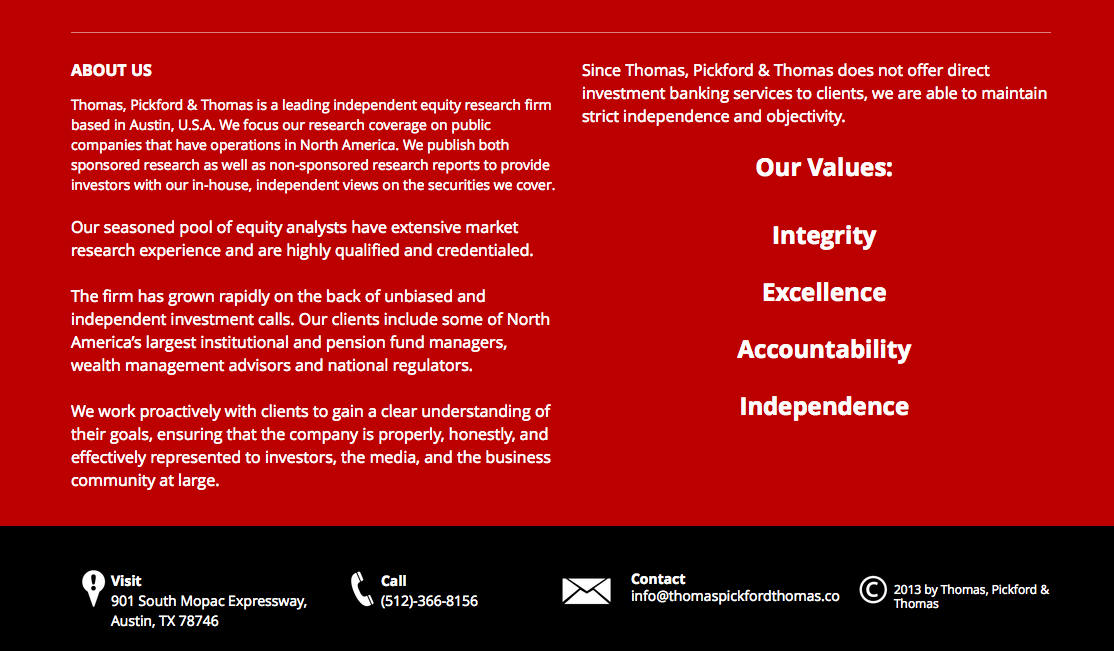 There's just one slight problem: I know virtually nothing about accounting. I'm not a CPA. I've never actually worked at Thomas, Pickford & Thomas. In fact, Thomas, Pickford & Thomas doesn't even exist.
Everything about the firm, from its website to Mr. Ford, is part of a phony career services package I purchased on the Internet—for a mere $150. And it's shockingly effective.
…
For a small fee, CareerExcuse.com promises to not only craft an elaborate lie based on your exact job specifications but to see it through for as long as necessary. The site will provide a live HR operator and staged supervisor, along with building and hosting a virtual company website—complete with a local phone number and  toll-free fax. CareerExcuse will even go so far as to make the fake business show up on Google Maps.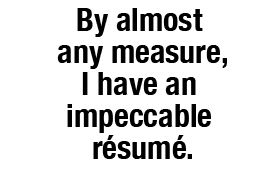 William Schmidt started the site in 2009, after being let go from his job in a round of layoffs during the lowest depths of the recession.
"While we were all unemployed, a couple of my former coworkers asked me to act as their reference for job interviews," Schmidt recalled. "I did it for free for my friends, but then I realized that this is some there's a pretty big demand for. It was something I could take to the public."
He was right. Within the first 24 hours of launching the CareerExcuse site, Schmidt had already received multiple order for his services. He's quick to brush off ethical concerns, citing horror stories from his clients about being mistreated by their former employers (and thus being unable to acquire a reference) and noting that it becomes more difficult to land a job the longer someone's been unemployed.  
"Yes, there's a moral issue in fibbing on your résumé to land a job, but that's for people to deal with themselves," he insisted. "In today's environment with rampant unemployment, everyone's looking for an edge. Our service just gets them the interview."
There are some lines CareerExcuse won't cross. The service won't impersonate an already existing company and refuses to recommendations for fields where someone's life could be at stake, as with firefighters, private military contracting, and doctors, for example. And the company won't  you secure a loan you otherwise couldn't get.
But after that, it's all negotiable. CareerExcuse will offer references for vendors and landlords. For a time it was even creating phony LinkedIn profiles for the companies it created.
According to Schmidt, deceiving hiring managers isn't particularly difficult. Almost half of the reference inquires he gets are from third-party staffing firms hired to do the initial round of vetting for a company. These types of outsourced inquires typically follow a standardized script.
"I know how to hit all the keywords they want to here and use that for my members' advantage," Schmidt claimed.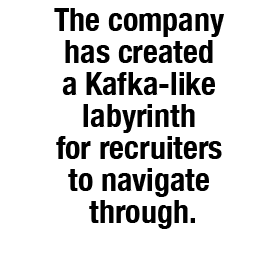 Schmidt said that the most common form of employment verification he comes across is a company just faxing over a form with little to no actual human interaction. He simply checks off the appropriate boxes, includes a nice note about how wonderful the employee in question is, and then faxes it right back.
The process gets considerably more difficult when a smaller company is hiring for a top-level position. In such instances, multiple managers at the same firm will make inquires about a prospective candidate. When that happens, Schmidt often tries to push as much of the conversation as possible onto email in order to keep all the details consistent.
When my editor contacted the number of Thomas, Pickford & Thomas provided by Career Excuses for employment verification, an automated message system directed him to a series of extensions. He was transferred first to a receptionist, and then another one named Jamie from the office of my supposed supervisor, Jack Ford. He was told to fax his verification request to an 888 number, but kept pressing for call back instead.
Not long after he got off the phone, I received an email detailing the conversation, informing me that someone had inquired about hiring me.
My editor repeated the process, and around it went again, circling back ad infinitum like an animated GIF.
The scale of the operation and the attention to detail was impressive. The company has created a Kafka-like labyrinth for recruiters to navigate through, all seemingly purposeful on the surface.
…
CareerExcuse is far from unique. In recent years, a cadre of enterprising entrepreneurs have come up with dubious solutions for people who, for whatever reason, feel like they can't get a job based on their actual record.
Reference Store, for example, offers interview coaching and "virtual landlord" services, in addition to providing fake references. Site founder Everett Davis claims to have hired retired intelligence professionals to deceive his customers' potential employers. "It's almost child's play," he once boasted.

Such companies are a growing concern for Amy Feldman, general counsel at headhunting firm the Judge Group. Her company expends a considerable amount of resources verifying applicants' background biographical information, with criminal background checks, civil database searches, employment verification, and more
"It's hard to hide that you aren't who you say you are if the company doing the hiring really wants to find out," Feldman said.
The issue, she noted, is that performing the majority of these checks cost money, and many employers will only do them for senior-level positions. However, if a hiring manager simply does a Google search for the companies an applicant lists on his or her résumé, makes a couple of phone call to that company, and speaks to someone about the applicant, any falsehoods are likely to pass under the radar.
However, there are significant risks associated with sites like CareerExcuse. Since most employers in the United States use "at-will employment," meaning employees can be let go for any reason the company sees fit, using a service like CareerExcuse could result in termination. In fact, without a hint of irony, a page on the Reference Store's website about its own hiring requirements declares that all applicants must, "certify that the information on this application is correct and … understand that any misrepresentation or omission of any information will result in … disqualification from consideration for employment or, if employed … dismissal."
Feldman also said that lying during the hiring process could open employees up to fraud charges, and the deceived company could sue to recover training and salary costs.
Is it really worth the risk? That likely depends on just how proficient and accomplished you are in your profession.
"It'll only be obvious on their first day of work if they're not qualified for the position," she noted.
Feldman's right. I'd have made a terrible accountant, no matter what Jack Ford might tell you.
Austin Powell contributed to this report.
Illustration by Fernando Alfonso III