When They See Us, Ava DuVernay's Netflix series on the Central Park Five, seeks to correct the narrative around the five teens accused and wrongly convicted of assaulting Trisha Meili in 1989. It also put a spotlight on prosecutor Linda Fairstein (played by Felicity Huffman), who was one of the main figures responsible for their coerced confessions.
On Twitter, calls to #CancelLindaFairstein started circulating over the weekend. Fairstein's Wikipedia page was temporarily altered to show her date of death as May 31, the day When They See Us was released.
To the person who corrected @LindaFairstein 's Wikipedia page, I hope you have an amazing day! #WhenTheySeeUs pic.twitter.com/7gCjmknytB

— Jermaine Taiwo (@sevadelsur) June 1, 2019
More specifically, there were calls to boycott Fairstein's books. A few years before leaving the Manhattan District Attorney's sex crimes unit in 2002, the same year the Central Park Five were finally exonerated, Fairstein started publishing crime novels. More recently, she published a series of mystery books for kids. There was a push to get her books taken off platforms like Amazon, and her publisher to drop her. A Change.org petition is calling for her books to be removed from stores.
The prosecutor in #WhenTheySeeUs @LindaFairstein is now a multiple time author writing for kids

Anyone with a book deal with this woman need rescind it. Immediately. She destroyed not just the lives of the exonerated 5, but a whole community for decades since

— George M Johnson (@IamGMJohnson) June 3, 2019
I hope that every customer call any and all businesses that promote/sell @LindaFairstein books. Ask that they discontinue selling her books and demand that all profits be donated to criminal reform organizations. We have a voice! #WhentheySeeUs

— T Green (@TGreen35125988) June 2, 2019
I really can't think of anything more evil than a prosecutor gleefully writing their own fan fiction, while feeding black men like logs into the fire that is the U.S. prison system.

I really should break my own rules and @ her.

But, I'm going to keep my energy clean. pic.twitter.com/kQsjZlKXJL

— kyle a.b. (@kyalbr) May 31, 2019
Her books were bombed with negative reviews on Amazon.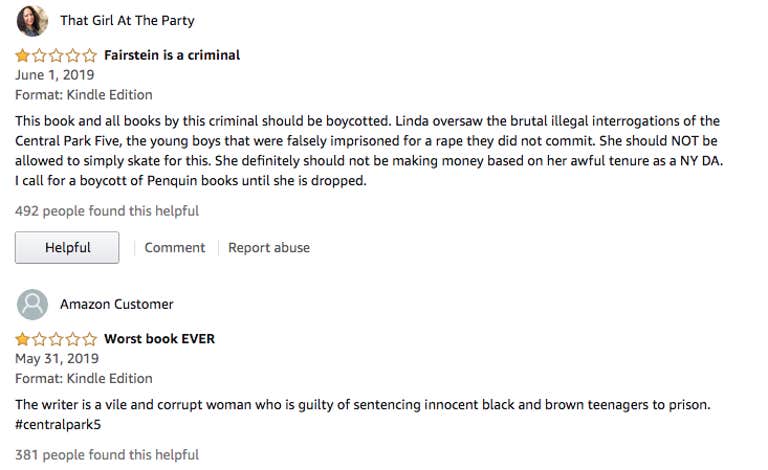 People also called Fairstein out for other cases she worked on. In a 2017 interview, New York Times reporter Megan Twohey recalled how Fairstein stepped in to help silence Harvey Weinstein accuser Ambra Battilana Gutierrez. Fairstein, she said, "was willing to facilitate introductions to the current sex crimes prosecutor who was handling the case. And within weeks that case was dead."
Wait, so Linda Fairstein relentlessly went after these innocent kids, she helped silence a case against Harvey Weinstein, and she was part of the decision not to prosecute Dominique Strauss-Kahn …and @glamourmag awarded her Woman of the Year?#WhenTheySeeUs

— Snoogans (@AprilTara) May 31, 2019
It appears Fairstein deleted her Twitter account, perhaps in anticipation of this reaction. DuVernay told the Daily Beast that Fairstein "tried to negotiate conditions for her to speak with me, including approvals over the script and some other things." Fairstein has defended the conviction as recently as 2018, even though serial rapist Matias Reyes confessed to the assault in 2002. In November 2018, Fairstein's Mystery Writers of America Award was rescinded after other writers objected.
READ MORE:
Got five minutes? We'd love to hear from you. Help shape our journalism and be entered to win an Amazon gift card by filling out our 2019 reader survey.