In 2018, the UFC put on 38 events. Each event featured 10-15 fights, which means there were 450 fights last year, give or take. Of those 450, 18 were for title belts. So fans got to see a championship fight about once every three weeks. Even during this golden age of mixed martial arts and on-demand entertainment, meetings between the two best fighters in the world are rare.
Which makes UFC 245—which features Kamaru Usman vs. Colby Covington in a main event that you can live stream on ESPN+—something of an MMA miracle. As if making up for all those barren weeks and months, the event will feature not one but three title fights. The last time the UFC put that many championship fights on the same card, at UFC 217 in November 2017, all three belts changed hands.
Rose Namajunas knocked out the seemingly indestructible Joanna Jedrzejczyk, TJ Dillashaw reclaimed his bantamweight belt from arch-nemesis Cody Garbrandt, and former welterweight legend George St-Pierre reappeared after a three-year hiatus to beat Michael Bisping for the middleweight championship. The night was so full of tension and drama, it was almost unbearable to watch. And while there's no guarantee UFC 245 will provide anything like that, the chance to witness the greatest female fighter the world has ever known defending her belt, a prodigy angling to become the greatest featherweight the UFC has ever known, and a blood feud dripping with sociopolitical significance all in one night is too much to miss.
Here's everything you need to know to watch UFC 245 without cable.
UFC 245: Kamaru Usman vs. Colby Covington
When: Saturday, Dec. 14, at 10pm ET
Where: T Mobile Arena in Las Vegas
Streaming: ESPN+
UFC 245 main event: Kamaru Usman vs. Colby Covington
When UFC welterweight champion Kamaru Usman (15-1) faces Colby Covington (15-1) in Las Vegas, their fight will be fraught with all kinds of extra-Octagon resonance. Of course, fight writers love to say that. We live to ascribe metaphorical, political, even spiritual meaning to bouts for the sake of literature. But every once in a while, a fight actually does become something more, a stand-in for some bigger struggle. Like in 1936, when boxing heavyweights Joe Louis and Max Schmeling were the unwilling representatives of American pluralism and German racial tyranny in the run-up to World War II. Or 1962, when the first bout between Floyd Patterson and contender Sonny Liston became a battlefield in the Civil Rights-era war over black identity. Or 1971, when Muhammad Ali made racial politics the selling point for his first fight against Joe Frazier.
If the Usman-Covington fight had happened a few years ago, there would have been no such added significance. It would have been a straightforward battle between two wrestlers that would have attracted almost no attention outside the MMA community—and even some indifference inside of it. As great as they were as fighters during the early years of their UFC careers, Usman and Covington didn't make much of an impression as personalities—this being the curse of wrestling-heavy fighting styles and genial dispositions. That all changed two years ago when Covington got tired of being just another mild-mannered soul lost among the UFC roster and rebranded himself as a MAGA hat-wearing troll, a caricature straight out of professional wrestling: the living id of Trumpian racial animus and paranoia.
Like Ali and early pro wrestling star Gorgeous George before him, Covington realized that pushing buttons meant more attention, higher pay, and more opportunities—that people would pay for the chance to watch him lose—so he began going after foreigners and immigrants, even his own teammates, with an assault as fiery as it was incoherent. He called Brazilians "angry animals" and denounced NFL and NBA players who refused to visit the White House. He bragged about his sexual prowess in a barrage of shameless and excruciating self-promotion. And it worked. People began talking about him. Opportunities started coming his way.
None of which sat well with Usman, an American born in Nigeria who sees himself as a representative of Africa and a defender of immigrants against the Trumpist hate he sees embodied in men like Covington. He views their upcoming fight as a "symbol" of a larger struggle against xenophobia and white entitlement. But he, like Covington, surely also sees the dollar signs. By tapping into the anxieties of our anxious age, Usman and Covington have convinced the public that what's at stake next Saturday night isn't just for a title belt but for the soul of the country, raising a fight between two wrestlers to the level of historical drama.
Max Holloway vs. Alexander Volkanovski
What's a stronger indication of athletic genius: Reaching the highest levels of a sport at an impossibly early age or getting there with only a few years of training after starting late? Being a child prodigy or a brilliant late bloomer? I suppose it's a question of nurture vs. nature. The best example for the "nurture" argument in MMA is UFC featherweight champion Max Holloway (21-4), who was raised from his youth to be a great mixed martial artist. He came up in the vanguard of MMA's renaissance generation. That was when fighters were raised in a world where MMA was established, where the early secrets had already been discovered and divulged. They were trained not as specialists, like their predecessors, but as masters of all fighting skills. He arrived in the UFC at the tender age of 20 with an air of inevitability about him. Of course he would win a championship; of course he would one day be listed among the best ever. It was fated.
On the other end of the debate stands Alexander Volkanovski (20-1), a born athlete of such innate physical gifts that he could take his first MMA class at 22, an age when Holloway was already five fights into his UFC run, and just a few years later find himself standing opposite the man. A professional rugby player in a previous life, Volkanovski is blessed with a kind of natural athleticism even most fighting geniuses could never hope to touch. His speed and punching power are God-given. But for all his athletic brilliance, for all his natural, unteachable physical prowess, he's going to need to pull off a perfect fight if he hopes to beat Holloway: perfect in strategy and in execution. It's a huge advantage to be a great athlete, but Holloway is an artist and a prodigy.
Amanda Nunes vs. Germaine de Randamie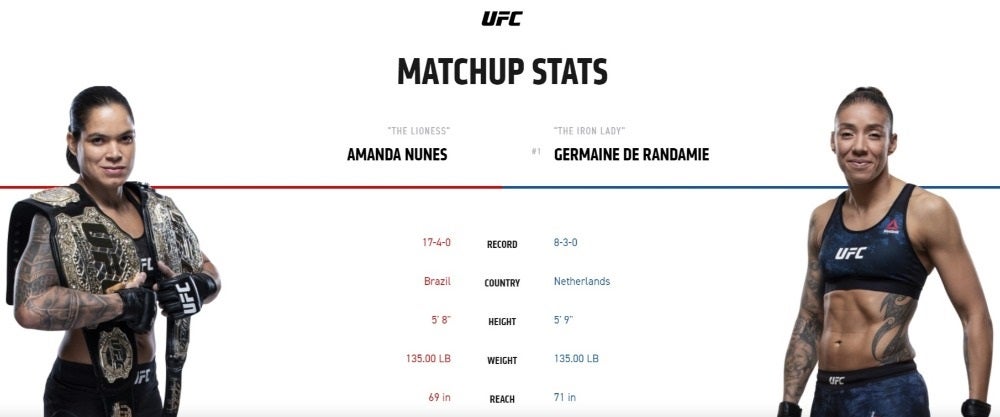 If the difference between the souls of fighters can be seen in their reactions to the same opponent, consider this: After Germaine de Randamie won the inaugural UFC women's featherweight belt in February 2017, she refused to fight No. 1 contender Cris Cyborg, claiming Cyborg's long-ago dalliance with performance-enhancing drugs disqualified her from a shot at the belt. MMA fans and pundits didn't buy de Randamie's argument, branding her a coward for refusing to fight the woman most MMA fans had long considered the most dangerous and intimidating in the sport.
Nunes, on the other hand, dared to leave the relative safety of the bantamweight division, where she was (and still is) the dominant champion, to go up a weight class and fight Cyborg at 145 pounds. She not only took on that enormous challenge, she knocked out the previously unbeatable Cyborg in under two minutes, becoming the first-ever two-division women's champion in UFC history. Whether this signals a difference in disposition between Nunes (18-4) and de Randamie (9-3) is open to interpretation. What is clear, though, is that Nunes is the greatest female fighter in MMA history and de Ranadamie is now in the unenviable position of having to beat her just to salvage her reputation.
Marlon Moraes vs. Jose Aldo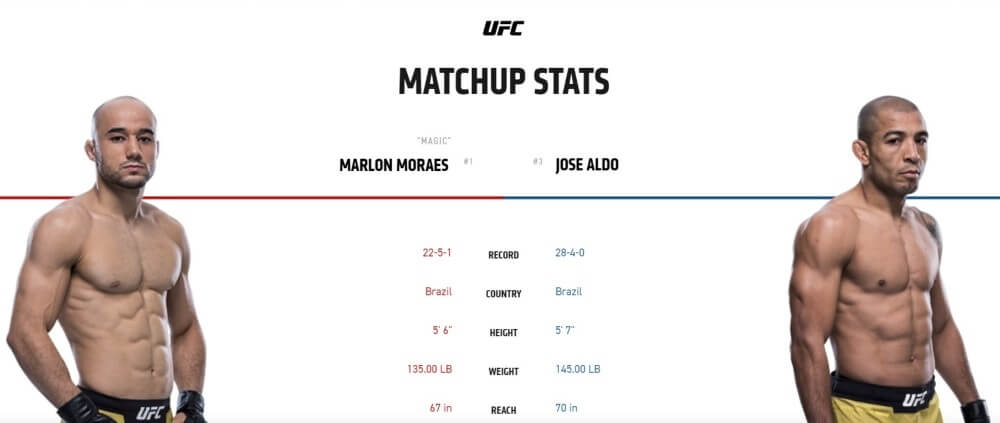 MMA legends don't get much bigger than that of former longtime featherweight champion Jose Aldo (28-5). He was a dominant champion for what seemed like forever, and any list of the top fighters of all time has to include him. But time and anatomy don't care about who you were or what you've done. They conspire against everybody, slowing both reflexes and metabolisms. Which makes Aldo's strategy in the face of his inevitable physical decline so surprising. Most aging mixed martial artists opt to move up a class, where they won't have to put their bodies through painful weight cuts and the people they'll be fighting won't be quite as terrifyingly fast.
But Aldo has chosen to spend his twilight years a weight class down, hoping to capitalize on his power against lighter, flightier men. Waiting to welcome him to his new home is Marlon Moraes, who, like Aldo, is in something of a bind. Though Moraes (22-6-1) is still very much in his prime, the man who holds the bantamweight belt, Henry Cejudo, beat him soundly in June, meaning he's got to re-create himself if he hopes to get another title fight. Unfortunately for Moraes, the road to redemption leads through Jose Aldo, a sentence no MMA fighter ever wants to read.
Petr Yan vs. Urijah Faber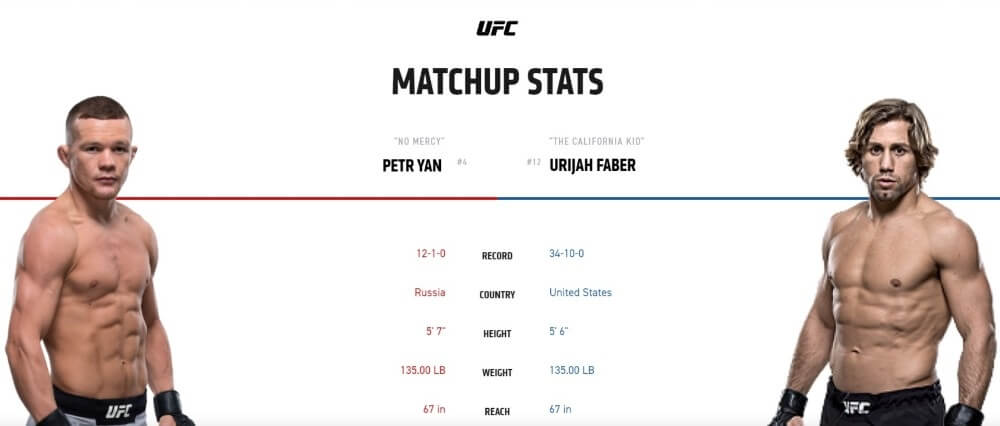 When Urijah Faber (35-10) retired from mixed martial arts in 2016, his timing seemed perfect. The perennial bantamweight contender had been a professional fighter for 13 years but had escaped relatively unscathed, both physically and neurologically, which was a miracle. He was still good enough to compete in the UFC but no longer great enough to compete for a title, so he wasn't leaving opportunities on the table. Plus, he'd had a legendary career. He'd been a longtime champion in the WEC and was the first true superstar of MMA's smaller weight classes, a pioneer of the bantamweight and featherweight divisions at a time when no one, not even the UFC, seemed to care. Add to this the fact that Faber had made plenty of money, owned and ran one of the most successful fight teams in the world, and had a stake in at least 10 companies, and it was clear the smart thing for him to do was get out with his body intact and his wits about him.
But fighters are notoriously awful at staying retired, and Faber turned out to be no exception. Earlier this year, he returned to the Octagon after more than two years to fight Ricky Simon, winning by first-round knockout. Now, Faber is signed on to face 26-year-old Russian bruiser Petr Yan (13-1). It might sound ridiculous for Faber to try his luck against Yan, considering he's now 40 and has a brand-new daughter and considering Yan is known for his heavy hands. But the same pathology that leads people to fight professionally in the first place, that feeling of indestructibility and risk, is what keeps them coming back even when logic and the evolutionary demands of self-preservation are crying out against them. Faber is living proof that fighting is both a disease and its cure.
UFC 245 poster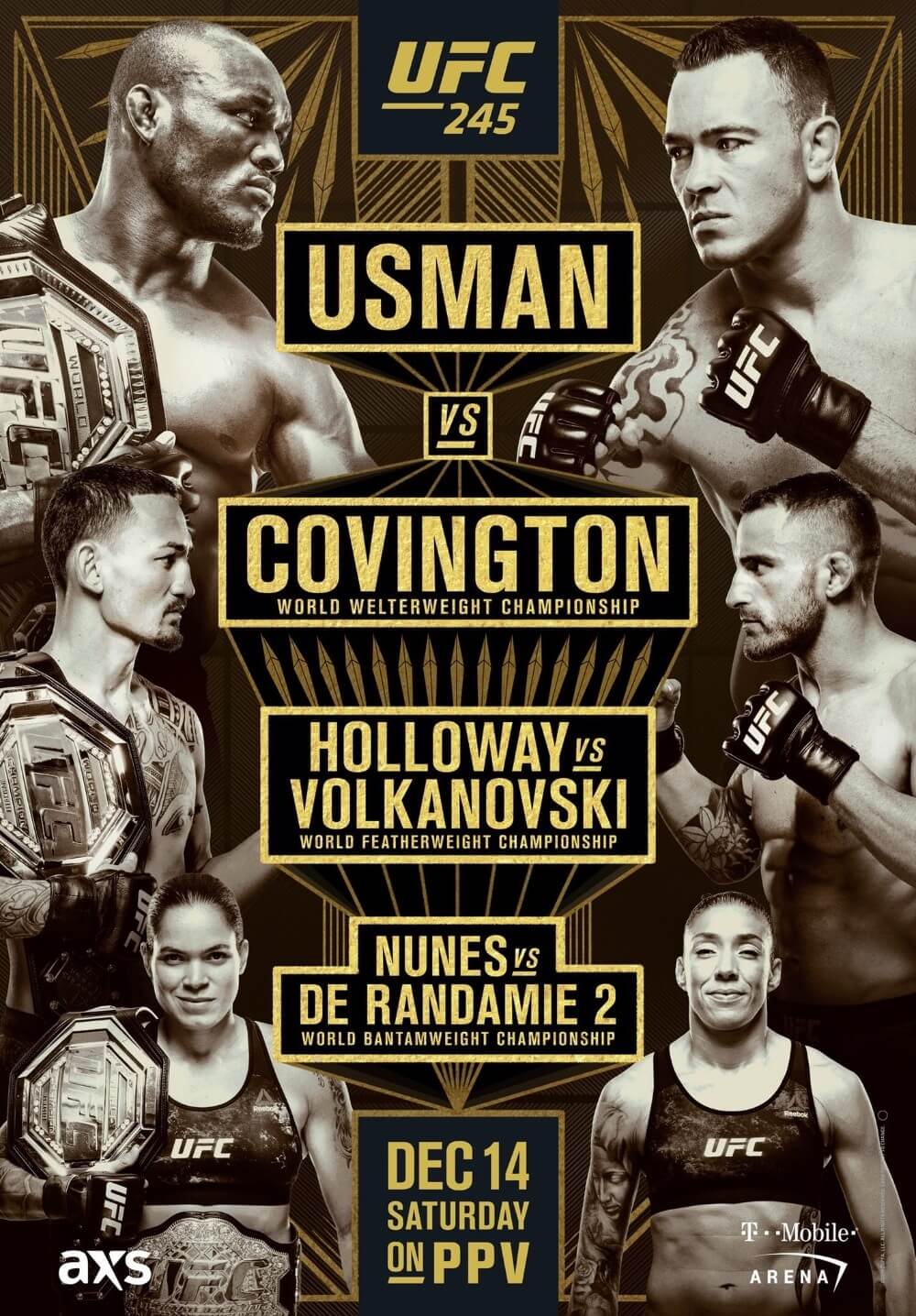 How to watch UFC 245 on ESPN+
Devices:

Chromecast,

Amazon Fire Stick

and

Fire TV

, Apple TV, Android TV, Roku players and TV, Oculus Go, Xbox One, PlayStation 4, Samsung smart TVs, and iOS and Android devices
There's only one legal way you can watch UFC 245 from your home: ESPN+. While the prelims will be split between ESPN2 and UFC Fight Pass, the main event will exclusively be broadcast on ESPN's subscription streaming service. The good news is that it's incredibly simple to use and works with pretty much every streaming device you might own.
There are two purchase options for UFC 245: You can pay $59.99 for that one PPV or you can get a full year of ESPN+ along with UFC 245 by paying $79.99. For UFC fans, you should really invest in the latter. ESPN+ now hosts 20 UFC Fight Nights per year, along with the exclusive series UFC Destined, Ariel Helwani's MMA Show, and Dana White's Contender Series.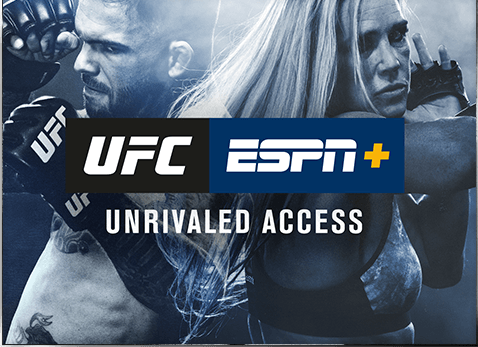 UFC 245 cost:
Need more convincing? ESPN+ also hosts Top Rank Boxing cards, daily MLB games, every out-0f-market MLS game, and tons of college football and basketball. You'll also be able to stream the complete 30 for 30 catalog on demand.
Kamaru Usman vs. Colby Covington live stream schedule
All times in ET.
Main card | 10pm on ESPN+
Kamaru Usman vs. Colby Covington
Max Holloway vs. Alexander Volkanovski
Amanda Nunes vs. Germaine de Randamie
Marlon Moraes vs. Jose Aldo
Petr Yan vs. Urijah Faber
Prelims | 8pm on ESPN2
Geoff Neal vs. Mike Perry
Ketlen Vieira vs. Irene Aldana
Matt Brown vs. Ben Saunders
Early Prelims | 6:30pm on Fight Pass
Chase Hooper vs. Daniel Teymur
Brandon Moreno vs. Kai Kara France
Jessica Eye vs. Viviane Araujo
Punahele Soriano vs. Oskar Piechota
For a year-round sports fix, sign up here and check the "sports" box to receive our weekly boxing newsletter. You'll hear about all the biggest fights and best knockouts from the Daily Dot's streaming sports guru Josh Katzowitz.
The Daily Dot may receive a payment in connection with purchases of products or services featured in this article. Click here to learn more.