It's been a long time since Chicago had a reputation as a real fight town. For more than 50 years, the city that gave us Gene Tunney's "long count" victory over Jack Dempsey, Sugar Ray Robinson's "Valentine's Day Massacre" of Jake LaMotta, and Sonny Liston's first-round blitz of heavyweight champion Floyd Patterson sat all but dormant, ceding any reputation it had as a boxing capital to New York, Las Vegas and Atlantic City.
But that was then and that was boxing. Since the rise of mixed martial arts and UFC, Chicago has been slowly re-establishing itself not just as a fighting destination but a home of legendary championship events. Take UFC 225 last June, when reigning middleweight champion Robert Whittaker somehow managed to survive a five-round war with Yoel Romero, arguably the greatest athlete MMA has ever known, and hold on to his championship belt by the closest of decisions. Or the rematch between UFC bantamweight champion TJ Dillashaw and Renan Barao three years earlier, which featured a sublime performance that lifted Dillashaw into the rarefied air of pound-for-pound greatness.
This Saturday the Windy City will continue its slow march back into the light of fight-world legitimacy with not one but two title fights at the United Center, first a co-main event featuring the queen of the UFC's new women's flyweight division and a revitalized No. 1 contender, and a main event between a former Olympic champion who has climbed to the top of the MMA ladder in record time and a veteran finally peaking after 12 years as a professional.
UFC 238: Cejudo vs. Moraes
When: Saturday, June 8

Where: The United Center in Chicago, Illinois

Streaming: ESPN+
UFC 238 Main Event: Henry Cejudo vs. Marlon Moraes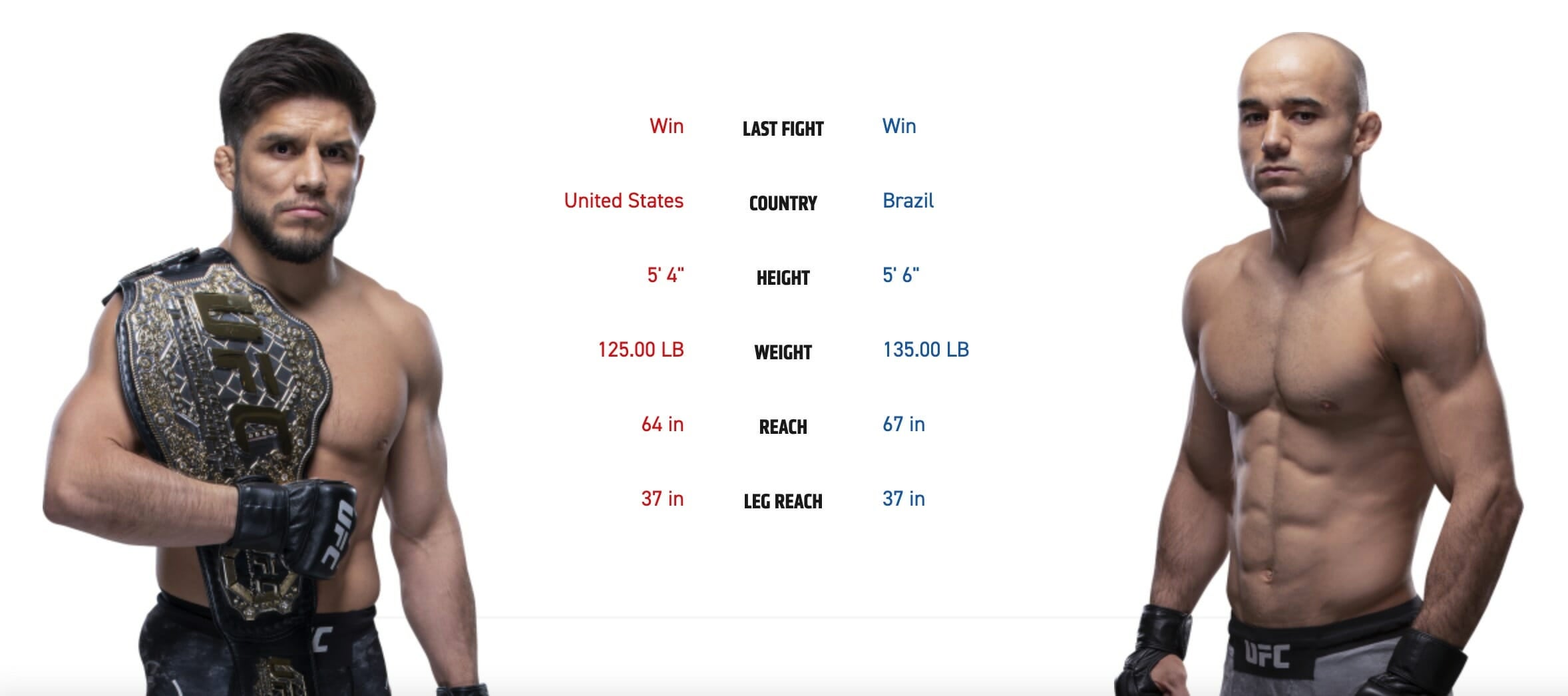 In the MMA world, there is no one with a more impressive résumé than Henry Cejudo (14-2). Olympic gold medalist in freestyle wrestling. UFC flyweight champion after just five years as a mixed martial artist. The man who ended the unprecedented 11-fight championship reign of Demetrious "Might Mouse" Johnson. The undersized grappler who knocked out pound-for-pound great TJ Dillashaw in just 32 seconds. Cejudo the giant killer, destroyer of worlds. And while his next opponent, Brazilian Muay Thai specialist Marlon Moraes (22-5-1 D), may not have Cejudo's pedigree, over the last 18 months he has turned himself into something of a destroyer of his own, winning three fights in a row by first-round, highlight-reel stoppage.
The question that will define their fight is simple: Can Moraes stop Cejudo from taking him down? And will he be so worried about being taken down that he leaves himself open to Cejudo's strikes—which, though a distant runner-up to his grappling genius, have evolved enough that he was able to trade shots for five rounds with Johnson, arguably the greatest mixed martial artist ever, and knock out Dillashaw, who is not only a world-class striker but was also under the influence of very powerful performance-enhancing drugs at the time? Moraes would be wise to keep moving.
Valentina Shevchenko vs. Jessica Eye
When Valentina Shevchenko (16-3) entered the UFC back in 2015 there was an air of inevitability about her. An eight-time world champion kickboxer with barely a blemish on her record, she seemed destined for a championship belt. Unfortunately for Shevchenko and her destiny, the UFC's 135-pound division is home to the great Amanda Nunes, whom Shevchenko has tried and failed to beat twice. So when the UFC opened its 125-pound flyweight division in 2017, Shevchenko wisely went down in search of her title and fight fans rightly assumed she'd soon have it. For her first title defense, Shevchenko takes on Jessica Eye (14-6), who has found a home of her own at flyweight after three rocky years at bantamweight. Eye has been reborn at 125 pounds, going on a tear with her great boxing and kicks. Which, in any other situation, would be considered assets. But relying on a strike-heavy attack against Shevchenko might only make her angry.
Tony Ferguson vs. Donald Cerrone
The last six months couldn't have gone much differently for lightweight contenders Tony Ferguson (24-3) and Donald "Cowboy" Cerrone (36-11). After stopping former champion Anthony Pettis last October, the brilliant but volatile Ferguson saw his world start to crumble. A restraining order filed by his wife in March detailing alleged paranoid and destructive behavior threatened to derail Ferguson's personal life and caused some to wonder if he would ever return to the Octagon, stymying once again his much-deserved but star-crossed quest for the lightweight championship. Cerrone, meanwhile, has been flying, crediting the birth of his first son last June for a three-fight winning streak that stands as one of the high periods of his already-lauded 30-fight UFC career. But even with Ferguson's recent troubles and Cerrone's late-career renaissance, certain cruel facts remain—particularly that Ferguson has a history of breaking opponents and Cerrone has a history of being broken. What remains to be seen is how much Ferguson has been knocked off balance by the realities of the world outside the cage and how much Cerrone has been buoyed by them.
Jimmie Rivera vs. Petr Yan
It's one of the cruel realities of professional fighting that at some point you may end up sharing a card with the man or woman responsible for your most humiliating loss. So it is for Jimmie Rivera (22-3), who was not only knocked out in just 33 seconds by Marlon Moraes last June but who now has to fight fourth on a card that Moraes is headlining, and in a championship fight no less. Only one year removed from his first-ever knockout defeat, Rivera may still be suffering some lingering psychological trauma, which is no way to fight a heavy-handed boxer like Petr Yan (12-1), who is not only a perfect 4-0 since entering the UFC last year but is also an accredited Master of Sport in his native Russia.
Tai Tuivasa vs. Blagoy Ivanov
Tai Tuivasa (8-1) is a giant man, both in size and personality. The 26-year-old Australian just barely makes the 265-pound limit for the heavyweight division, and he fights and lives with all the exuberance and impetuosity of youth. After defeating MMA veteran Andrei Arlovski in June 2018, Tuivasa celebrated cageside by drinking beer out of a fan's shoe, earning himself the nickname "Shoeyvasa" in the press. But he learned the hard way that strength and charisma will only take you so far as a fighter when he suffered his first loss at the hands of the far more experienced Junior dos Santos last December. Tuivasa will look to redeem himself against Blagoy Ivanov (17-2-1 NC), a Bulgarian brawler who was forced to take a 21-month hiatus from MMA in 2012 after nearly getting murdered in a bar by a gang of men wielding bats and knives. That Ivanov is alive and in the UFC at all is a minor miracle, and one Tuivasa would be wise to heed. One must be careful when fighting a man who's stared down death.
UFC 238 poster
How to watch UFC 238 on ESPN+
Devices: Chromecast, Amazon Fire Stick and Fire TV, Apple TV, Android TV, Roku players and TV, Oculus Go, Xbox One, PlayStation 4, Samsung smart TVs, and iOS and Android devices
There's only one way you can watch UFC 238: ESPN+. While the prelims will be split between ESPN and UFC Fight Pass, the main event will exclusively broadcast on ESPN's new subscription service. The good news is that it's incredibly easy to use and works with pretty much every streaming device you might own.
There are two purchase options for UFC 238: You can pay $59.99 for UFC 238 or you can get a full year of ESPN+ for free by paying $79.99. For UFC fans, you should really invest in the latter. ESPN+ now hosts 20 UFC Fight Nights per year, along with the exclusive series UFC Destined, Ariel & the Bad Guy, and Dana White's Contender Series.
UFC 238 cost:
Need more convincing? ESPN+ also hosts Top Rank Boxing matches, daily MLB games, every out-0f-market MLS game, and loads of college football and basketball. You'll also be able to stream the complete 30 for 30 catalog on-demand.
UFC 238 schedule
All times ET.
UFC 238 PPV Main Card | 10pm on ESPN+
Henry Cejudo vs. Marlon Moraes

Valentina Shevchenko vs. Jessica Eye

Tony Ferguson vs. Donald Cerrone

Jimmie Rivera vs. Petr Yan

Tai Tuivasa vs. Blagoy Ivanov
UFC 238 Preliminary Card | 8pm on ESPN
Tatiana Suarez vs. Nina Ansaroff

Aljamain Sterling vs. Pedro Munhoz

Karolina Kowalkiewicz vs. Alexa Grasso

Ricardo Lamas vs. Calvin Kattar
UFC 238 Early Prelims | 6:15pm on UFC Fight Pass
Yan Xiaonan vs. Angela Hill

Bevon Lewis vs. Darren Stewart

Eddie Wineland vs. Grigory Popov

Katlyn Chookagian vs. Joanne Calderwood
The Daily Dot may receive a payment in connection with purchases of products or services featured in this article. Click here to learn more.