The galaxy is insanely massive. Let's imagine, for fun, that you were instantly flung to the other side of the cosmos by an alien entity. Did you know that even at the cruising speed of Warp 6 it would take approximately 70 years to get home? This was the grim reality faced by Starfleet Captain Kathryn Janeway.
While chasing down a renegade Maquis ship in The Badlands, Janeway was pulled into Delta Quadrant by an entity known as "The Caretaker," approximately 70,000 light-years away from Federation space. Now, working together with the crew of the Maquis ship she was ordered to capture, Janeway must plot a safe course for home while dodging the many dangers the quadrant throws at her, including the Borg. Luckily for her, she's got an amazing crew behind her, including a holographic doctor that's too witty for his own good, Starfleet's most stoic Vulcan, and of course, the hottest Borg drone to ever don spandex.
Here's everything you need to know to watch Star Trek: Voyager online.

Star Trek: Voyager cast
Kate Mulgrew as Kathryn Janeway
Robert Beltran as Chakotay
Roxann Dawson as B'Elanna Torres
Robert Duncan McNeill as Tom Paris
Jennifer Lien as Kes
Ethan Phillips as Neelix
Robert Picardo as The Doctor
Tim Russ as Tuvok
Jeri Ryan as Seven of Nine
Garrett Wang as Harry Kim
How many seasons of Star Trek: Voyager were there?
There were seven seasons of the show, which comprised 172 episodes. Star Trek: Voyager ran from 1995-2001.
How to watch Star Trek: Voyager online

Cost:

$5.99 per month

Hulu devices:

Roku, Apple TV, Google Chromecast, Amazon Fire Stick and Fire TV, Xbox One, Xbox 360, Nintendo Switch, and iOS and Android devices
If you want to watch episodes of Drunk History on the day after they air, there's no better option than Hulu. The streaming service, which just slashed the cost of its ad-supported version to a mere $5.99 per month, offers all episodes of Star Trek: Voyager on-demand. If you subscribe to Hulu with Live TV, you'll get the on-demand portion of Hulu included for free. You can also upgrade to Hulu No Commercials for $11.99 per month.
---

Cost:

$119 per year

(after 3o-day free trial)

Devices:

Amazon Fire Stick, Fire TV, Fire tablets, and Fire phone; Roku, Google TV, TiVo, Nvidia Shield, PlayStation 3 and 4, Xbox One, Nintendo Wii
Amazon Prime Video is one of the most popular streaming services available, in large part because it comes complimentary with every Prime membership. If you're addicted to two-day shipping and binging TV shows, it's one of the best-streaming destinations. There are plenty of exclusives that make having access to the library worth having, including Good Omens, The Man in the High Castle, The Marvelous Mrs. Maisel, Transparent, and The Tick. This includes Star Trek: Voyager. Best of all, if you're a student, you can get six months free before you commit for the rest of the year.
---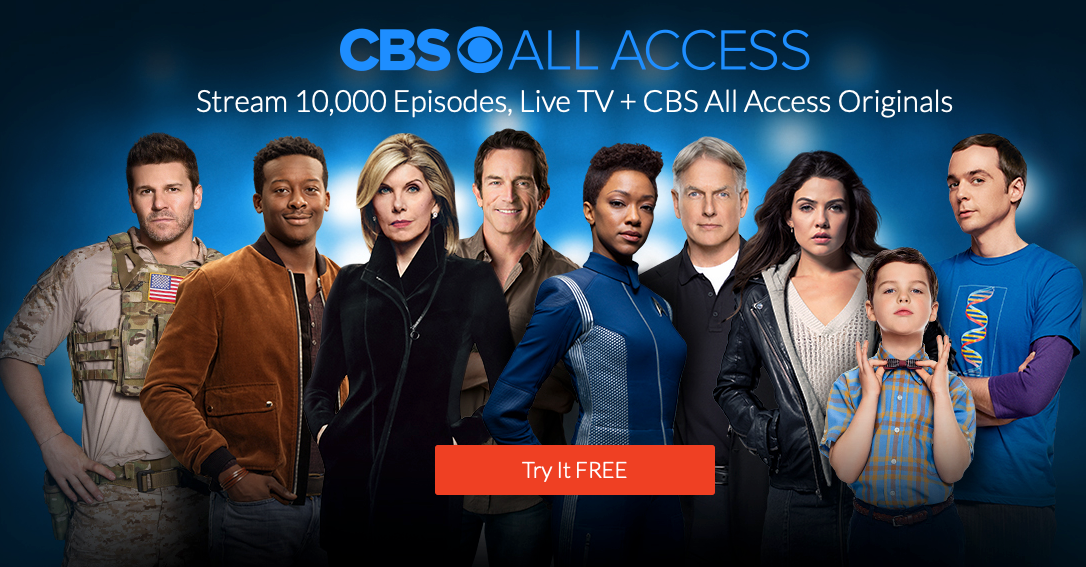 CBS All Access is the network's answer to Netflix and Hulu. With it, you'll be able to live stream CBS and Star Trek: Voyager. Plus, there are 10,000 episodes of CBS television to binge, including hit shows The Big Bang Theory, Big Brother, and NCIS. You'll also be able to stream CBS All Access exclusives like Star Trek: Discovery and Star Trek: Picard.
---

Cost: $7.99-13.99/month (after a free month)

Devices: Amazon Fire Stick, Fire TV, Fire tablets, and Fire phone; Roku, Google TV, TiVo, PlayStation 3 and 4, Xbox One, Nintendo Wii
You can catch all seasons of Star Trek: Voyager, which offers a free month of service to new subscribers.
---
Star Trek: Picard | Our Spoiler-Free Review:
Watch Picard for free with a 1-week trial of CBS All Access.
---
The Daily Dot may receive a payment in connection with purchases of products or services featured in this article. Click here to learn more.