Seinfeld, on its face, chronicled the life of stand-up comedian Jerry Seinfeld, along with his best friend George Costanza, on-off girlfriend Elaine Benes, and kooky neighbor Cosmo Kramer. If you want to know how to watch Seinfeld online, here's a primer.
In fact, for a handful of episodes began with Jerry performing stand-up in front of a brick wall, late '80s style. After waning for a couple of seasons, the show not only survived, it thrived, and became a pop culture phenomenon that is rerun on local and cable channels alike.
The series protagonist Jerry may have been the series' namesake, but the personalities around him are what made the show a comedy powerhouse. George Costanza (Jason Alexander) who is loosely based on Larry David, was the neurotic yet loveable failure who was the punchline to most of the series' jokes. Elaine Benes (Julia Louis-Dreyfus) served as the lone woman in the pack of dullards and naturally served as the voice of reason. And no episode would feel right unless Jerry's neighbor Cosmo Kramer (Michael Richards…yeah, I know) busted through the front door with some hair-brained scheme.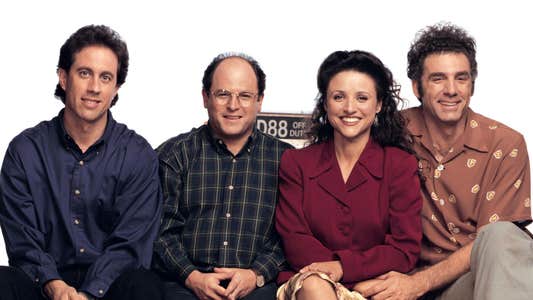 Without Seinfeld, would anyone of us be "Masters of your domain?" or live in fear of the idea of a "Soup Nazi"? Unlikely. There's a chance you can turn your TV on right now and catch an episode. It's still worth it to have the knowledge of how to watch the show online.
Here's everything you need to know to watch Seinfeld for free.
Where to watch Seinfeld
Channel: Hulu
Genre: Documentary
Status: Pending
Seinfeld airs in syndication on many channels. As far as streaming services, there's only one game in town: Hulu. You can watch the sitcom for free when you sign up to try their ad-free service for 30 days.
How to watch Seinfeld online
TBS airs Seinfeld most weekdays. TBS is available on a handful of the major live TV streaming services. When trying to decide which one is best for you, you'll want to weigh many things. This includes the cost, the other channels you'll receive, and the compatible devices for streaming. Thankfully, no matter which service you pick, you'll start with a one-week trial so you can watch Seinfeld for free. Sling, Hulu with Live TV, and YouTube TV.
---
The Daily Dot may receive a payment in connection with purchases of products or services featured in this article. Click here to learn more.