Last year, Texas representative Beto O'Rourke challenged incumbent Ted Cruz for his Senate seat. He lost, 50.9 percent to 48.3 percent, but he put up a better fight than any Texas Democrat has managed in the last 20 years. His grassroots campaign inspired Texans—and Americans—throughout the nation.
Running with Beto follows the 46-year-old El Paso native on his journey to becoming the political star he is today. According to the Daily Dot's review for the HBO documentary, the film "feels as grassroots as O'Rourke's campaign." Ignacio Martinez wrote that the film "both presents O'Rourke as a larger-than-life figure when he's speaking to an enormous crowd at the Texas Democratic Convention and as a deeply vulnerable man when he's grappling with the stress of being deprived of communication with his family."
If this deep-dive into one of the most nail-biting Senate runs in the last decade has you intrigued, here's everything you need to know about how to watch Running with Beto for free.
How to watch Running with Beto for free
The Beto documentary isn't available on Netflix. There are, however, a few HBO-compatible streaming services out there. Each one offers a one-week trial, which is more than enough time to stream the 1-hour 32-minute documentary.
Cost: $14.99 per month (after a 7-day free trial) for HBO | $119 per year for Prime
Devices: Amazon Fire Stick, Fire TV, Fire tablets, and Fire phone; Roku, Google TV, TiVo, Nvidia Shield, PlayStation 3 and 4, Xbox One, Nintendo Wii
If you're already a Prime member, Amazon Prime Video is one of the most convenient ways to access a free HBO trial without signing up for additional accounts. (And if you're not, you can get a free 30-day trial of Prime in addition to the free week of HBO.) HBO is one of the best standalone Prime channels available for purchase on Amazon Prime Video.
---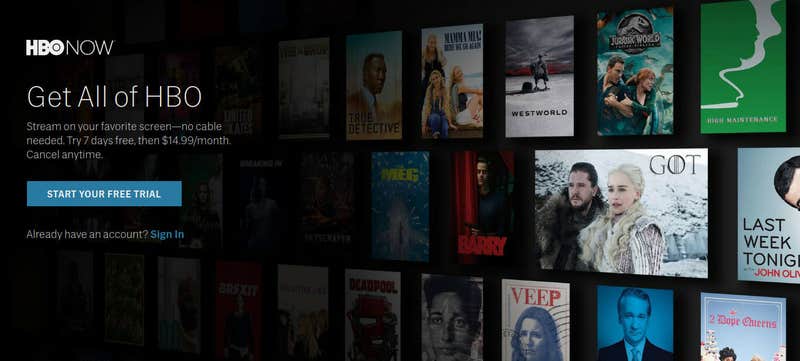 Cost: $14.99 per month (after 7-day free trial)
Devices: Amazon Fire TV, Fire TV Stick, and Fire TV Cube, Android TV, Apple TV, PlayStation 3 and PlayStation 4, Roku, Samsung Smart TV, Xbox One and Xbox 360.
If you just want HBO and nothing more, look no further than its own on-demand app HBO Now. The documentary is already available to stream, so you can view it as soon as you've put in your information. The standalone service also provides an extensive library of all HBO shows, movies, documentaries, and more.
---
Cost: $7.99-$11.99 for Hulu or $44.99 per month (after a 7-day free trial) for Hulu with Live TV | $14.99 per month for HBO
Hulu devices: Roku, Apple TV, Google Chromecast, Amazon Fire Stick and Fire TV, Xbox One, Xbox 360, Nintendo Switch, and iOS and Android devices
Local channels: ABC, CBS, Fox, NBC, the CW (check your local availability here)
You'll need to sign up for Hulu before adding HBO to your account, but the process is easy. (Even easier if you already have an account!) Hulu with Live TV gives you the best of both worlds: access to on-demand content and live TV streaming, including local networks. There are 60 channels to choose from, including The CW, ABC, ESPN, and more. You'll also get tons of great movies and original programs exclusively available on Hulu. It comes with up to 50 hours of storage for recording. (Here's the complete list of Hulu Live TV channels.)
The Daily Dot may receive a payment in connection with purchases of products or services featured in this article. Click here to learn more.