With a sport like mixed martial arts, where there's no offseason for fans to catch their breath or playoffs to create sustained dramatic meaning, there's a risk that repetition will dull passion, that cards will blend into one another and blur into memory and no event will seem more or less significant than any other. This is the downside of getting everything you want all the time: the ennui of late capitalism.
But every so often a card comes along that transcends the everyday pleasures of the sport and promises something higher, something beyond belts and temporary rivalries. These events offer diehard fans and curiosity seekers alike not just a night of entertainment but the rare opportunity to see the best ever at the very top of their powers and to bask in the glow of artistic greatness.
That's why UFC 239 may be the most significant MMA card of 2019: It features two of the best fighters ever in the prime of their athletic lives. Two title fights, one featuring the greatest male mixed martial artist of all time, the other the greatest female mixed martial artist of all time. What would you have paid in 1967 to see Aretha Franklin and Otis Redding singing on the same stage?
UFC 239: Jones vs. Santos
When:

10pm, Saturday, July 6

Where:

T-Mobile Arena in Las Vegas

Streaming:

ESPN+
UFC 239 Main Event: Jon Jones vs. Thiago Santos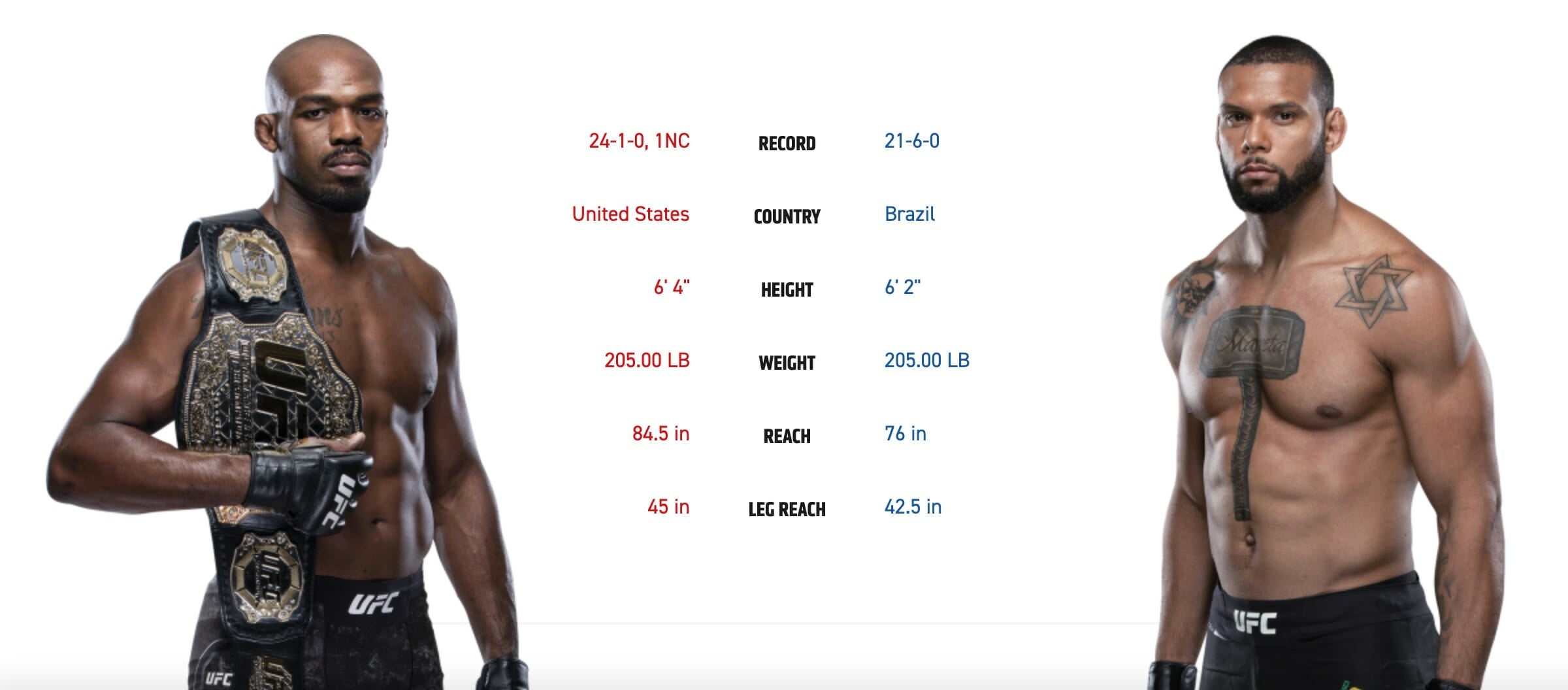 Ever since the rise of Conor McGregor, trash-talking has become a necessary skill for any fighter hoping to work his or her way up the MMA ladder and into money and fame. It's not enough to be good anymore. You have to be adamant about how good you are—and how lacking your opponent is. Which is a huge problem for anyone challenging light-heavyweight champion Jon Jones (24-1-1 NC). Not only is Jones the greatest mixed martial artist in the world; there's literally nothing bad you can say about him as a fighter, no flaws to point out and use as psychological leverage. Which means in the run-ups to fights Jones' opponents are reduced to attacking him as a person. They bring up the DUIs, the hit-and-runs, the atypical drug-test findings and residual metabolites. They bring up the cocaine and the controversies. Anything to gain some small advantage and rattle an unflappable force.
Jones' opponent this weekend, Thiago Santos (21-6), tip-toed into this minefield recently, saying about the champion, "[I]nside the Octagon, his talent is undeniable. Outside of it, unfortunately, he's not a good example." To which Jones responded with all the confidence of a man who has experienced nothing but success inside the cage and grown indifferent to criticisms of his failings outside of it. "95% of my opponents insult my personal life before the fight," Jones tweeted. "100% of them end up losing the fight."
He's right, of course. There's a lot one could say about Jones' character, but in the cage he can't be beaten. He's an MMA savant, the untouchable genius who's continually expanding what fighters are capable of. Thiago Santos may be a force of nature, fighting with a fury that paralyzes opponents before it finishes them. He may be cinematically terrifying. But the fear he creates is born out of abandon, and for an artist like Jones, a wild fighter is a fighter waiting to be picked apart.
Thiago Santos has no chance, but we watch Jon Jones fight not for the drama but because we're able to.
Amanda Nunes vs. Holly Holm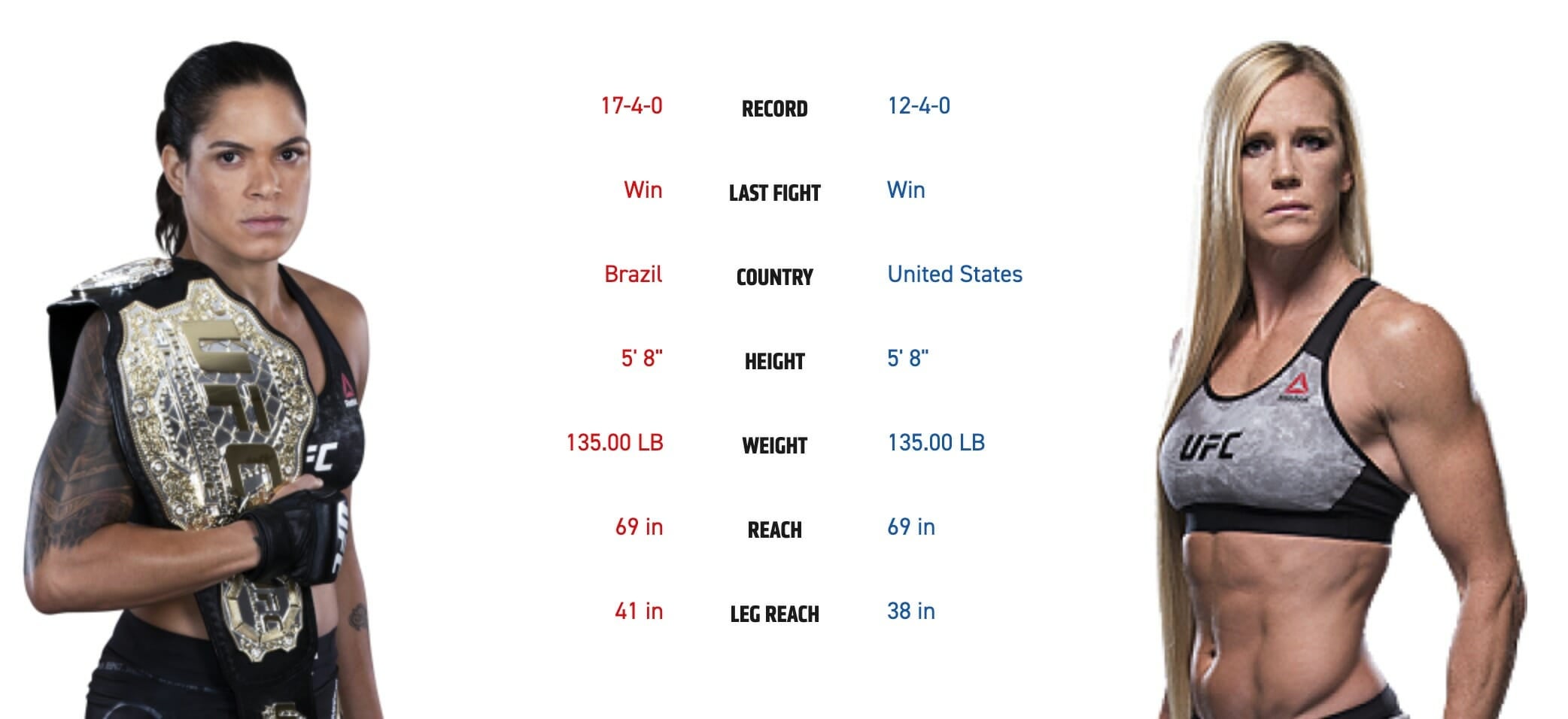 The two most important moments in the history of women's MMA are when Ronda Rousey walked into a UFC cage for the first time in February 2013 and when she got knocked out in one two-and-a-half years later. Those were the bookends to a prologue that made women's MMA as we know it possible. Rousey exploded the notion that people wouldn't pay to watch women fight by creating a myth of indestructibility. And by dashing that myth, heavy underdog Holly Holm (12-4) showed the world (and UFC executives) that there were great female fighters obscured by the glow of Rousey's meteoric rise to fame ready to beat her, thereby confirming the viability of women's MMA by destroying its biggest name. Rousey, it turned out, was both the sport's shining star and its sacrificial lamb.
If it was Holly Holm who stripped away Rousey's cloak of invincibility, it was Amanda Nunes (17-4) who ended her as a fighter and ushered in the golden age of women's MMA. In a perfect world, Holm and Nunes would have fought right after Nunes knocked out Rousey herself in December 2016 to determine who the true giant killer was. But better late than never, what with Holm finally over her post-title-winning slump and Nunes now a two-division champion after smashing the woman who took the belt from Holm and then moving up to featherweight and knocking out legend Cris Cyborg. With that win, Nunes rose into the rarefied air of historical greatness, and any chance to witness the best female fighter of all time in her prime should be grabbed, especially when she's fighting the only woman who could reasonably challenge her claim as the queen of the WMMA renaissance.
Jorge Masvidal vs. Ben Askren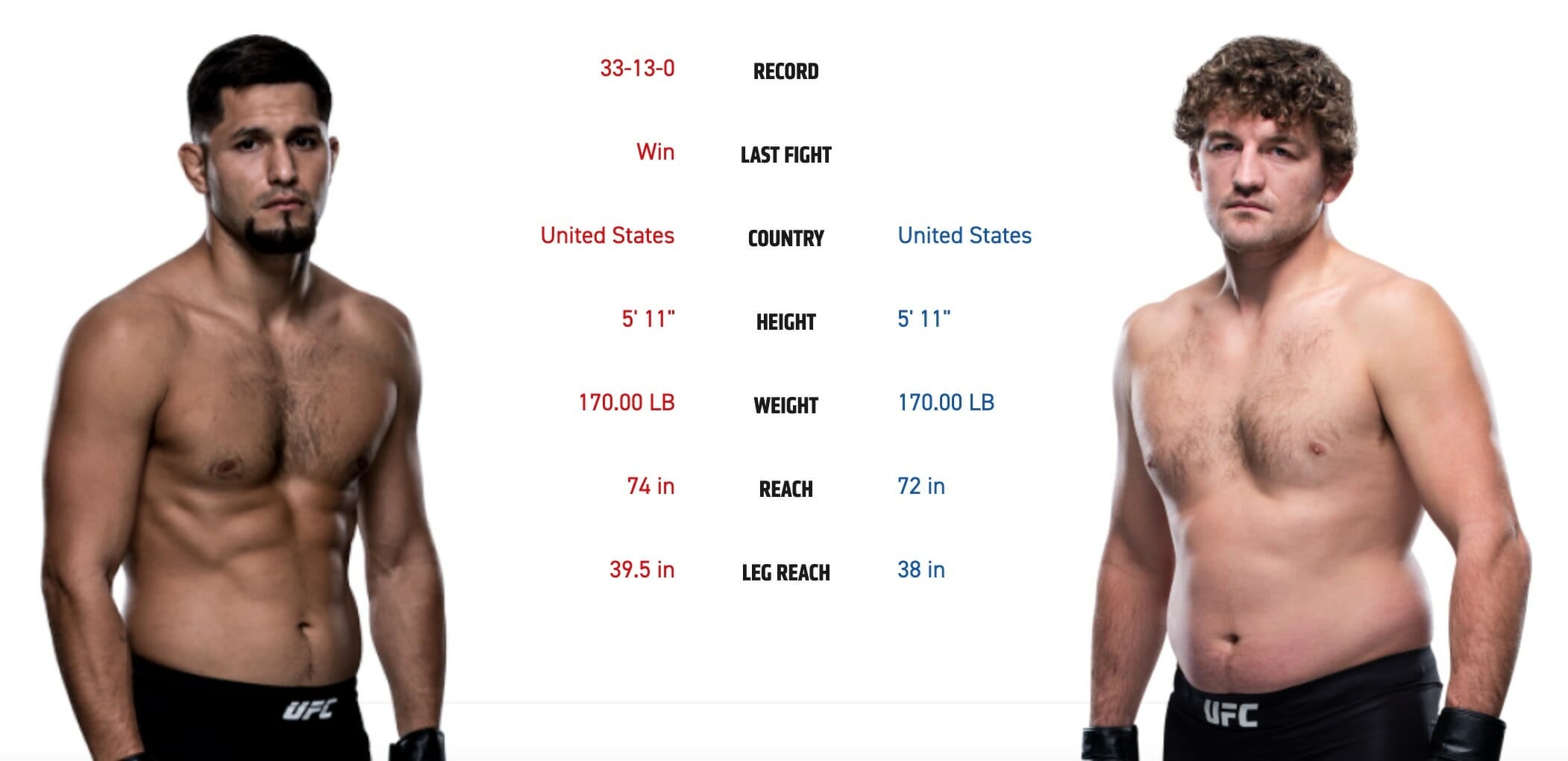 Let this fight be final proof to any skeptics and hand-wringers out there that fighters, rather than being some kind of exotic, unknowable species, can and do come from anywhere, and that the desire to fight expresses itself in all kinds of ways. Ben Askren (19-0-1 NC) and Jorge Masvidal (33-13) exist at opposite ends of the cultural spectrum: Askren is the fighter who came up in legitimacy and legality, a two-time high school wrestling champion and NCAA Division 1 collegiate national champion who competed in the 2008 Olympics before entering MMA. Masvidal got his start in underground bare-knuckle boxing matches in inner-city Miami. While Askren was earning trophies as a teenager, Masvidal was getting paid to fight grown men in backyards. Two wildly different paths to the same stage—one considered by moralists proof of character and discipline, the other evidence of a civilization in decline.
Jan Blachowicz vs. Luke Rockhold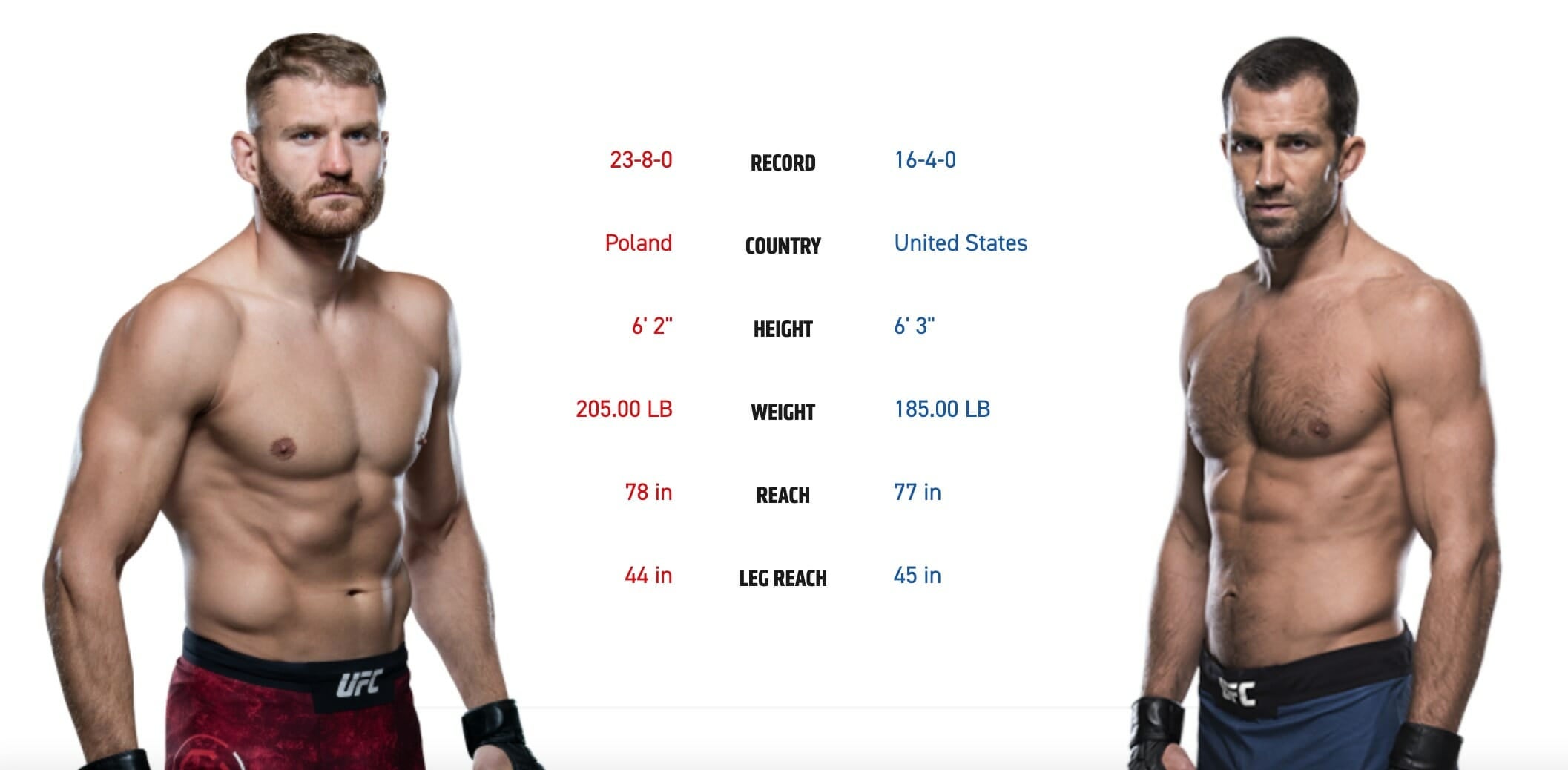 Luke Rockhold (16-4) had to wait a long time before realizing his dream of becoming a UFC champion only to be unceremoniously tossed off the mountaintop the minute he got there by the person he hated most in the world, Michael Bisping. Despite his impressive record, his athletic brilliance, and his multiple modeling contracts, there's something tragic about Rockhold: the perpetual overdog unable to quite live up to expectations and ultimately humbled by an overachieving, smooth-talking antagonist. But there's no time like the present for starting fresh. So, with Bisping retired and Rockhold's 34-year-old body rebelling against the pains of making 185 pounds, the one-time middleweight champion is moving up to light-heavyweight, where he'll be welcomed by No. 6-ranked Jan Blachowicz (23-8), a submission specialist who once defeated three opponents in a single night in his native Poland. Because that's how they do things in Poland. For Rockhold, the road to redemption, and another UFC belt, looks long and fraught.
Diego Sanchez vs. Michael Chiesa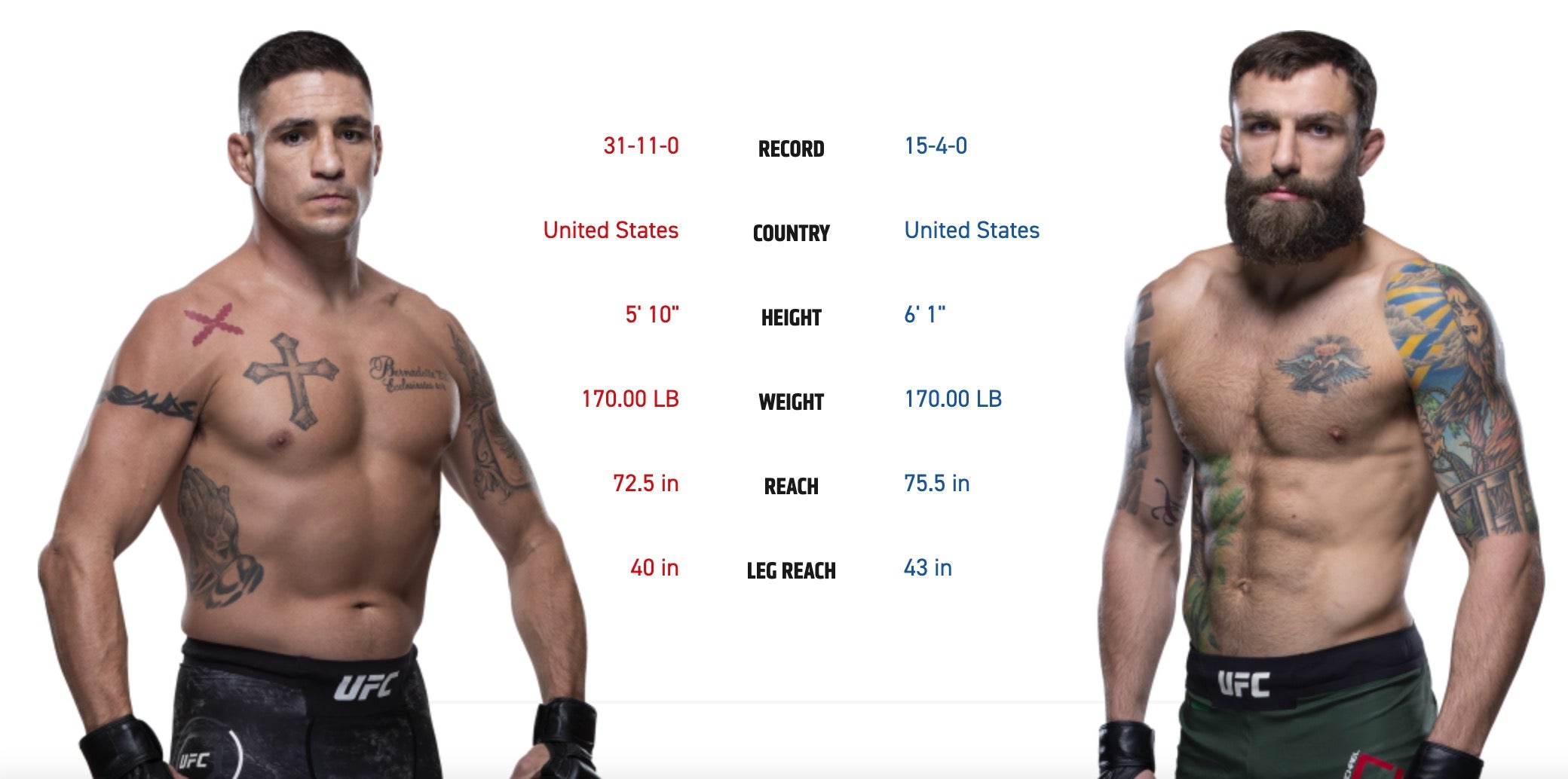 Defying age and probability (and arguably sanity), Diego Sanchez (29-11) will walk into the Octagon this weekend for the 29th time, 14 years after he won the inaugural season of The Ultimate Fighter reality TV show and earned a spot on the UFC roster. Just how legendary has Sanchez's career been? On Friday, barely 24 hours before he has to fight Michael Chiesa (15-4) in a cage, he will be inducted into the UFC Hall of Fame. Nearly every other member of that institution is either long since retired or on the precipitous downslide of their career, stubbornly holding on to past glories at the expense of their brains and bodies. But here's crazy, defiant, impulsive Diego Sanchez—37 years old, a professional fighter for nearly 20 years, the victim of three awful knockouts in the last three years—not only fighting on the biggest card of the year, but riding a two-fight winning streak. It's only fitting for a born fighter like Sanchez that he would celebrate his ascension into the pantheon not by sitting back and soaking in his achievement but by once again risking his life.
UFC 239 poster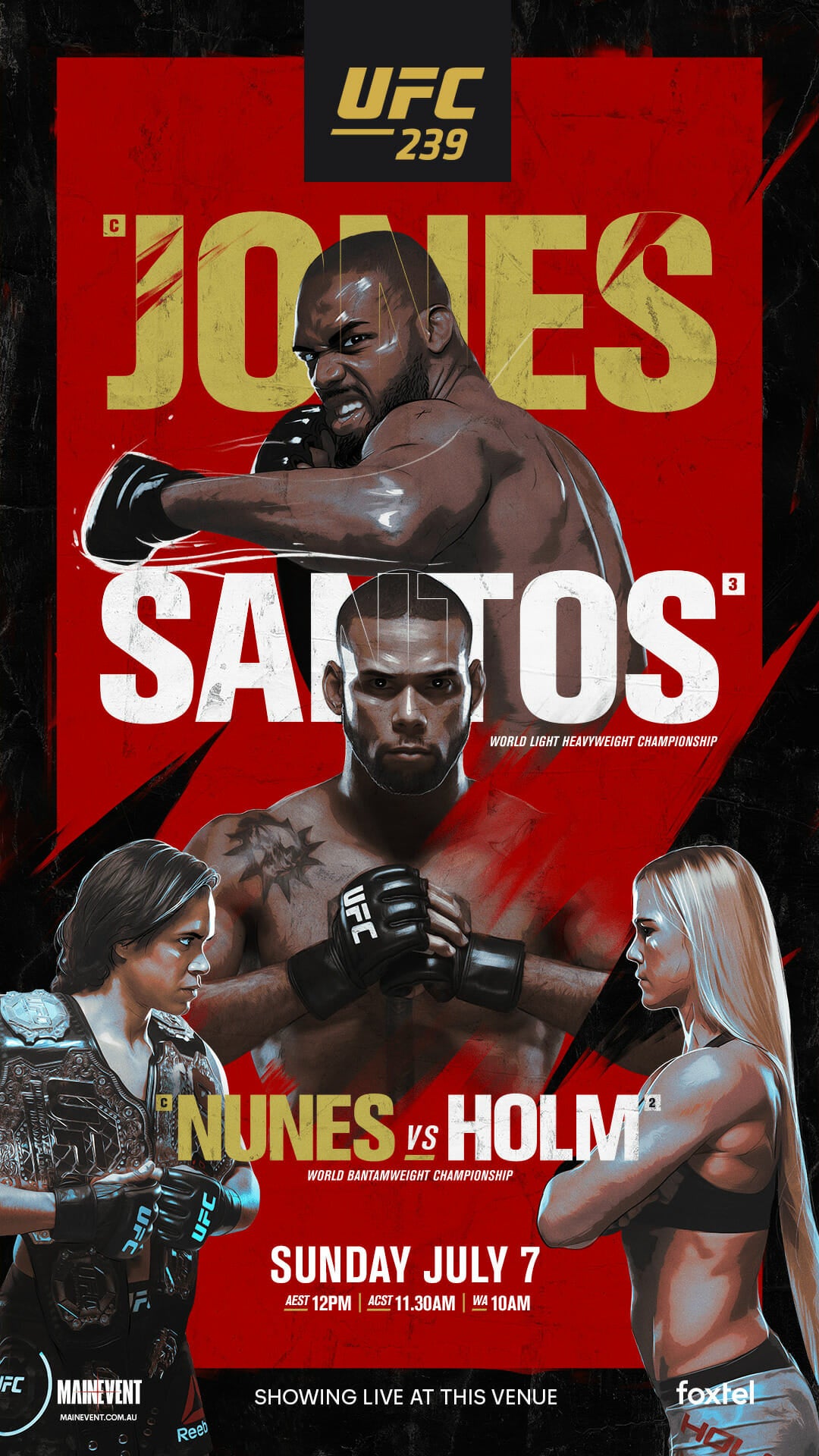 How to watch UFC 239 on ESPN+
Devices:

Chromecast,

Amazon Fire Stick

and

Fire TV

, Apple TV, Android TV, Roku players and TV, Oculus Go, Xbox One, PlayStation 4, Samsung smart TVs, and iOS and Android devices
There's only one way you can watch UFC 239: ESPN+. While the prelims will be split between ESPN and UFC Fight Pass, the main event will exclusively broadcast on ESPN's new subscription service. The good news is that it's incredibly easy to use and works with pretty much every streaming device you might own.
There are two purchase options for UFC 239: You can pay $59.99 for UFC 238 or you can get a full year of ESPN+ for free by paying $79.99. For UFC fans, you should really invest in the latter. ESPN+ now hosts 20 UFC Fight Nights per year, along with the exclusive series UFC Destined, Ariel & the Bad Guy, and Dana White's Contender Series.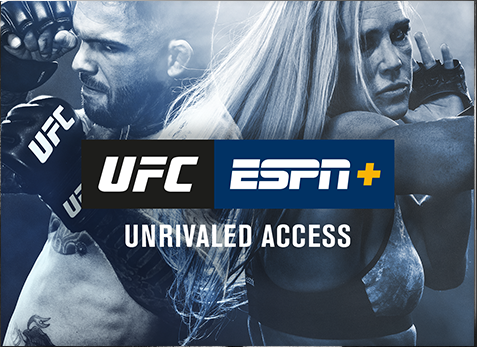 UFC 239 cost:
Need more convincing? ESPN+ also hosts Top Rank Boxing matches, daily MLB games, every out-0f-market MLS game, and loads of college football and basketball. You'll also be able to stream the complete 30 for 30 catalog on-demand.
UFC 239 schedule
All times ET.
UFC 239 PPV Main Card | 10pm on ESPN+
Jon Jones vs. Thiago Santos

Amanda Nunes vs. Holly Holm

Jorge Masvidal vs. Ben Askren

Jan Blachowicz vs. Luke Rockhold

Diego Sanchez vs. Michael Chiesa
UFC 239 Preliminary Card | 8pm on ESPN
Gilbert Melendez vs. Arnold Allen

Sean O'Malley vs. Marlon Vera

Claudia Gadelha vs. Randa Markos

Alejandro Pérez vs. Song Yadong
UFC 239 Early Prelims | 6:15pm on UFC Fight Pass
Edmen Shahbazyan vs. Jack Marshman

Ismail Naurdiev vs. Chance Rencountre

Julia Avila vs. Melissa Gatto
The Daily Dot may receive a payment in connection with purchases of products or services featured in this article. Click here to learn more.