Netflix has been reexamining the standup format with The Standups, which gives comedians 30-minute sets to work with. It continues shifting the sands of the hourglass with The Comedy Lineup, which sees 15-minute sets from eight comedians: Michelle Buteau, Sabrina Jalees, Tim Dillon, Jak Knight, Ian Karmel, Taylor Tomlinson, Phil Wang, and Sam Jay.

It's a good sign that Netflix is messing with format because there are only so many hour specials you can watch before the thumbnails all start to look the same. Netflix also just released one of the most stunning and buzzed-about specials in recent memory: Hannah Gadsby's Nanette. Her hour doesn't just tweak the structure of a standup show; it revises the structure of a joke so that we see the parts that were left out in favor of a laugh. It pulls out the guts of a joke. It's a little more difficult to try to upend the structure with 15 minutes.
Filmed in Atlanta in February, The Comedy Lineup (the second half debuts later this year) does, however, feel more timely than a many hour specials. With four women on the lineup, there is more pronounced commentary on sexual assault and Me Too. Michelle Buteau (2 Dope Queens, Late Night Whenever) gets in one of the best setups: "It's been a very interesting year for me because a lot of my guy friends have just come out—as predators." She goes on to offer a refrain to men: "Nobody want to see your dick." (Though there are exceptions.)
Sabrina Jalees takes a different approach, addressing the predator purge—and the fact that so many women knew about predators in their circles—via a great squirrel analogy. SNL writer Sam Jay tracks back even further, saying white men have been "spiraling" for years. "We don't know how to handle white guys needing something," she says, before pointing to Jackass as a white male plea for help disguised as edgy entertainment: "They were nailing their dicks to boards, bro." Jak Knight also addresses Me Too and the "revolution" that's taking place, but takes a detour into a joke about lesbian stereotypes that drains some of the momentum.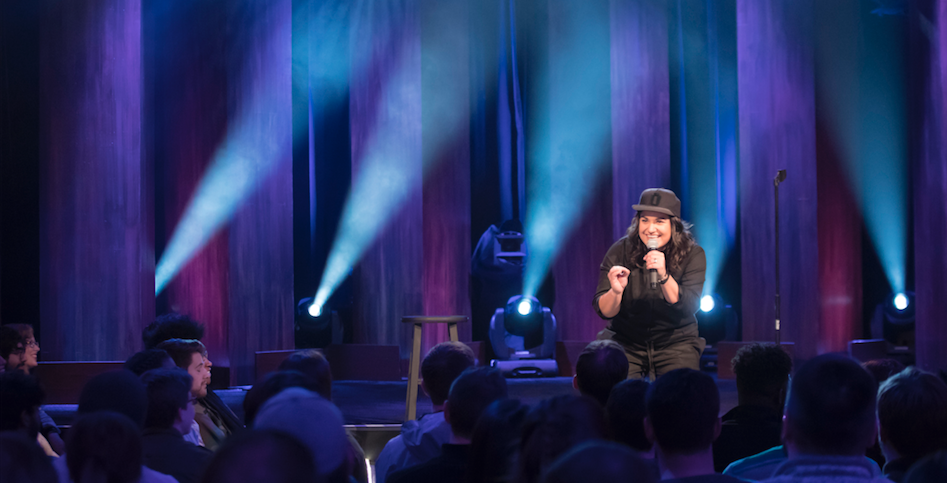 Taylor Tomlinson and Phil Wang both address the way comics make fun of their looks, with the latter swooshing a clever punchline into a joke about Asian stereotypes. Tomlinson takes some shots at white women's Instagram habits and the counts off the everyday detours women must take to feel safe. The special features three out comedians and Tim Dillon addresses his sexuality by relating the controversial advice he gave to gay runaways. He also claims that the 2017 punching of white supremacist Richard Spencer was indeed justified because he "was punched at a Pizza Hut lunch buffet and that was justified." Ian Karmel spends much of his set talking about relationships and social media and gets in a good anecdote about his mom. A couple of the sets ended so abruptly I forgot they were only 15 minutes; I could have spent a little more time with them. Some of the sets felt like 15 minutes was enough, and that the comic was perhaps still working through material.
But sometimes it's good to see the loose threads, like when Buteau shouts out the cameraman who's in the shot, or Karmel's eyes search the room before he tells a joke. The Comedy Lineup is a good barometer of how comedy-viewing has been shaped around the binge, but there's still some room for experimentation, and hopefully, the second half of the series embraces that. Toward the end of Karmel's set, he challenges one idea about the structure of a comedy show, telling the audience that he knows a set has to end with some "really big joke" because that's the "social contract" we've all entered into. But is that really what you want?
Still not sure what to watch on Netflix? Here are our guides for the absolute best movies on Netflix, must-see Netflix original series and movies, and the comedy specials guaranteed to make you laugh.