Start 'em, sit 'em, and other fantasy football advice.
Every year I make a trip to Green Bay, Wisconsin, to take in a game with a friend of mine. We met in Japan while we were teaching there in 2007. He grew up in Green Bay and his family has season tickets. His name is Rob, but his friends call him Bob, and you can even follow him on Twitter. (Sorry for doxing you, Bobby.) We've taken in some of the most epic games in the last dozen years.
Jan. 2, 2010: 10-3 win over the Chicago Bears that sent them to the playoffs and their eventual Super Bowl win over the Pittsburgh Steelers.
Sept. 8, 2011: 42-34 opening night win over the New Orleans Saints which included a goal-line stand.
We can add a 24-16 win over the Carolina Panthers on Sunday to the list. With four seconds left and the Panthers on the two-yard line, the snow blowing through the lights, the crowd in a deafening frenzy, Christian McCaffrey took the handoff and lunged forward, but was stopped short. We were sitting in the opposite end of the bowl and all we could see was the surge of bodies and the Packers defense rush to the sideline to celebrate. But there was a hush as they went to the replay booth to determine he had, indeed, not broken the plane. I can now checkoff  "watching Christian McCaffrey live" from my bucket list. Incredibly elusive and fun to watch. He sneaks through cracks like a mouse in search of cheese, which is an apt metaphor for this contest.
The best part about sporting events is hearing and watching 70,000 people unite for one cause. When it's good, as was the case for Green Bay, there's tingling energy. When it's bad, as it was at Soldier Field a few weeks ago against the Chargers, there's a pure sadness to it. If only humanity could harness the former and use it for labors outside the stadium.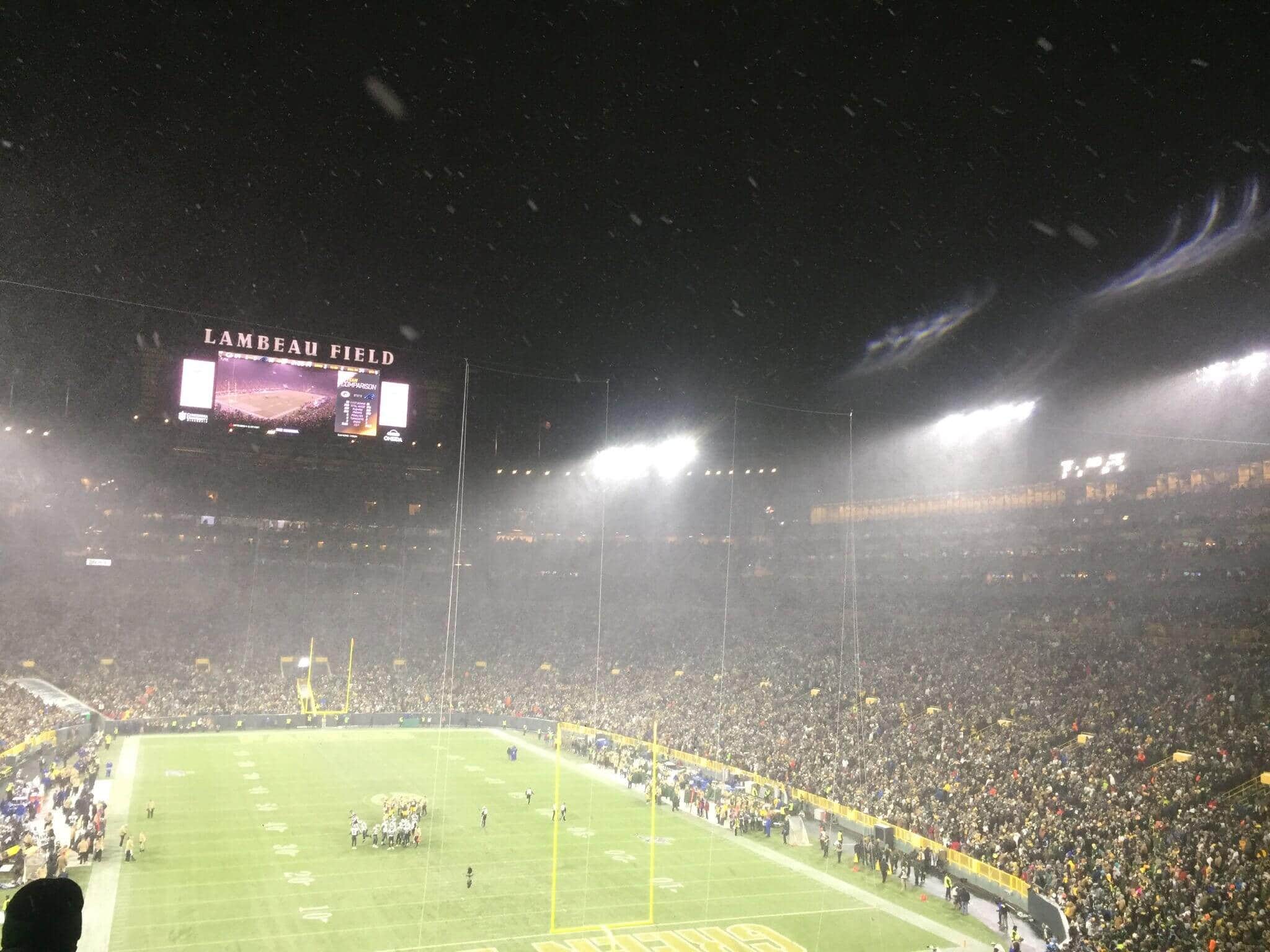 But who needs humanitarian work when my fantasy teams can't score any points? I don't have the stats in front of me, but it seems the wealth is concentrated on a handful of teams in all my leagues. If I had more time and hadn't been dry-heaving in a Green Bay Motel 6 this week, I might do some research on the matter. As it stands, I'll take my Lamar Jackson and Aaron Jones 7-3 team and act like the others simply don't exist.
I was unable to watch much of Week 10, but the stats say Brian Hill is the pickup of the week. He got 20 carries and caught a TD. A close second is Josh Gordon, as the injury to Tyler Lockett appears to be somewhat severe. Perhaps Gordon has finally stepped into the right situation. I'm not high on him, but he could be worth a toke if you're in a pinch. I enjoy an easy joke. Darius Slayton needs to be rostered, but with the bye week upon him, you might not have the luxury of adding him.
Time to pack the bowl and get into Week 11's smoke 'em, pass 'em.
Smoke 'em
Quarterbacks
Josh Allen at Miami: Despite not throwing for a TD or 300 yards, he salvaged his day by rushing for two against Cleveland. For the second time in three weeks, he failed to complete more than 53% of his passes. But who cares if he's efficient or if they win games? The Bills Mafia and its happiness are the least of our worries. How happy can you be in Buffalo? Or Green Bay? These places are frigid. As I stood drinking a Spotted Cow at the bar Sunday night, people in parkas surrounding me, the temperature outside dropping, I fully understood why the Packers are a religion in that town. They watch football. They drink beer. They eat curds. And they reproduce. Then it starts all over again. This where the loyalty comes from for these teams. They're literally breeding it.
Kyle Allen vs. Atlanta: He surprised me against Green Bay. In a hostile environment, he made several key throws and ended up with over 300 and a TD. It's been eight weeks since the explosion against Arizona, but Atlanta has been mediocre against the pass. They are giving up 260 yards a game through the air and have surrendered the fourth-highest points per game with 28. Plus all Allen has to do is hit CMC on a swing pass and we're in the money. CMC is so elusive he could run for Congress.
Running backs
Le'Veon Bell at Washington: In a season that has been mostly sad and forgettable, Bell gets a juicy matchup against a Washington team giving up 136 yards a game. Any fantasy "expert" who touted this guy in the preseason should probably be dragged into the public square with their eyes taped open in an Adam Gase vacuous stare, and forced to watch Sam Darnold high school highlights for an entire Sunday afternoon. I would say I was trolling, but I liked Bell. I still like Bell. You can shove all the stats in my face, but if he could get mediocre QB play and play-calling void of Gase, he'd hang solid numbers. Speaking of sad, these fantasy experts are really on tilt by Week 11.
Alone at a Denny's on a Sunday night in Green Bay stoned af is closer to my true self than I care to admit.

— Dexter's Library (@Dexters_Library) November 11, 2019
Brian Hill at Carolina: They gave him 20 carries and Devonta Freeman has a foot problem. This shapes up to be a tough start, but at a position where opportunity is the stick that measures value, he's an instant plug-and-play. This is the kind of flex play that can separate a team from the pack. You could say he could get you over the hill. It's Week 11, you should be happy I'm even writing this.
Wide receivers
Tyrell Williams vs. Cincinnati: He's been TD-dependent all year. And in the last two, mediocrity has reigned. But it's fun to chase TDs. Plus Tyrell has more points than T.Y. Hilton and Davante Adams, which is very charming, indeed. Think of the WRs who were picked after Hilton and Adams. Amari Cooper. Chris Godwin. Cooper Kupp. Tyler Lockett. There were lottery tickets sitting on the ground and we just kicked them into the gutter. What did Captain Renault say to Rick in Casablanca? "How extravagant of you, throwing away wide receivers like that. Some day they may be scarce."
Allen Robinson at Los Angeles Rams: Another nine targets and 6-86 against Detroit. Robinson has been the lone consistent bright spot on a dreadful offense. The worry here is the Rams dominate from gun-t0-gun, but you know what's more charming than chasing TDs? Tom Brady's smile. But also, chasing garbage time. Shame Chase Daniel wasn't playing or we'd have more puns than we deserve.
Tight ends
Jared Cook at Tampa Bay: Ten targets and 6-74 against Atlanta and now he gets Tampa, a team giving up nearly 300 a game through the air. Can you smell what Jared is cookin'? It's a tight end stew with Cajun spices. It doesn't get spicier than that.
Pass 'em
Quarterbacks
Carson Wentz vs. New England: In three games before the bye he failed to throw for more than 200 twice and totaled one TD in each. He's coming off a bye, but so is the No. 1-ranked defense in the league. Despite New England's lack of opponents, Wentz isn't where I want to put my money. With Dallas, Kansas City, and Houston on tap for New England, we finally will see what they are made of. The numbers all say they'll be fine—but do the numbers reflect how inept their opponents have been up until now?
NFL scoring relative to opponent averages through week 10

Top Right- Good offense, good defense
Bottom Right- Good offense, bad defense
Top left- Bad offense, Good defense
Bottom Left- Bad at everything pic.twitter.com/qo8DiOl2Aw

— Jason_OTC (@Jason_OTC) November 12, 2019
Jacoby Brissett vs. Jacksonville: It was shaping up to be a magical fantasy season but the injury against Pittsburgh has derailed everything. He might not even suit up against Jacksonville, as practice on Wednesday determines his status. Like no other year in recent memory, and even more so than running backs, QBs have been a mess. It's always been best to wait on this position during snake drafts. But half of the top 12 could've been had in round five or later. Honestly next season I'm not even drafting a QB. Or a tight end. Start nobody Week 1 and then waiver them. This strategy is called "Zero Wins."
Running backs
Duke Johnson at Baltimore: Baltimore is surrendering less than 100 yards a game. Houston's offense has been mercurial and Duke has relied solely on PPR value. On the road in what could be a shootout might be a tempting start. But survival on 12 touches per outing is a dangerous game like roulette or cheering for the Browns.
Latavius Murray at Tampa Bay: Tampa continues to be incredibly impressive against the run, surrendering just 77 yards per game. No one can establish the run when RBs don't matter. Mixing cliches aside, Murray is an easy fade this week.
Wide receivers
Christian Kirk at San Francisco: He broke out with 6-138-3 on 10 targets so this suggestion could be madness. But San Fran is coming off its first loss and is at home. Feels like one to avoid.
Odell Beckham vs. Pittsburgh: Speaking of forgettable, this whole situation has me wanting to hire Lacuna, Inc. "Don't forget, with Lacuna, you can forget."
Tight end
Dallas Goedert vs. New England: I'm going to nap. When I wake up, I want Austin Hooper on all my teams. Oh, he has an MCL sprain? Of course he does. We can't have anything nice. I'll be at the Green Bay Denny's if you need me.
READ MORE: