Netflix put out a lot of bad content in 2018, but at least Washington state liked Altered Carbon.
Using Google Trends to catalogue the most-searched Netflix shows by state, High Speed Internet recently found that The End of the F***ing World and 13 Reasons Why were two of the most popular shows of 2018. TEOTFW, which debuted in January, was the most-searched show in Iowa, Maine, Arizona, Nevada, New Hampshire, and South Carolina. 13 Reasons Why was most popular in North Carolina, Rhode Island, Ohio, Connecticut, Illinois, New Jersey, and Mississippi. Daredevil, Orange Is the New Black, and Stranger Things rounded out the top 5 list of most-searched shows in the U.S.
Looking deeper into state-by state trends, it appears Texas and California got into Jane the Virgin; Minnesota and Wisconsin searched for Making a Murderer (season 2 of the Wisconsin-focused true-crime series debuted in October); and Montana (and Montana alone) looked for answers about German thriller Dark, which actually debuted in late 2017 but got a bump in early 2018.
Several Marvel shows also made the list, despite Netflix's fire sale of Luke Cage and Iron Fist.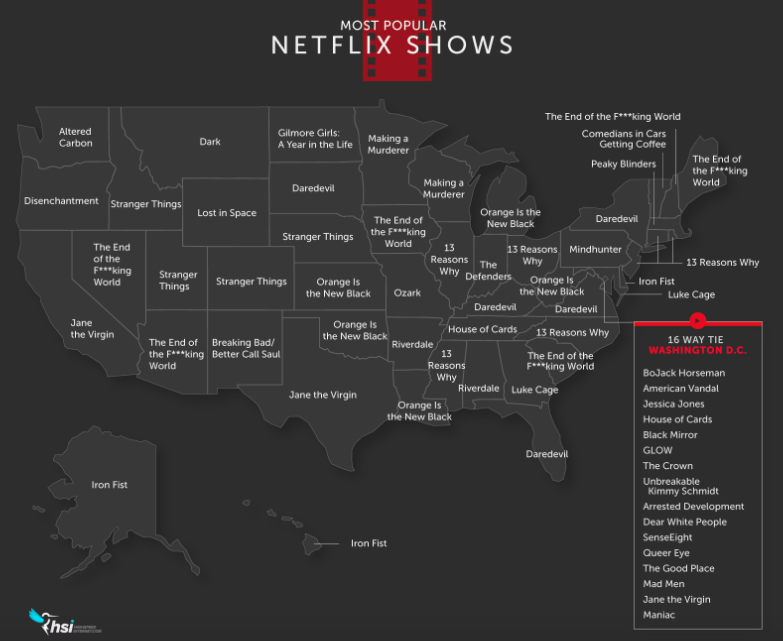 Since Netflix doesn't release viewer data—save for the rare instance where it tweets out cryptic numbers for new titles—this data is somewhat illuminating, and somewhat out of sync with the titles Netflix canceled or renewed this year. And just because a show was searched for doesn't mean it was binged. But at least now we know Jerry Seinfeld's lukewarm Comedians in Cars Getting Coffee has found its niche in Vermont.
H/T Decider