"What we know is a drop. What we don't know is an ocean." So goes one of the better lines of dialog in Netflix's new series, Dark, a sentiment which captures my feelings about the show.
From filmmaker Baran bo Odar and writer Jantje Friese, Dark is a show about several intertwining families and narratives in the German city of Winden, and the disappearance of several local children which rocks the foundation of the community to its core. Its half gritty crime drama, half supernatural thriller, all modern prestige television. Don't let the international pedigree fool you, there's a lot here which American audiences will recognize.
In the tradition of a depressing amount of series about small towns with missing children, Dark is a sort of cross between Stranger Things, True Detective, and Twin Peaks (one character practically blurts out "It is happening again.") It manages to squeeze in everything from '80s nostalgia, to warnings about the dangers of nuclear power, to philosophical riffs on the nature of time and space.
Odar's direction (he helmed all 10 episodes) is flawless. The cinematography by Nikolaus Summerer is gorgeous. And the dense cast–almost all perfectly chiseled Europeans–does solid work. Yet Dark is mostly a humorless, often convoluted affair. That's not to say that there isn't a lot to enjoy about the show because there is. But when your Netflix queue is already awash in similarly impressive versions of the same basic story, it may end up being one that lingers for a long time before viewers actually get around to watching it.
No one is going to accuse this series of being unsubtle or in your face, as it is just as much about slow burns and delayed gratification as big reveals. Nevertheless, you get a pretty good idea of what it's all about within the first few seconds of the first episode. There are cliffhangers to keep you watching, but cliffhangers can only do so much. Those who choose to continue will likely be hooked by the atmospheric dread the show succeeds in creating. However, I'm not sure that dread will be enough to sustain most subscribers over the course of the season.
Dark is chock full of creepy music and ominous camera angles, but it's hard to tell if the sum is as great as its parts. Remember, this is prestige television, and it's at least fun to look at. Every low-lit shot of spooky caves and eerie pop of color in the costume and production design is meticulously crafted. Dark isn't slow, exactly. But it is plodding in familiar ways. (Netflix managed to keep the specific details of the story under wraps in the build-up to this release, and I'm not going to spoil the fun here.)
One of the more intriguing elements of the series is its very existence and how it fits into Netflix's apparent plan for world domination. There have been plenty of foreign and specifically non-English shows which have received acclaim in the U.S. in recent years: the Danish political drama Borgen; France's existential mystery The Returned; and Netflix's own forays into international programming such as the Korean teen soap, Heirs, and the telenovela thriller, Ingobernable. Heck, a show like Narcos probably did more to get American viewers interested in subtitles than any number of foreign films ever could.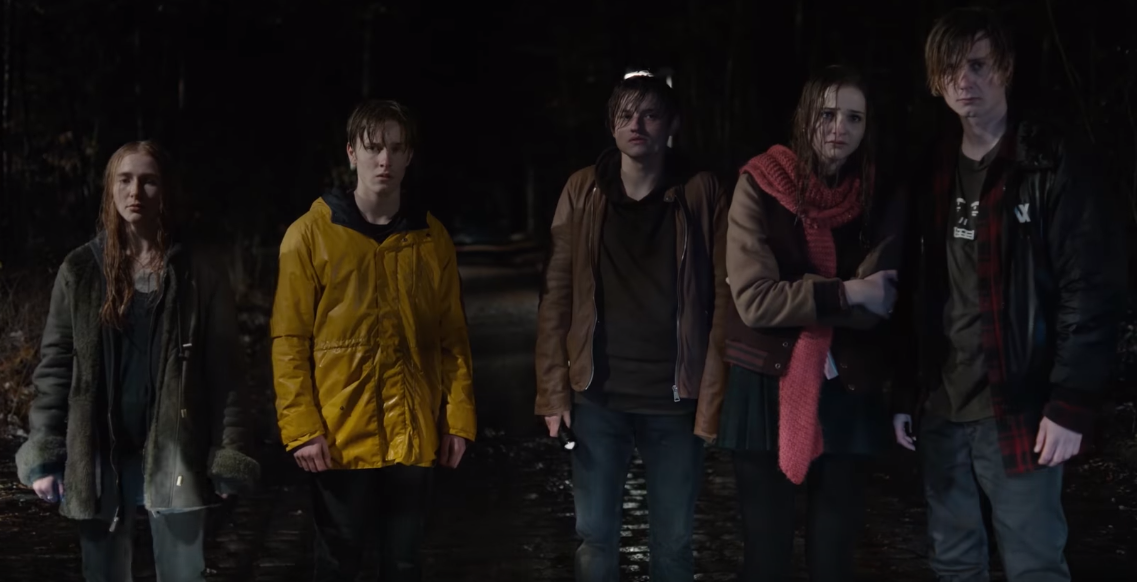 Despite this long list of acclaimed foreign TV though, TV hasn't become a medium where American viewers fall in love with a few titles each year that require them to read while watching.
This disparity isn't without reason. Watching Dark, it occurred to me that subtitled shows are much harder to binge. (Perhaps that's why I found the series to be frequently confusing; but God forbid you watched it dubbed, I tried, it's not good.) This is is why it's fascinating that Netflix appears to be banking on American audiences falling in love with Dark. This isn't a co-production or acquisition. It's a classic, buzzworthy Netflix series—in German. It's a gamble for the streaming giant, but if there's a platform with excess cash and the ability to push content like this, it's Netflix.
Dark encompasses all the connotations that come with its title, for better or worse. A German fairytale about humanity's reach and our desire to exceed it, the series can go lots of exciting places if it lands a season 2. I give the execs behind Dark credit for the experiment—even if the results are mixed.
https://www.youtube.com/watch?v=zy0b9e40tK8
Still not sure what to watch on Netflix? Here are our guides for the absolute best movies on Netflix, must-see Netflix original series and movies, and the comedy specials guaranteed to make you laugh.